Written By Fritz Ifert-Miller
Days 5 & 6 - Resting in the Rain
Downtime is something we thought we would have a lot of, and even on rest days it seems to be elusive.
Katie and Karl James both came home to spend some time with me, John, Mom and Dad in Ridgefield. Kara drove down from Boston so that she could have an additional day with Genevieve before we were out of convenient driving range of the Tri-State area.
Gen had her first experience with Stew Leonard's, where we met Karl James and shopped for send off feast fixings.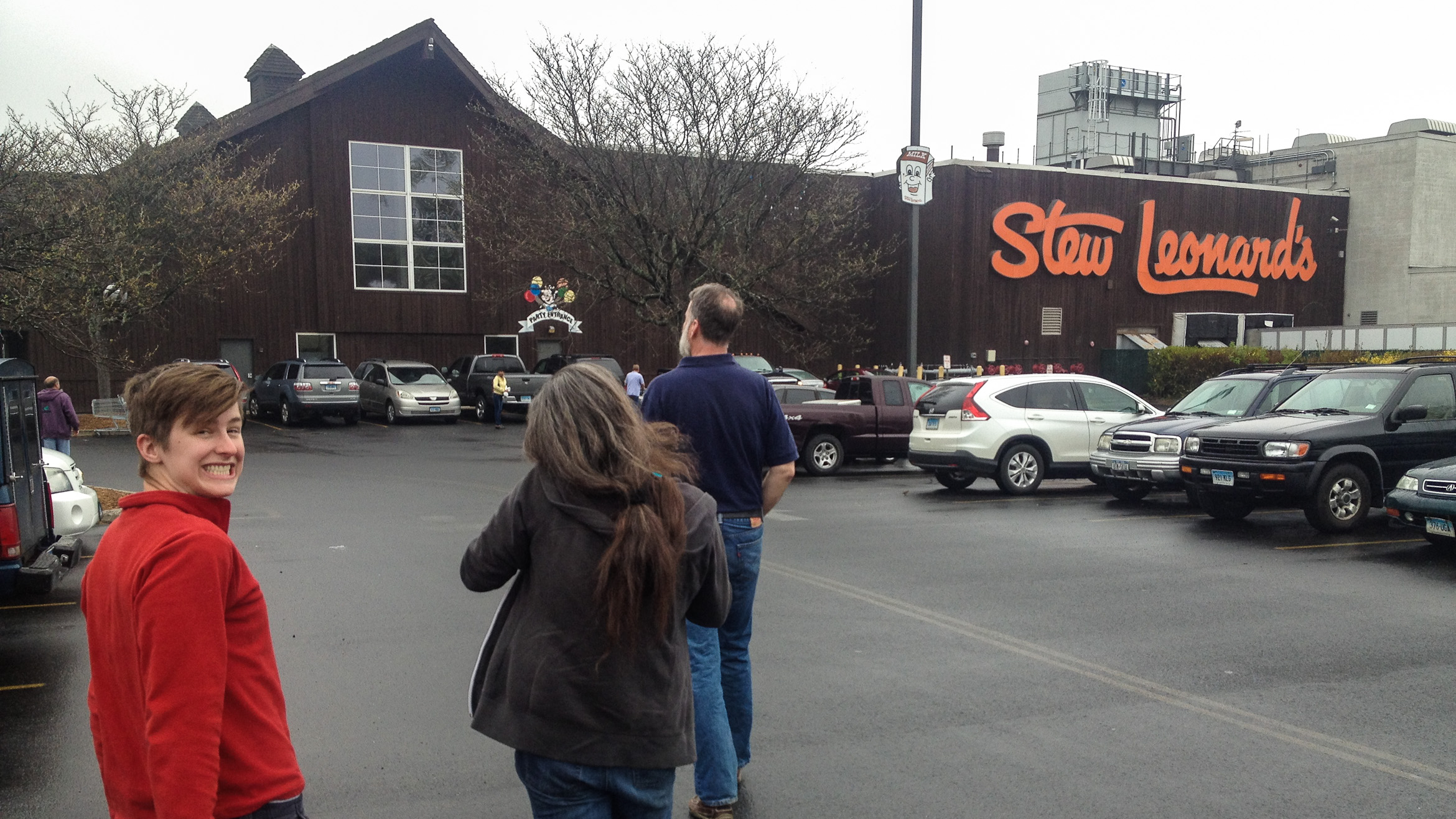 With Matt's expert tutelage, Gen and I made some adjustments to the brakes on our bikes. We swapped out the stock Shimanos for Kool Stops that would offer more consistent performance in the wet with our heavy loads. Kara captured the magic on camera as we did our best to channel the spirits of Patrick Swayze and Demi Moore.

With dinner on the way we prepared a toast to the voyage with Champagne that Karl insisted on sabering open, with an actual sabre (for the sake of historical accuracy).
---
My Brother the Culinary Electrical Engineer
Krybaby James is an electrical engineer with a significant culinary itch. Always an amateur chemist with household items, he has been helping me make toilet bowl soups of toothpaste, bleach and detergent since we were old enough to twist off lids.
In 1999, Alton Brown, an unknown from Georgia, developed a concept for a show that focused on the science of and historical background behind cooking. His show Good Eats was picked up by the Food Network and made its way into cable television wired homes around the country.
One of those homes was in Ridgefield, Connecticut, where a boy who spent his spare time dropping action figures and broken electronic equipment out of his 3rd story bedroom window to evaluate the destructive effects of gravity happened to flip to the Food Network during an episode.
Our family has been alternatingly plagued and blessed since with Karl's dedication to exploring the boundaries of the human palette and using us as unwitting guinea pigs.
"Try this."
A phrase my family has come to regard with skepticism and fear but the lingering hope of a chronic lottery player.
Avocado and Turmeric Ice Cream.
Cumin flavored chocolate chip cookies.
A gag-reflex inducing holiday wassail and a host of other unconventional ventures into the limits of how you can take edible ingredients and combine them into something wholly inedible.
But for every homemade headcheese and pickled jalapeno infused marshmallow, for every proverbial lump of coal, there was a diamond lying in wait. Thanks to Karl, my family has enjoyed meals that exceeded top quality restaurants on a number of occasions. It's just a gamble we have learned to take and close our eyes and hope for the best.
Following a recipe he had executed flawlessly before, Karl whipped up a Beef Wellington that was more tender than a Hallmark Original Movie. With Cod for the pescetarians, we once again celebrated the outset of our journey across the country.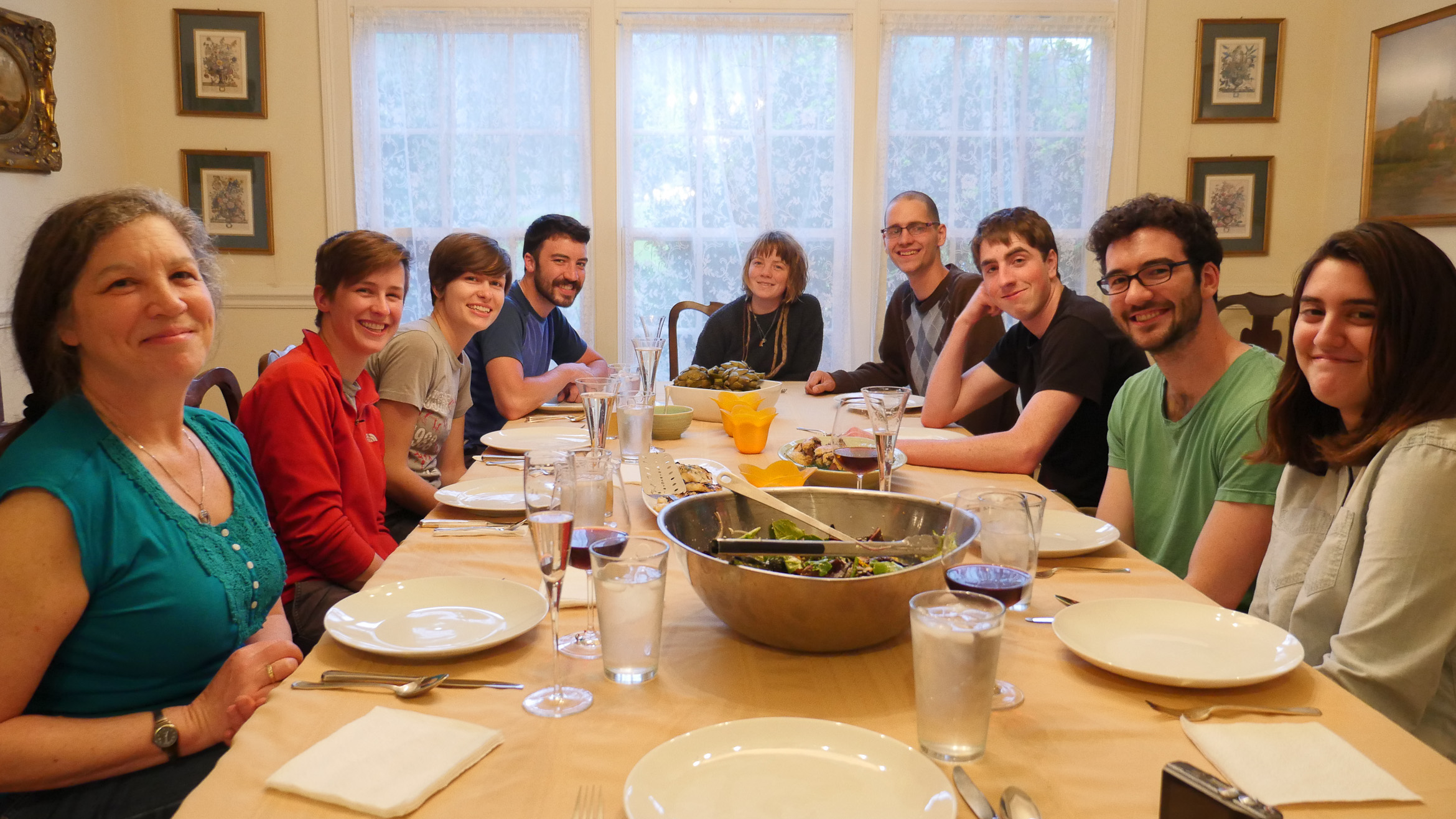 After dinner we performed the annual family pagan ritual of pouring gasoline on our 6 month desiccated Christmas tree and lighting it aflame. John was master of ceremonies, and it burned through the night indifferent to the light rain.
Later, Katie and I binged on the previous season of Game of Thrones which I had yet to finish.
Quick notes by numbers:
Trips to grocery stores (estimated by Gen): Two dozen
Trips to bicycle shops: 2
Products purchased and added to equipment:
Kevlar lined Schwalbe tires for Gen
Kool Stop Dual Compound Brakes for both bikes
Memory upgrade for computer (4 -> 16GB)
Second set of tire levers
More ass-cream for Fritz
Quicklinks for chain
2 pairs of bike shorts and rain cape that hadn't made it to Boston in time, thankfully overnighted by Antigoni along with other care package items.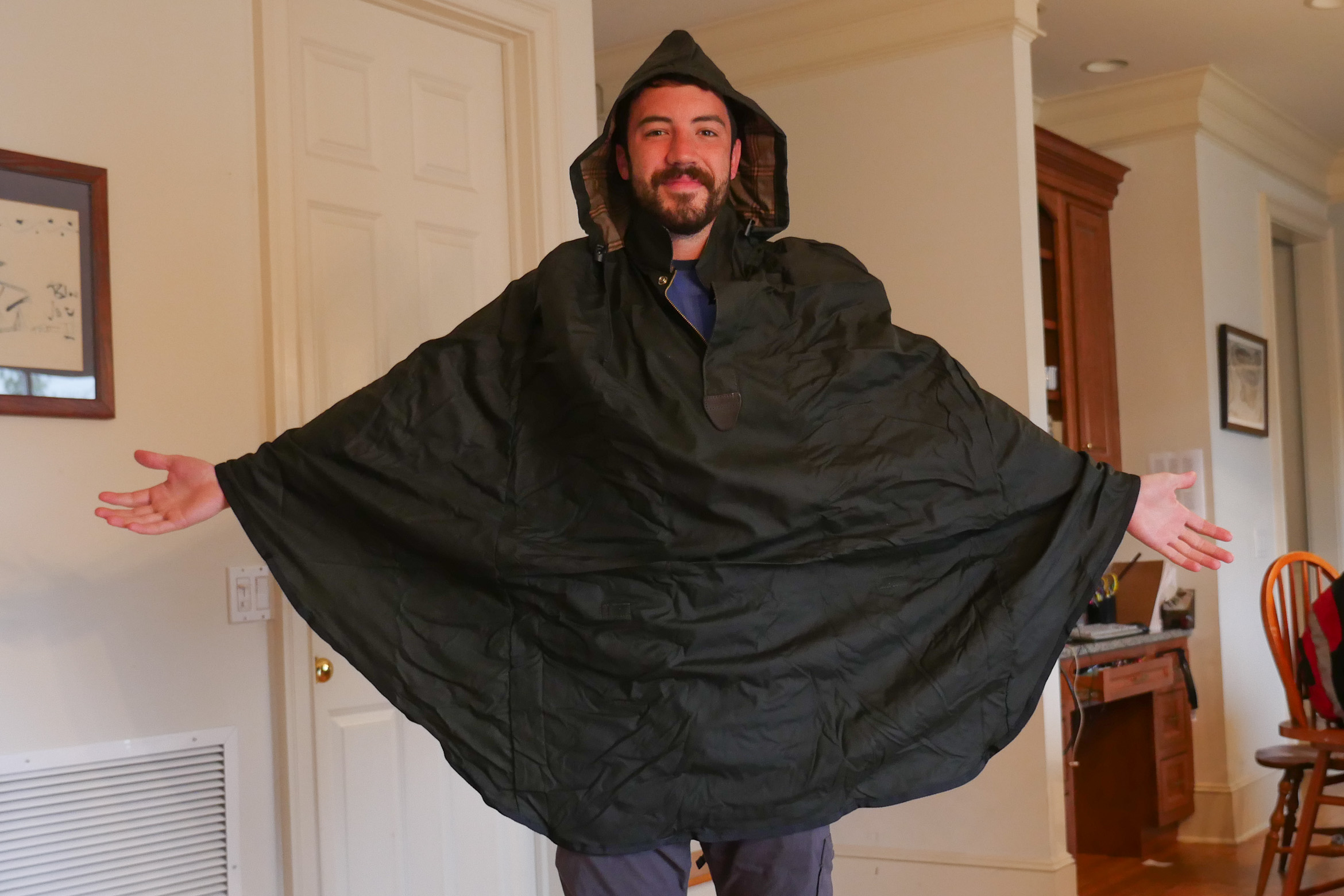 My early birthday gift of dry biking in the rain, courtesy of Antigoni
The next morning Kara departed early having to return to Boston in time for her expecting mothers who were prepared to pop at any moment.
We went to the Alrdrich museum, a contemporary art center in Ridgefield which Gen thought was an experiment in voluntary heavy metal poisoning.
"Why is everything made out of something toxic?"
She asked the curator, of the lead and silver nitrate composed exhibits. We returned home and squeaked out an opportunity to take an early family Christmas portrait while everyone was together.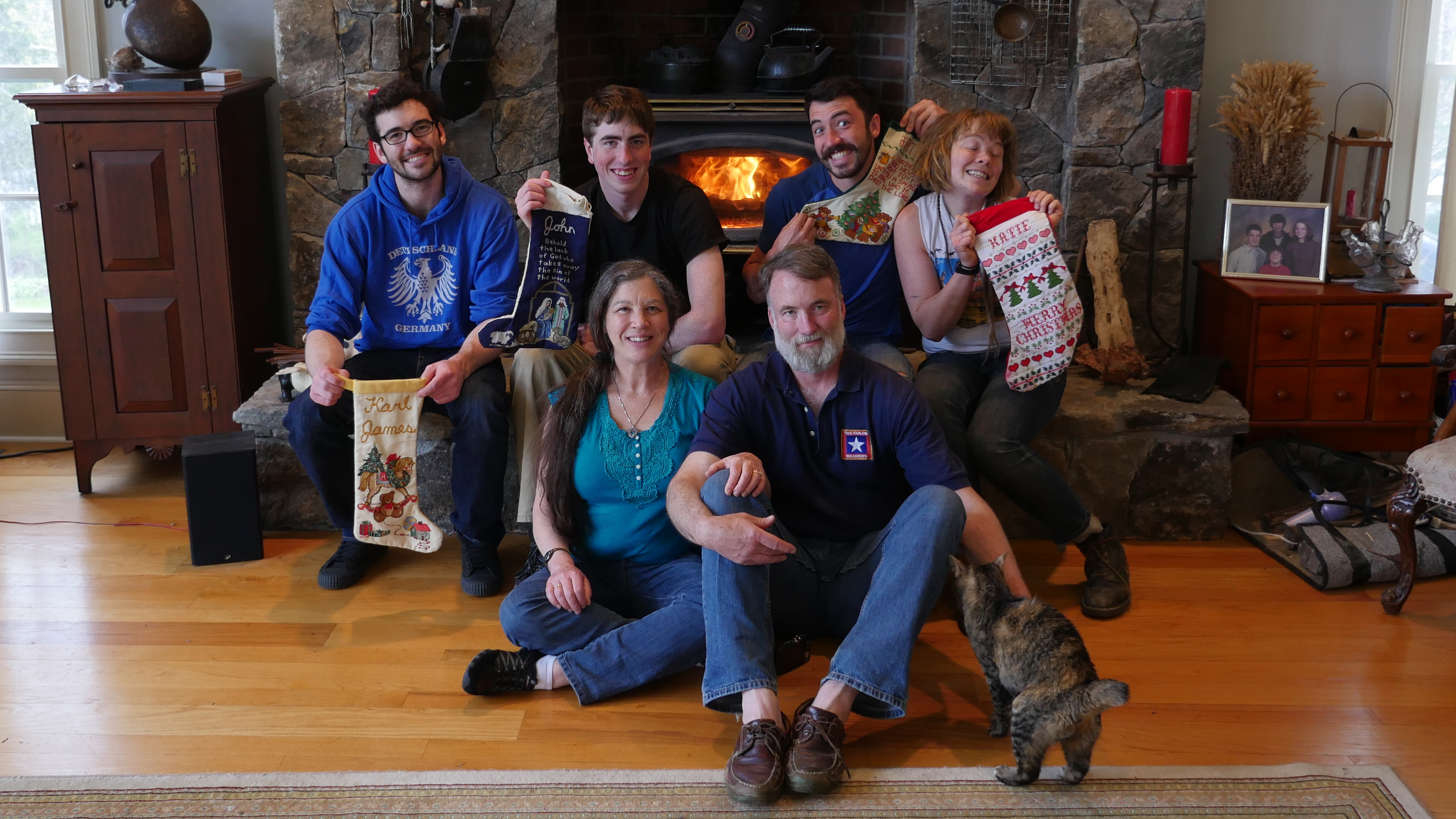 Katie and I finished our marathon of Game of Thrones, finally finishing season 3 while Matt assisted Gen, showing her the easiest way to roll the very tight Kevlar lined Schwalbe tires onto her rims.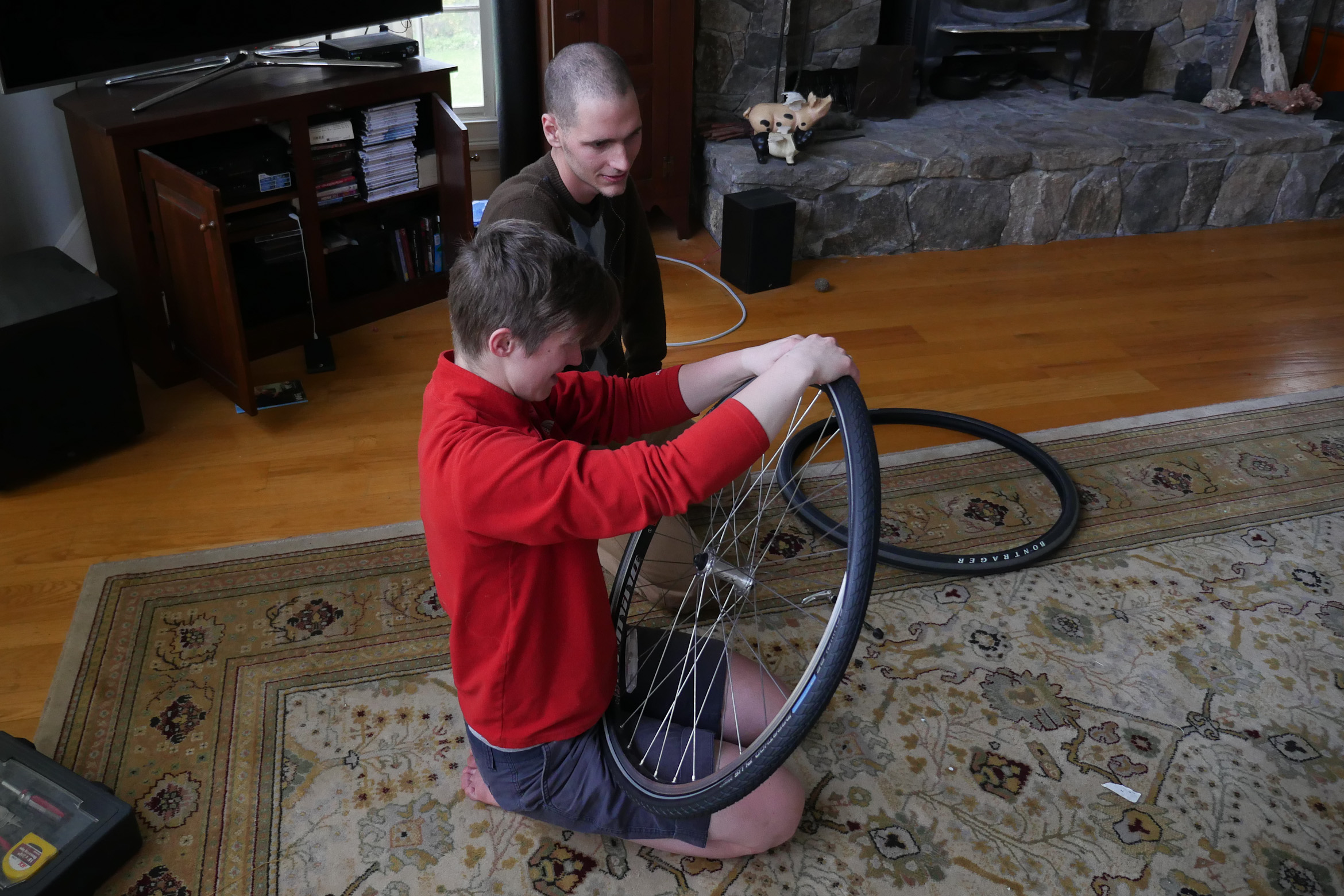 I spent some much-needed time with Mr. Wilson, whom I had missed dearly, as he had been in Connecticut, in my parents' care for a month. He did his best to interrupt my rest the last 2 nights wedging himself between my legs while I slept. It's a shame that he is such a skittish cat, otherwise, he could ride in a little knapsack on my shoulder or in a basket on the handlebars. While I am sad to be saying goodbye to him again, I know my mom is secretly happy she gets to spend another couple months as his custodian (in all senses).
The night is winding down and it has been a terrific two days' rest at home with my family. The road waits for us tomorrow as we make the 3 mile journey to cross the New York state line and continue towards the Big Apple.
For now, another night's sleep with an affectionate cat. See you in NYC!