Written By Fritz Ifert-Miller
Day 9 - Escape from New Jersey
Distance: 69.2 mi

|

Ride Time: about 6 hours

|

Elevation Gain: 797.4 ft

|

Avg Heartrate: 139.5 bpm
We left from Dave's parents place in Warren, NJ and headed southwest. Our original plan had been to route ourselves down through Philadelphia and eventually through Baltimore on our way to DC, but we had decided that our urban adventure the previous day had sated any lingering desire we possessed to contend with commuter traffic and unsafe roadways.
The previous night, Gen and I discussed our available options; Philadelphia to Baltimore was the most direct route on our way south to connect with the Transamerica, but we were concerned that our 50 mile 8 hour day would be repeated if we were to be foolish enough to try negotiating another 2 giant metropolitan centers. I mentioned the possibility of going west to see my grandparents who would be delighted by the sight of me pedaling past on a bicycle journey. Gen googled where Salfordville was while I noodled around on my telephone.
"Okay! We can go to your grandparents but then can we go west to see my Aunt and Uncle in York?"
"Absolutely!"
I was eager to have the opportunity to put in as many rural miles as possible and leave the cities far behind. I had never been to York, but I was so pleased that we were going to get to stay with relatives that I didn't mind any nominal detour it posed. Additionally, it meant traveling through countryside that was familiar and evoked fond memories of childhood.
We set out early in the morning after enjoying a delicious smoothie, compliments of Dave who was about to head off for work. Dave helps run a youth exercise program that involves all manner of awesome gymnastic equipment. That morning he was due to run a lesson that is very dear to my heart and any other self-respecting individual who attended gym in elementary school: the perennial classic, parachute. What made that synthetic suffocation blanket so appealing, I can't be certain, but I know it held unanimous approval. The only close competitors were the giant inflatable 5' diameter balls that dwarfed our childish frames and the lunch tray scooters that rolled around ready to eat the unsuspecting heel.
With Dave out the door, we too made our goodbyes and were underway pedaling. I called my parents and let them know that we were going to try to make it to my grandparents who live in Salfordville, PA and they said that they were already expecting us. I guess they had warned them of us coming in the off-chance that we made such a decision. My mother's second-guessing had paid off for the first time in my young life.
Easy riding through residential Jersey led to more rural country, and the green hills rolled over themselves in perfect curving splines. Early in the day we pedaled up over a hill around a bend and I heard Gen exclaim:
"Look at that barn! It's gorgeous!"
I turned and saw a large wooden stable with an expansive open format inside. The sunlight shone through from end to end and the woods beyond the barn could be seen. I asked:
"Do you want to go take a look?"
And she voiced concern about trespassing, to which I retorted that I would of course ask the owner.
We rang the bell and a man emerged. He was the owner of the barn which he said was a stable for Dressage horses. He introduced himself as Dave Fine and said that he had been living in the area and raising Dressage horses for the last 20 years. The barn had been built in the last 10 by a group of Amish woodworkers. He offered us a tour and took us through room by room sharing the many amenities that had been considered and put in place. He explained the tall cathedral like ceilings and open floor plan being an intentional design choice made to promote airflow and let the hot air rise to the top of the barn. Dressage horses he told us are a German breed, accustomed to the more temperate less muggy European climates and so he had made every effort to provide them a shelter that wouldn't exacerbate the Jersey summer weather.
We thanked Dave for taking the time to show us around, and he told us we were welcome to fill our water bottles and use his restroom and with that we were back on our way.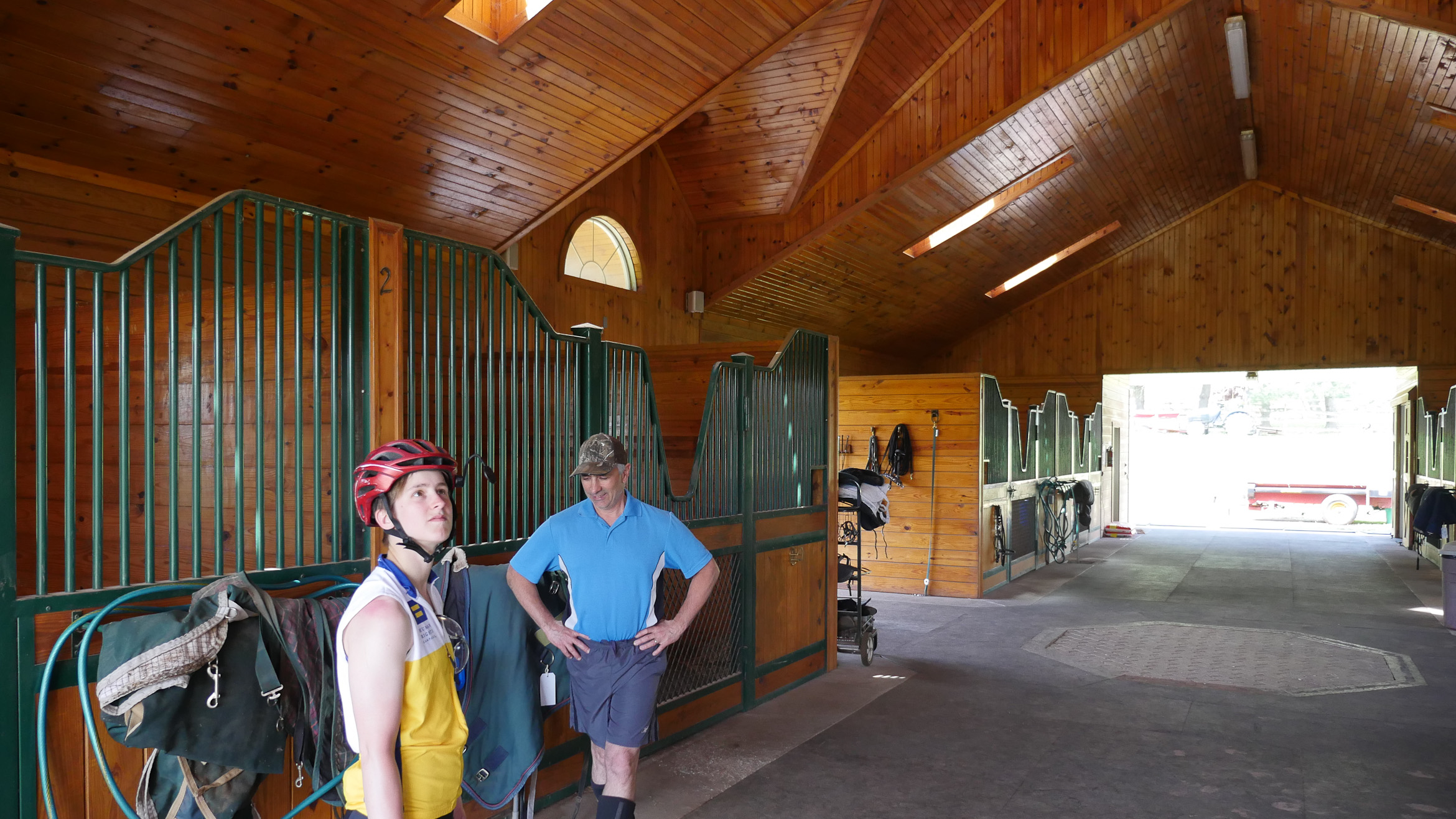 For the last 15 years, we have driven to Pennsylvania from New England (since my family moved to Connecticut) to visit my mother's parents and my father's brother. The drive is a relatively easy one that typically only takes about 3 hours.
Raising us, my parents were willful misers. Extravagant purchases were limited to semi yearly affairs that were usually made by my father to the eye-rolls and consternation of my mother. A very used Frankenstein of a Porsche, a flat screen television, a telescope, they are few and far between enough that each stands out in memory. My mother's frugality was a trait that earned her backroom snickering among her children. We still recount to each other how she made us take holiday wreathes from the neighbor's roadside garbage pickup when we lived in Ohio so that she could "recycle" them. Recycling was a nice way of saying "turn-into-dining-room-centerpiece". We were always lucky to never want for anything we needed, but the determination of "want" was left up to my mother who rigidly adheres to a sort of pseudo-masochism that involves trying to heat a multi-floor multi-room house with a single woodstove, and a staunch unwillingness to use the central air that came installed in the house.
Turning the A/C or heat on was less a matter of finance and more a matter of weakness. My parents believed that sweating built character, but that seemed hypocritical considering the same argument had been used for shivering only 5 months earlier.
All this is to say that they both get a sick sort of pleasure saving even a nickel. The car trip to Pennsylvania was no different. Each time we went, the drive would be punctuated by a stop in Frenchtown, NJ. This brief detour was less motivated by the kitschy aesthetic of a state-line town host to a narrow steel bridge green from patina, and more because New Jersey has some of the cheapest gas on the east coast. Regardless of the reason, more often than not, on our way to visit family we would have a cup of coffee or a pancake in Frenchtown and it became a sort of ritual that evokes fond memories to this day.
We stopped and had a bite to eat while I explained all of this to Genevieve in slightly less exhaustive detail. Next door to the café was a bike shop, which I suggested we visit for a second opinion on the state of her bulging tire. The shop owner spent close to 30 minutes checking the wheel and the rim to see if he could determine the cause of the problem. Chalking it up to a defect, he said that it probably had cord separation and there was no telling if it would last 10,000 miles or 10 miles; we would just have to keep an eye on it. We thanked him for his time and left, less than eager to wait for a ticking timebomb of a tire.
Onto our bikes and then onto the Frenchtown bridge which in clear posted signage forbade us from cycling down the main section and instead instructed us to walk down the footpath. I said emphatically:
"To hell with that! I'm biking down this thing!"
and shot down the bridge. Gen followed wondering aloud whether the exposed steel teeth of the bridge surface would accelerate the decomposition of her already bulging tire. Across the river and we were officially in Pennsylvania! A very drunken man asked us where we were from and then offered us a beer which we politely declined before scooting away before he offered us anything else.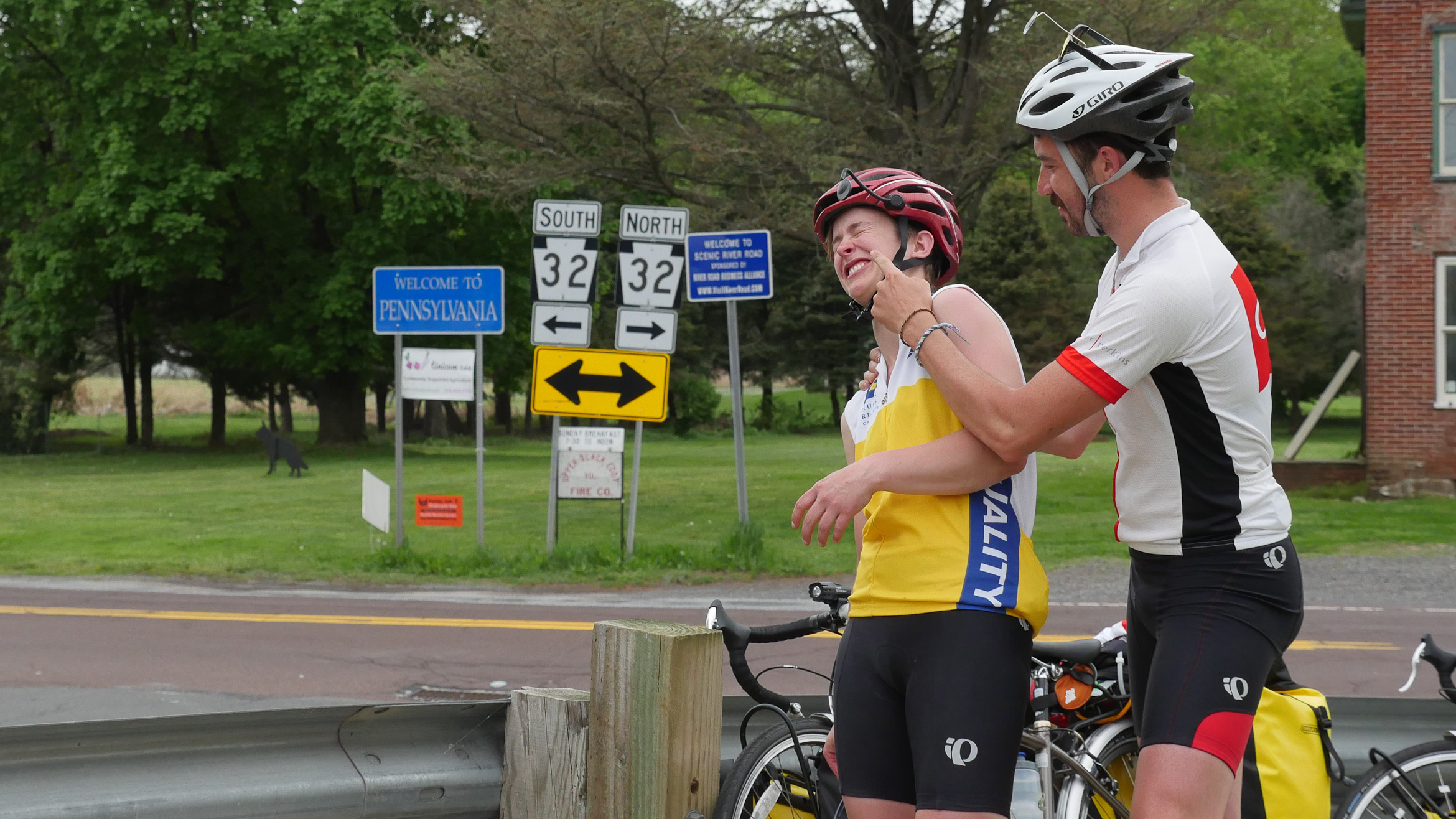 Spying the bike path / rail trail down to the left, we set out upsetting our Garmin overlord who spat out suggestions of how we might better kill ourselves biking down interstates and the like. Frustrated that we had chosen such a beautiful path, it beeped and chirped incessantly attempting to reroute us until I simply turned off its navigation feature.
The path went on for more than 6 miles of beautiful countryside, through backyards and meadows. The river to our left, we rolled through the red clay of the Pennsylvania trail. It was psychologically rejuvenating just to be between places I knew. Familiarity is a powerful sensation, it's the difference in rock climbing between being off-route and repeating a trade-route that you've done dozens of times. Covering ground you recognize is always easier on your mind.
We diverted from the rail trail as it continued South, and we needed to head West. The rollers resumed and we started our pattern of climbing to descend and descending to climb. The earlier overcast day had turned to bright sunshine, and with it our water reserves had been depleted. Gen spotted a church with a hose outside and we pulled into the parking lot to fill up. I told her that I would check inside to ask the caretaker if it would be alright and she waited with the bikes. I walked in the back door and offered a "Hello?" which was responded to in turn by a woman working in the office. She offered us to fill our water bottles and use the facilities.
While Gen used the restroom, I chatted outside with another caretaker who has lived in the area since 1944 and says he'll never leave. He told us about how his house caught fire from black mulch and warned us to be careful of putting it down in the hot weather. We promised we wouldn't be making the mistake anytime soon and thanked him for his time.
Back on the bikes, the sun retreated behind gray skies and we spotted threatening rain clouds in the distance. Gen mentioned it would probably be a good idea to put away her phone.
Moments after stowing our valuables and with only 2 miles to go, the heavens opened and greeted us with a deluge. Totally soaked, we trudged up Potato road, the last climb of the day before turning onto Skippack Pike, waving at my Aunt Honi and Uncle George's home and pointing out my father's and mother's childhood house (though they lived there at different times), and then turning onto Quarry Road.
I learned Gen wasn't aware that my parents were high school sweethearts and quickly related the story of how my mom brought ice tea to the neighbor boy mowing the fields. Moments later we turned into the driveway and were met by my grandparents.
Showered and dried, we had a dinner of baked chicken and asparagus straight from the garden. Gen impressed my grandfather with her engineering background, and he regaled her with stories of his time installing assembly lines all along the northeastern seaboard. It was a long day but a good day, and tomorrow will be even longer with a planned distance in excess of 80 miles.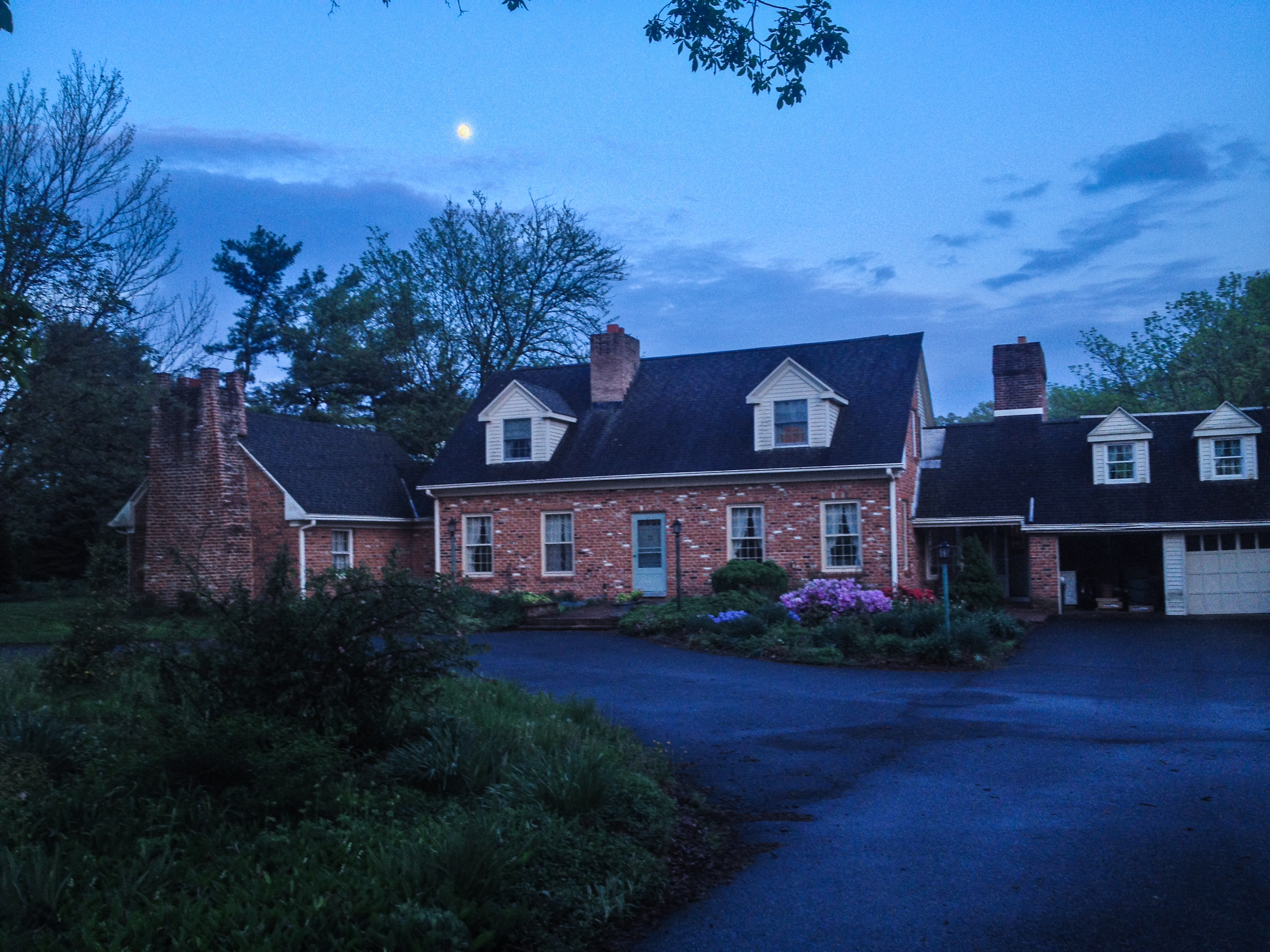 My mother's childhood home in Salfordville, PA. The house was built by my grandparents with bricks and beams and glass that were salvaged from the neighboring town of Tohickon (Stovertown), a village that no longer exists.
Flooded from the map with the erection of the Nockamixon Dam and subsequent filling of the Nockamixon reservoir, Tohickon provided materials that were taken from homes whose foundations now reside 90 feet below the surface of Lake Nockamixon.
In 28 years, I have lived in 4 states:
Virginia - 0-5

Ohio - 5-13

Connecticut - 13-23

Massachusetts - 24-28

Whether by some product of relocation or just faulty wiring, I have never felt particularly attached to a place or home. There is nowhere I have lived that evokes a feeling of familiarity or nostalgia in a sense that I experience longing for it or happiness upon my return. There are two exceptions to this trend. Throughout my life, I have visited the same two homes every year, my grandparents' home in Salfordville, PA and their beach house in Avalon, NJ. The consistency of these homes has entrenched a sense of permanence that is unlike anywhere else in the world for me.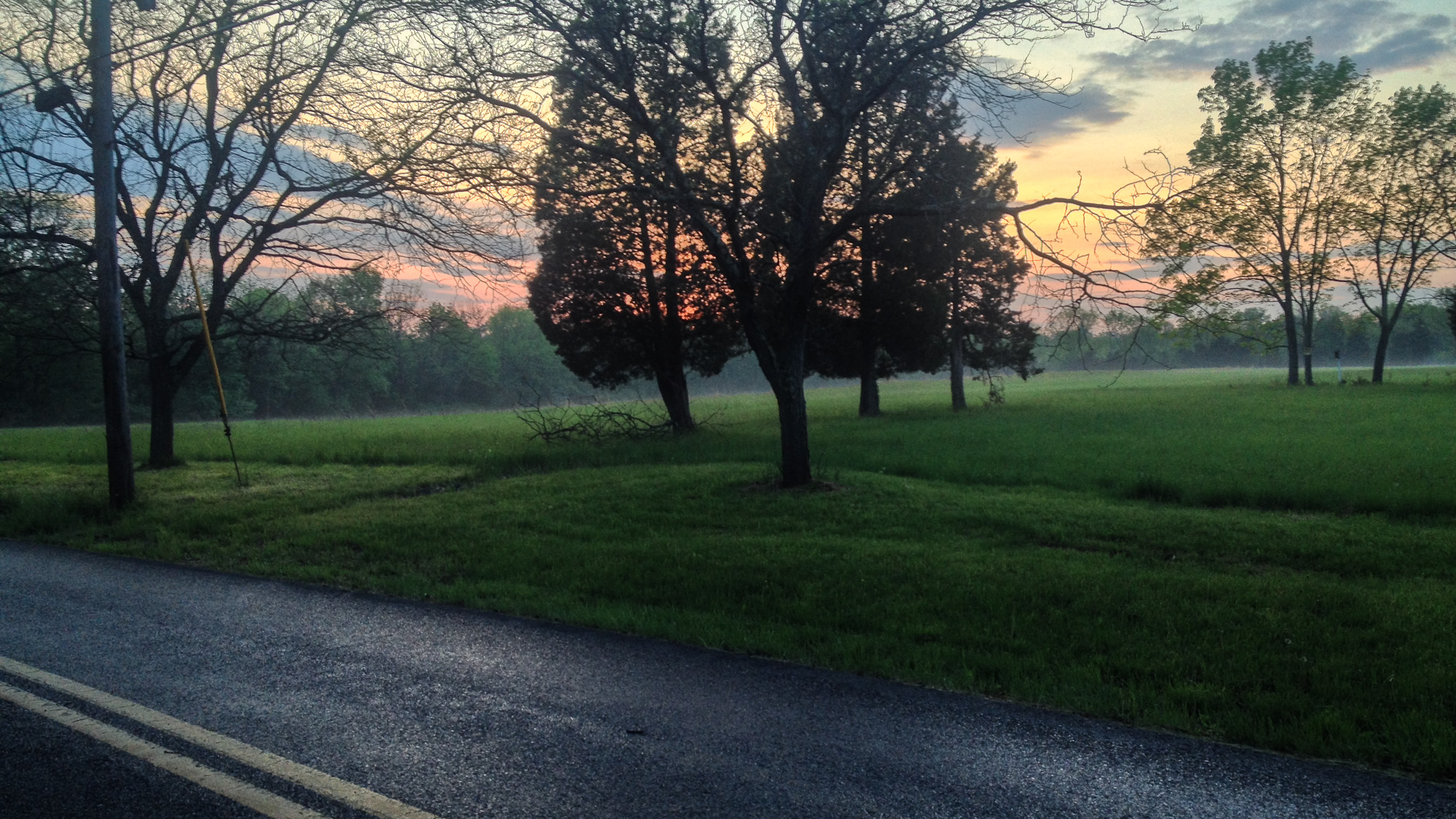 People talk about their ability to recall odors or tastes or even other memories and it seems a foreign concept to me. Without a trigger to call a memory from the dusty archives, they are typically lost to me. I can't summon a smell and relive it in my mind and I'm envious of those who can. What I can do is recognize something I've experienced. The smell of my mother's parents' homes in Salfordville and Avalon, and my father's parents' home in Radnor, PA are things that linger at the base of my amygdala ready to flood me with emotion and nostalgia at the slightest whiff.
Stepping through the thresholds of any of those doors is equivalent to stepping back in time, both due to the relatively static decor and the many memories I've shared inside their walls. I am glad that such a large trip could be punctuated by a stop to someplace that has always been so special to me.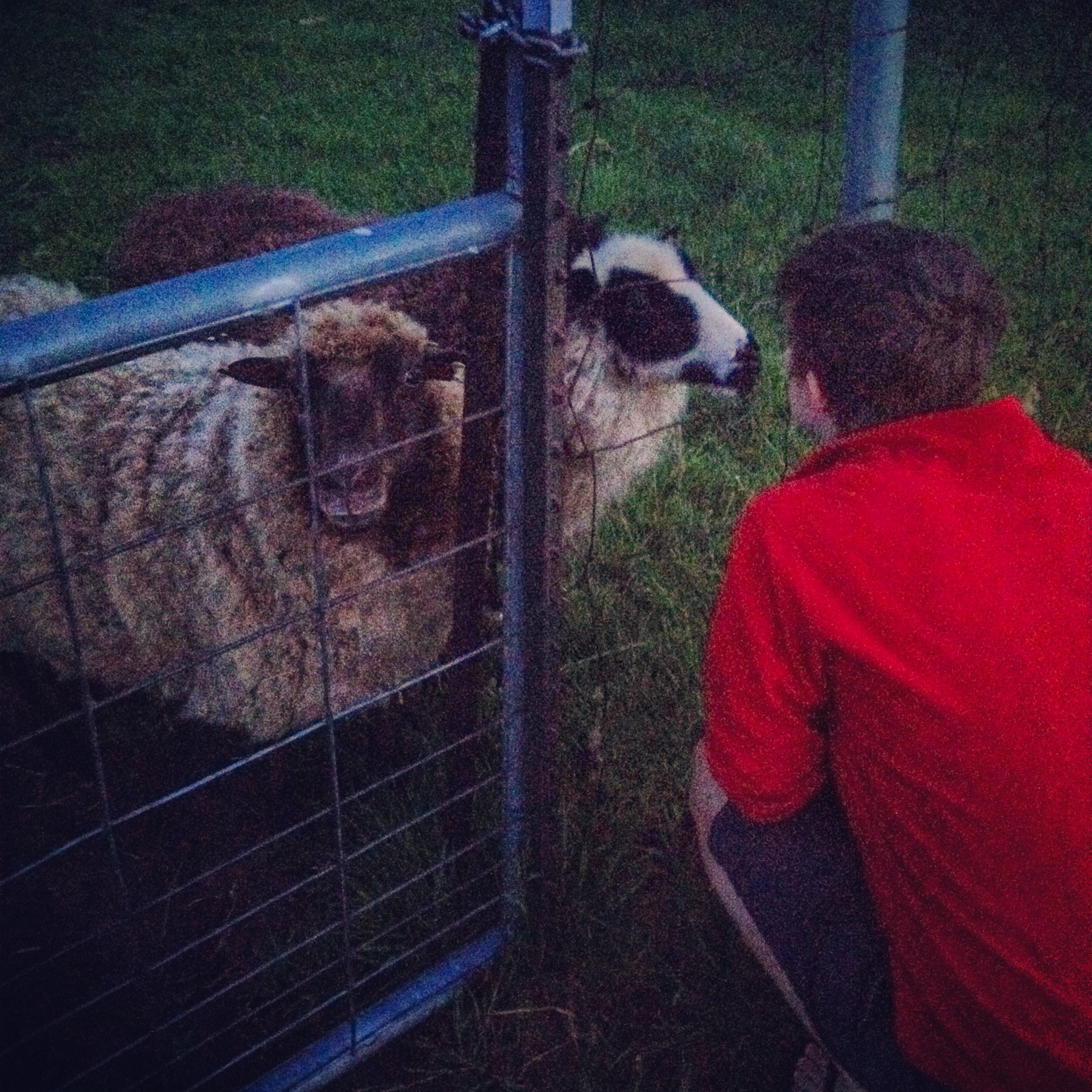 Also, Gen got to pet the sheep. Which she liked.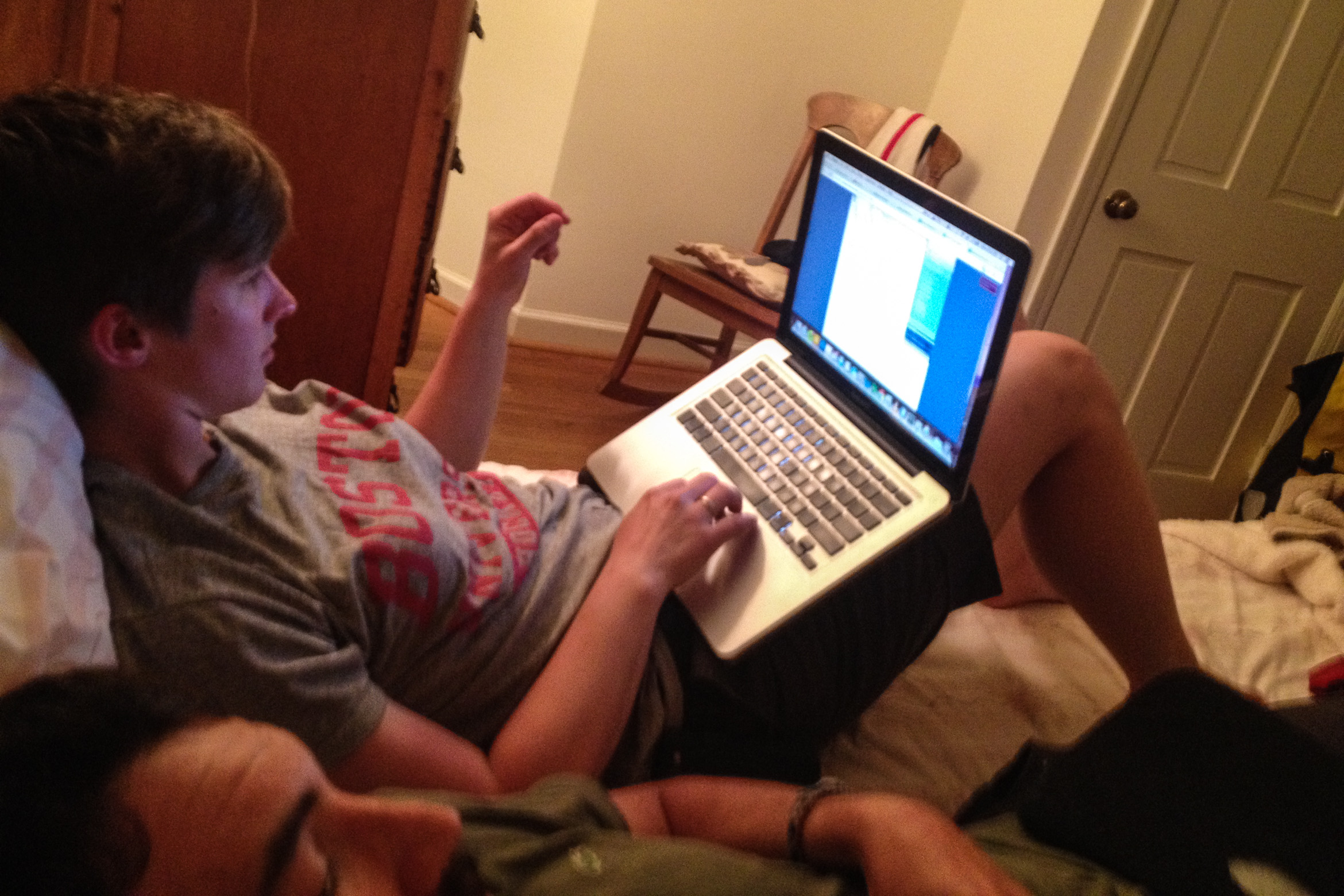 So now we are planning our day tomorrow and where we will stay and how we will get there. I am excited to pedal through Amish country and hopefully get outrun (but not trampled) by a horse and buggy. So good night and farewell until next time!