Written By Fritz Ifert-Miller
Day 8 - The dichotomy of Jersey
Distance: 55.13 mi

|

Ride Time: about 6 hours

|

Elevation Gain: 695.0 ft

|

Avg Heartrate: 138.5 bpm
This morning Ramon made us coffee while Emma apologized on behalf of Lupe (their curious cat) who had rooted through our bags in the night. After a breakfast of Jam and Bagels we said our goodbyes and took a quick picture together. Our route was plotted, and we only had about 50 miles to travel in the day.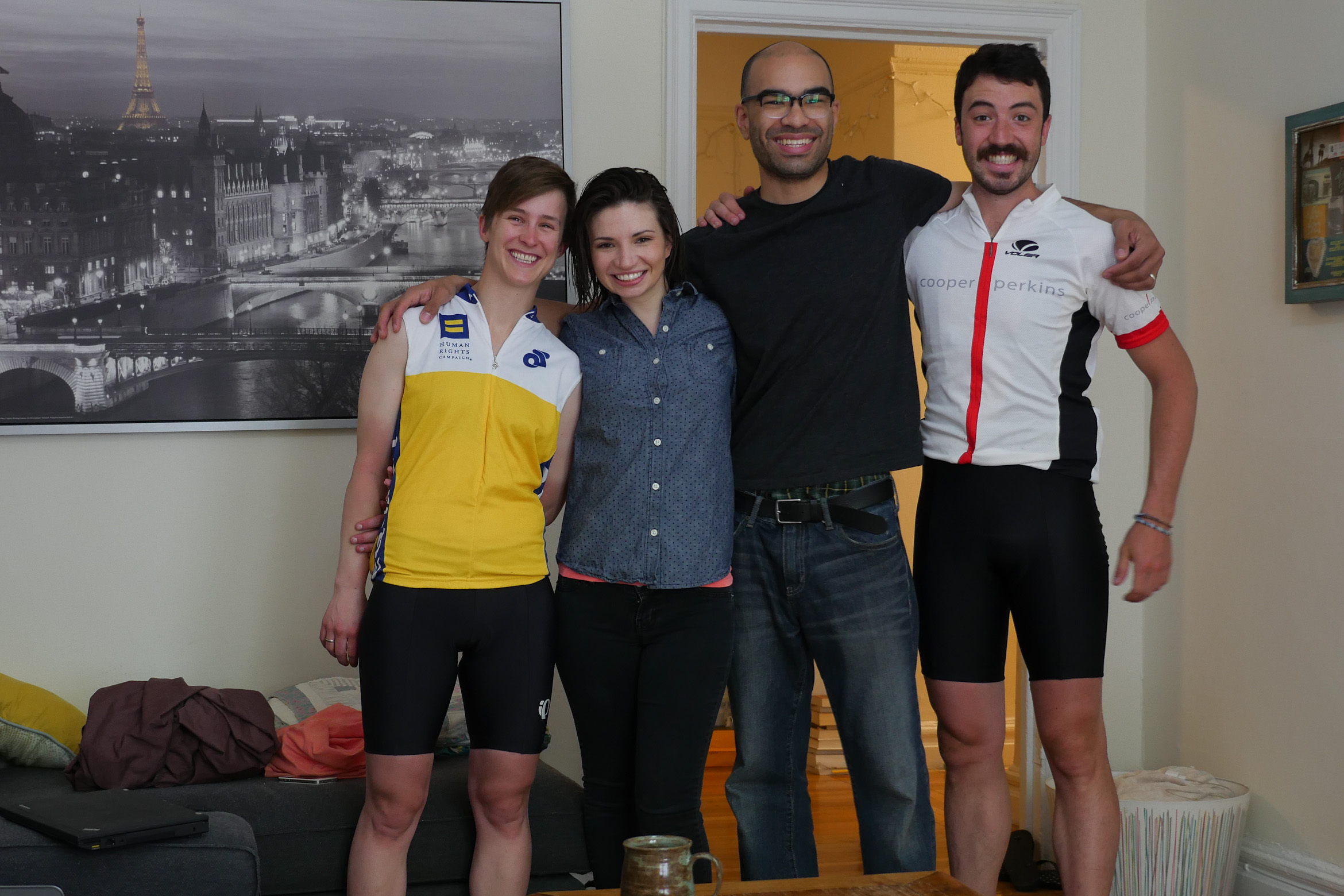 Out the door we went and began our day's ride happy that we only had a few miles to go in order to connect with our first bike path. After reaching the botanical gardens per GPS, we learned of our first route planning mistake of the day. The gate to the botanical gardens was staffed by two individuals who told us in no uncertain terms that our bikes were not going to be taken over their threshold either pedaling or being walked.
Annoyed, we pedaled around trying to find another route to the George Washington Bridge. Less than eager to contend with cars on the thruway, we approached the Bronx Zoo and encountered another dead-end.
We routed further south in an attempt to get to the bridge. The city streets proved harrowing as we did our best to avoid pot-holes, cabs and all manner of other hazards. Even the fire stations did their best to slow our progress through the Bronx.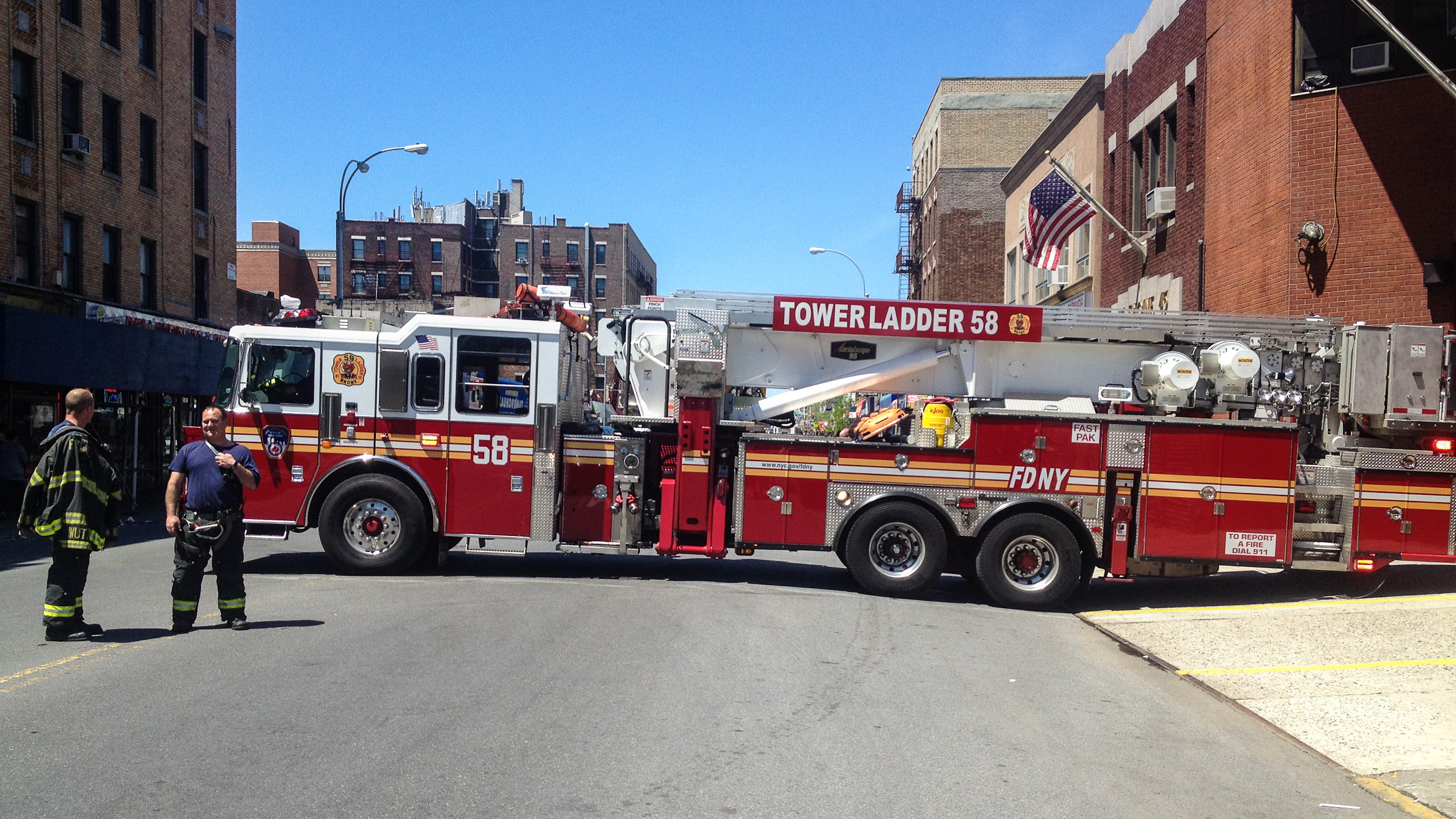 With some less than pleasant city biking behind us, we were able to reach the George Washington Bridge and start our crossing into New Jersey. Happy to leave urban city-centers behind, we were confident the riding would be faster and less stressful. Unfortunately, the day had just begun.
The previous day, Gen had noticed a bulge in her rear tire which prompted inspection and concern. Two bikers who were kind enough to snap a photo for us suggested a bike shop right across the bridge.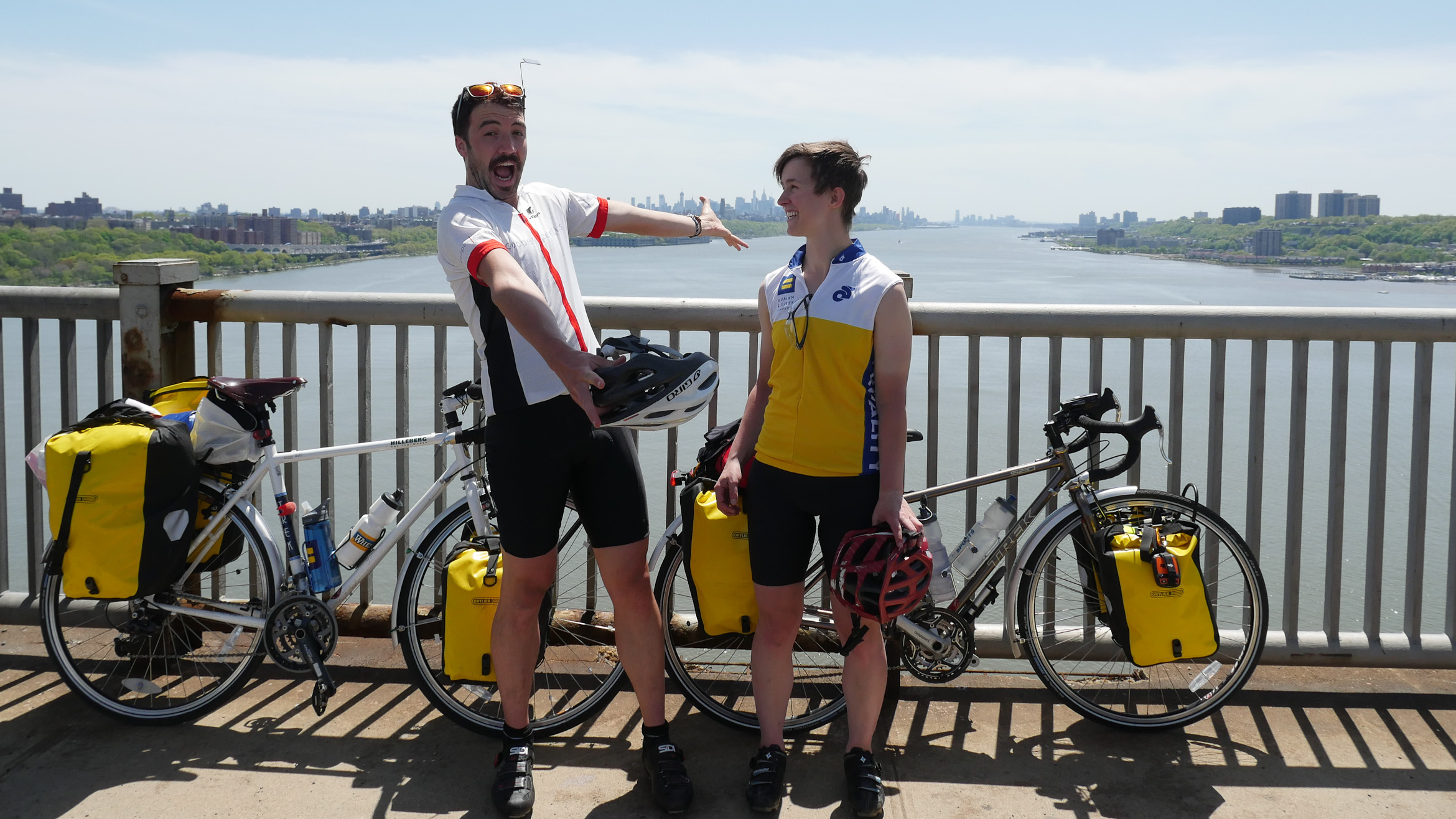 The George Washington Bridge is a very busy bridge, and bikers zipped by us in both directions as we stopped to snap a photo. The New York skyline: an impressive sight to wave goodbye to.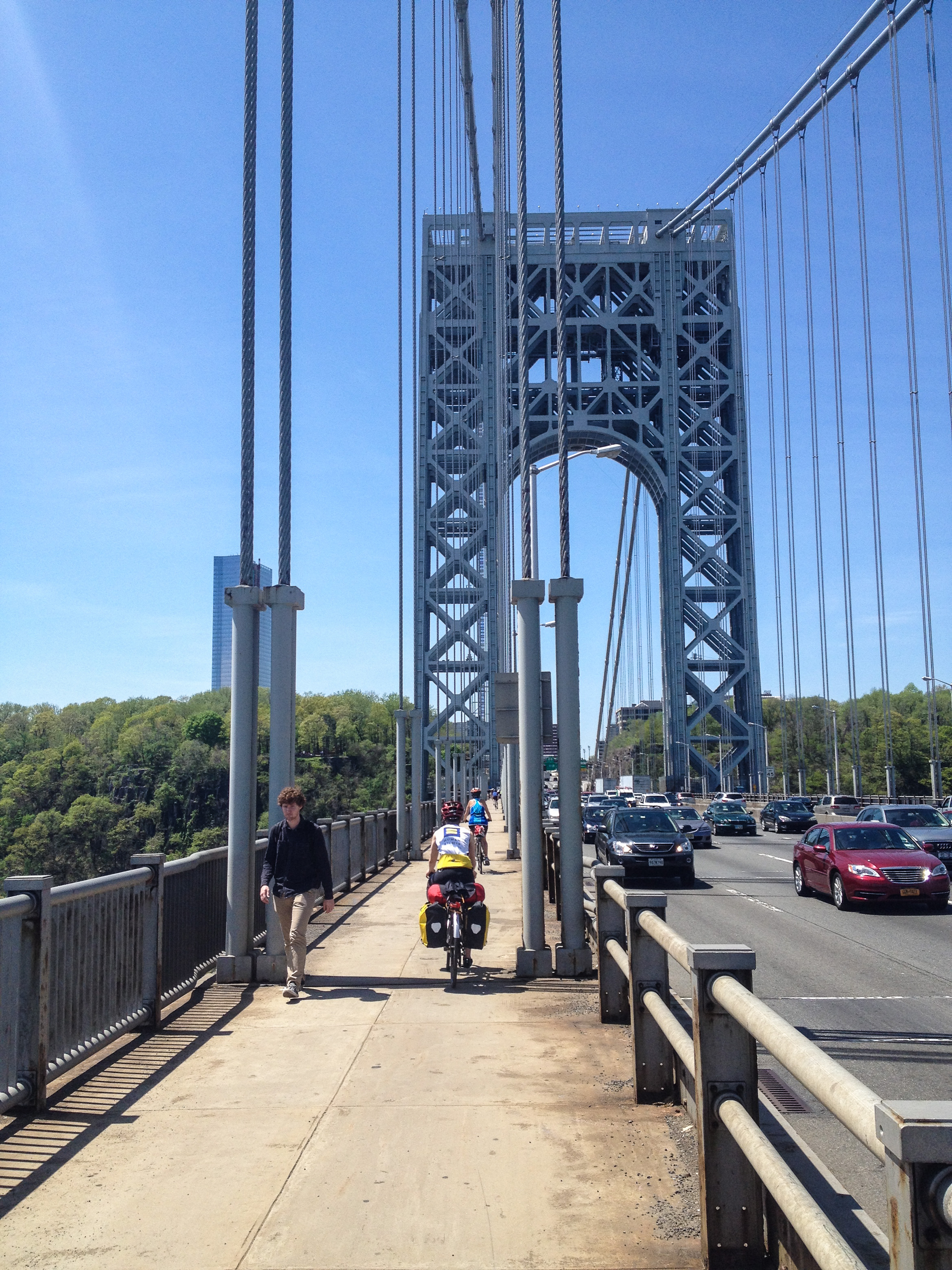 The bike shop across the river told Gen that, while her tire had a bulge, it was probably due to a defect and couldn't be corrected. Frustrated that she had purchased expensive tires that had proven problematic, she cursed her bad luck. We left the bike shop and proceeded to the path; we had anticipated an easy ride along the river, but the GPS disagreed. Trusting the GPS, we ignored the original plan assuming it was mistaken.
We have come to the conclusion that trusting the GPS is never to be done lightly. Especially when the original route contains non-road paths.
Down through the busy Jersey streets we biked feeling like we had possibly been in error putting faith in the Garmin. The population density grew and grew until we found ourselves in the heart of Jersey City, on the busiest one-way thoroughfare that we could imagine. Cars packed bumper to bumper with parked vehicles on either side and pedestrians choking the sidewalks, we did our best not to get smushed by the heavy downtown traffic. In particular shuttle van/buses crowded us badly leaving little margin for error and safety.
Weary of the Jersey City roads, we stopped for a brief slice of pizza and prepared for the second half of our day. Again, glad that the hard part was over (again wrong).
With pizza out of the way we once again put our chips in playing the hand the Garmin dealt us. In poker terms, this hand would've been worse than a pair of twos. Before we had the sense to realize something had gone awry, we found ourselves pedaling down Routes 1 & 9 -- New Jersey highways-- in our attempt to cross the Passaic and Hackensack rivers. These bridges had footpaths which looked like something out of Mad Max, likely due to their lack of use by any sensible pedestrian. Literally strewn with broken glass, the paths made us thank our lucky stars for the Kevlar lined tires that we had chosen.
The bridges crossed, we decided that, come hell or highwater, following the GPS's direction to continue on 1 & 9 was a prospect too dangerous to even consider. We promptly exited via an off-ramp as quickly and safely as we could and wound our way through dozens of derelict industrial yards.
With Gen's expert usage of Google Maps, we were soon back on residential streets in Newark, New Jersey, biking past Rutgers University.
The Newark streets were not much better than Jersey City, and they quickly became worse as roving caravans of dirt bikes and quads and motorcycles all doing wheelies and burn-outs sped past us with no regard to traffic lights or right of way.
We had inadvertently stumbled into Irvington, a suburb of Newark on the day of an enormous block party. Roads ahead blockaded and the streets readily becoming impassable thanks to the heavy foot traffic, we were worried that we might be getting stuck soon.
From behind a biker approached asking us if we were from the area. We told him we were not and explained where we had come from, and he recommended we follow him to route around the block party and crazy activity in the streets. He introduced himself as Al Hardy, and we treated him as our unofficial Newark tour guide as we followed him to the city limits over the course of the next 4 miles.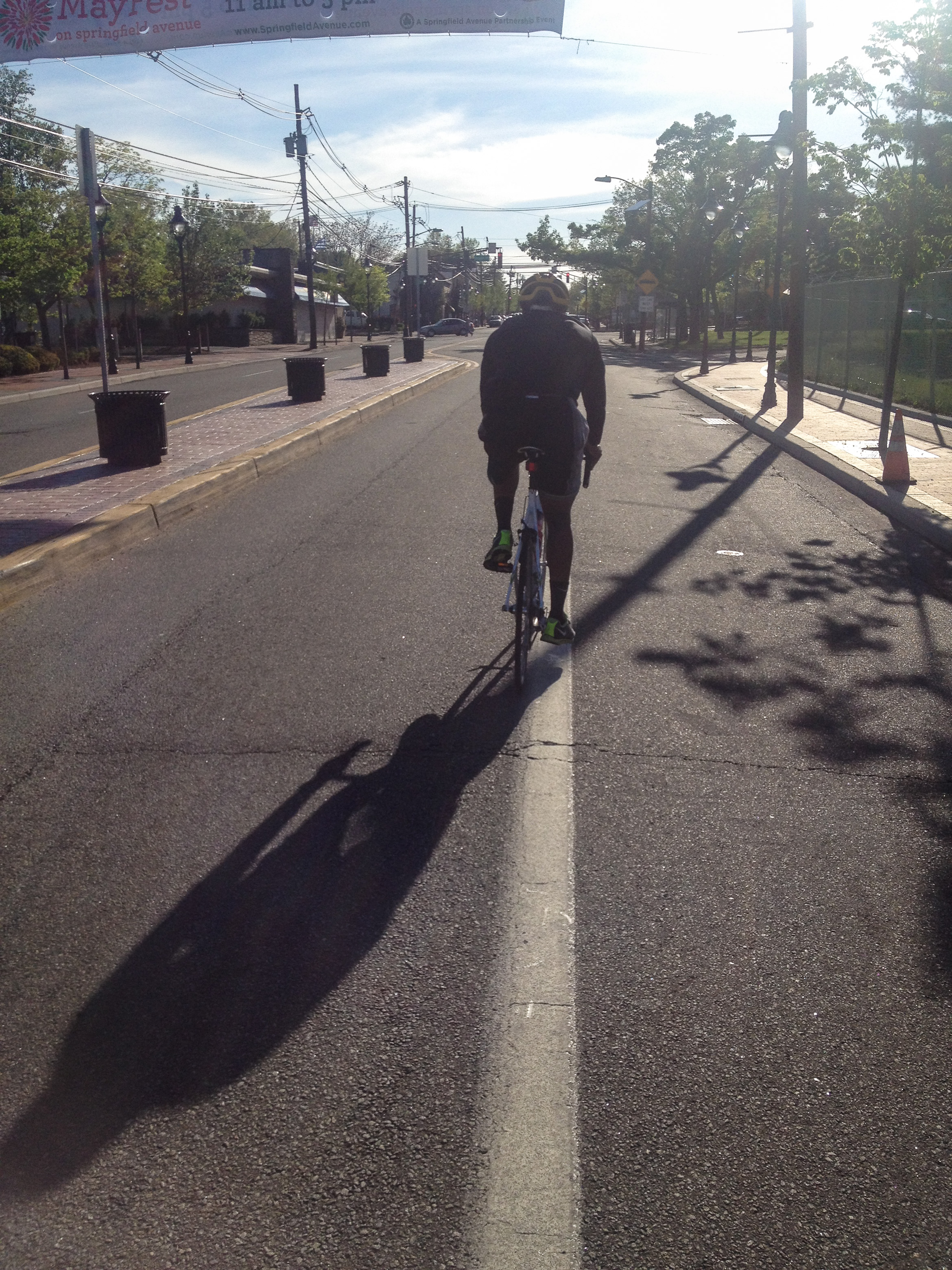 When it was time to split off, we thanked him for his assistance and exchanged contact information. Once again the kindness of strangers has been one of the most rewarding aspects of this trip. Thanks so much Al! You were amazing!
Onto streets that were more reasonable, we finished the last 10 miles of our journey arriving at our Warm Showers location in Warren, NJ. I pulled a Pepsi out of my panniers that I had stashed for celebrating and hopefully surviving our urban escapades.
Our host Dave had been kind enough to give us rooms to sleep in and invited us to join his family for a Mother's Day dinner. We made conversation with his parents Bev and Phil and his sister and brother-in-law Michael.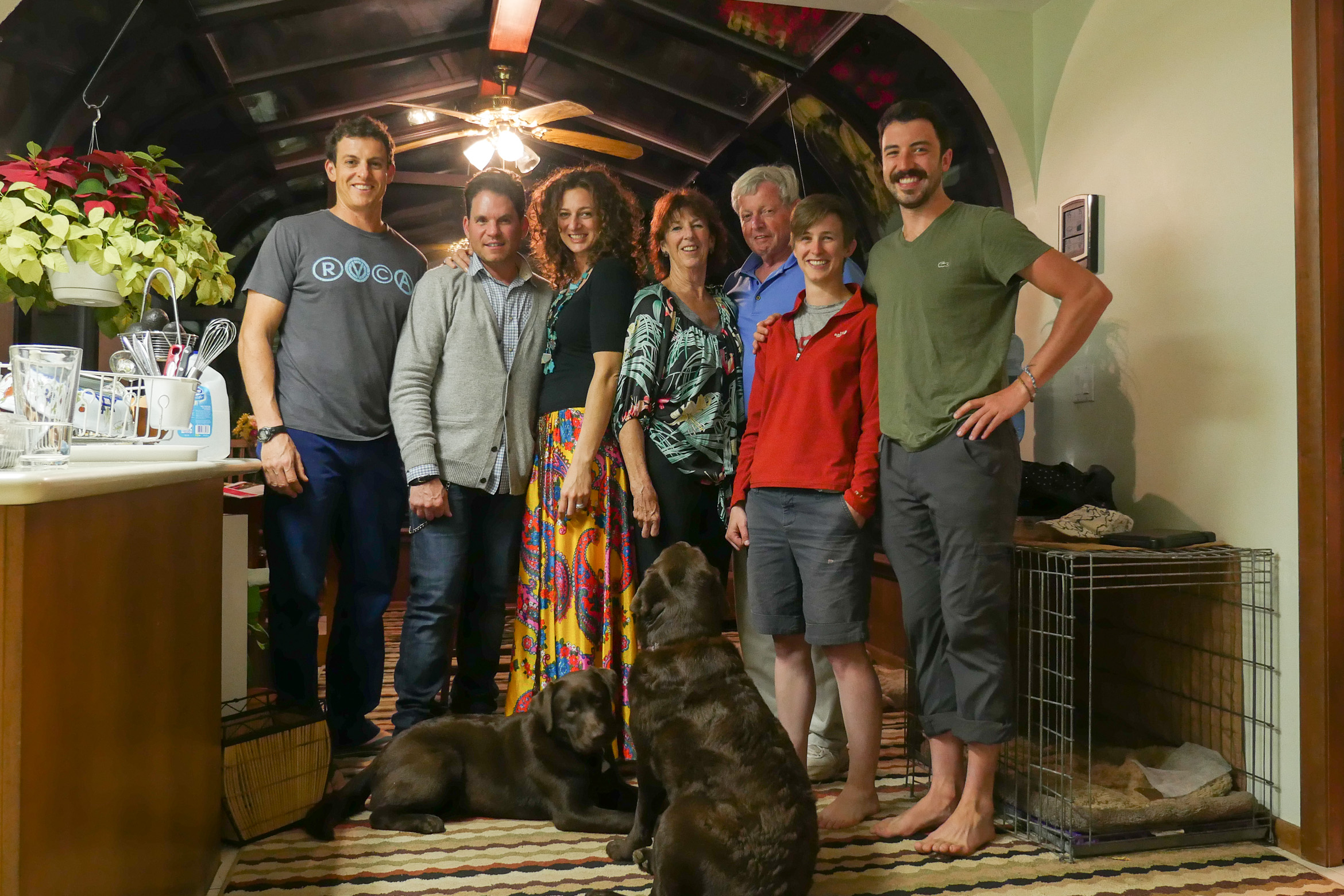 Dave does tours in other countries (Patagonia, Southeast Asia, New Zealand), and told us how he never carries tools or spare tires. We envied his ability to be so brave and travel so light, but stuck to our plan to carry a plenitude of replacement parts and maintenance tools.
Michael, Dave's brother-in-law, works for David Letterman and regaled us with stories of the magnanimous celebrities he has encountered and worked with; he spoke very highly of Bill Murray whom he claimed was a genuine class-act. Gen, being the prodding type, tried to get Michael to dish on all the celebrity dirt that he had.
"So, tell me, who's the worst celebrity? Who's the worst? Who's a total jerk?"
Michael was too smart for Gen's attempts to extract damning information and diplomatically only told us about the good people. Although, he made no mention of Big Bird, leading me to believe that Big Bird, by omission, must be, as well as a huge bird, a huge jerk.
Phil, Dave's father, owns several restaurants and is enjoying his pseudo-retirement while dining in style.
In addition to crashing Bev's Mother's Day Dinner, I also unintentionally insulted her mother, by asking if someone in the family was an apiarist, having seen what I believed to be a bee-keeper's suit in the bedroom I was using. In fact it was her mother's aged canvas wedding dress which had been taken out of storage. Oops. Such is my luck.
With a delicious dinner of chicken, steak, sweet potatoes and asparagus we were ready for bed. Once again we have been supremely lucky.