Written By Fritz Ifert-Miller
Day 73 - Return to sea level
Distance: 100.16 mi

|

Ride Time: about 9 hours

|

Elevation Gain: 2481.9 ft

|

Avg Heartrate: 118.8 bpm
This morning we woke early with the knowledge that we would be once again competing with cars for our share of the road. Owing to the poor experience we had entering the park we decided that it would be best to beat the sleepy vacationers to the punch. We still needed to pose and take a picture in front of El Capitan in classic Yosemite fashion, so we struck camp and bid adieu to Camp 4. Weary travelers were already perched on the logs outside the ranger station, eyeing the empty sites like buzzards. We pedaled to El Cap Meadows and posed for a picture. It was not the best effort (poorly framed and off focus) but it captured the idea of the place. Tiny people, big things. A thematic equivalent for our bike trip thus far.
As we started up out of the valley we resumed our belittling mantra of calling the climb "a hill for babies". We'd developed over the past couple days to reduce our remaining obstacles to a level of frivolity that left us feeling unstoppable. Our ease of victory on Tioga Pass, and earlier triumphs over Monarch Pass, the Cranberries and Warm Springs had bolstered our spirits to dizzying heights.
"Better put on my diapers for this one!"
"Am I riding a bike or a stroller?"
And on and on.
While we had prepared for the worst based on the traffic coming into the park, we found the old equation, of proportional correlation between perceived suffering and vehicular patience remained in our favor. We were given a wide berth by the few vehicles that did pass us and had no real feelings of anxiety. In fact, I would go so far as to say we felt great. The temperature was perfect, the pedaling was easy after a day of resting our legs. We were in peak physical condition from the past 73 days on the road. Even our slight nerves towards biking through the tunnels proved to be needless. We reached the third and longest tunnel and into the light of sodium bulbs we went.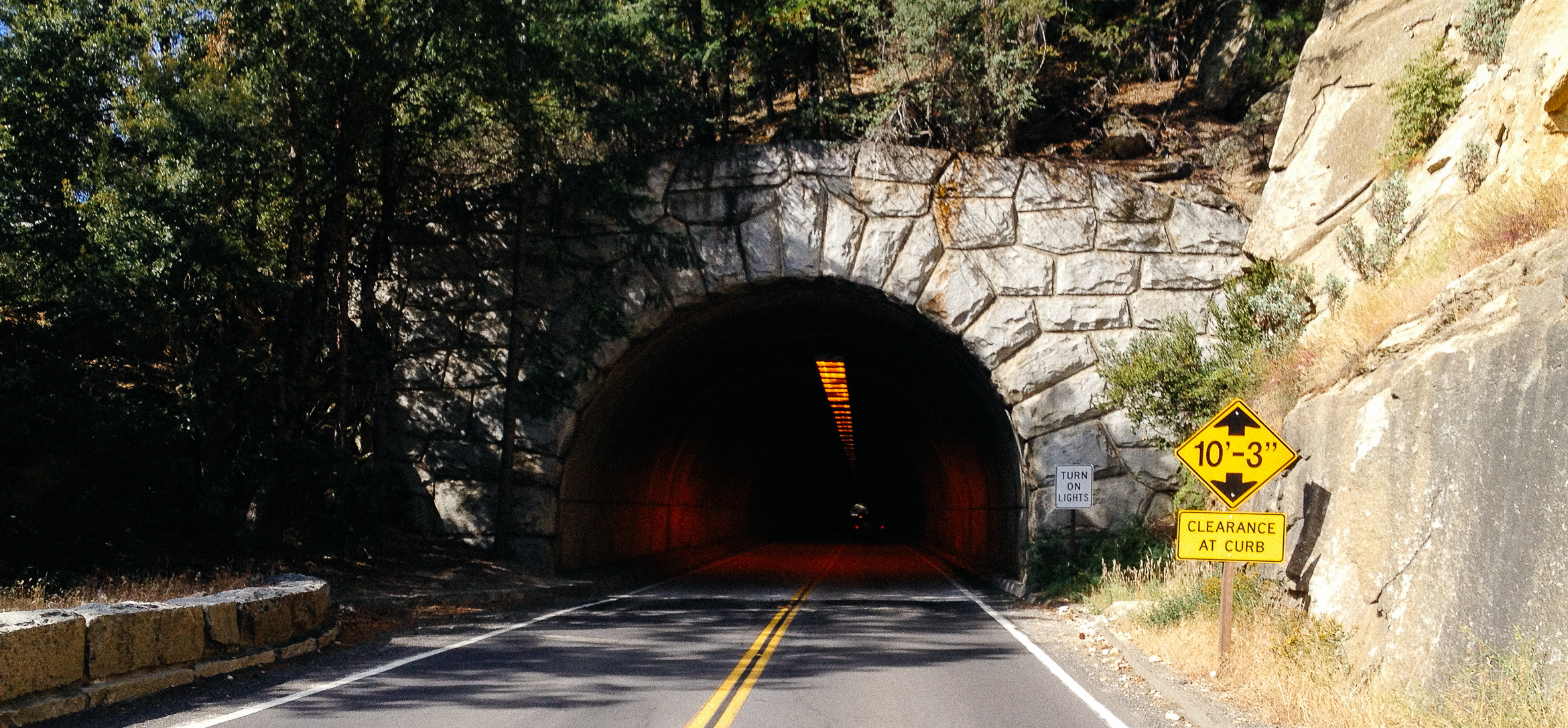 We pedaled spiritedly, awash in the amber glow. The tunnel intensified all sounds and passing cars sounded triple their size thanks to the reverberations. On our way in and on each previous trip through the tunnel I had noticed a small aperture on the south side wall. With no shoulders, there is literally no way to stop in the tunnel when driving a car. I told Gen, I needed to see what it was and this would be a rare opportunity thanks to the bikes. We carefully crossed the tunnel to the opposite side and pulled our bikes down a small embankment to reach a bored tunnel in the rock wall. Intense blue light shone from the end and we walked our bikes. As we made our way down the narrow corridor I was reminded of Gen's dislike for tight spaces.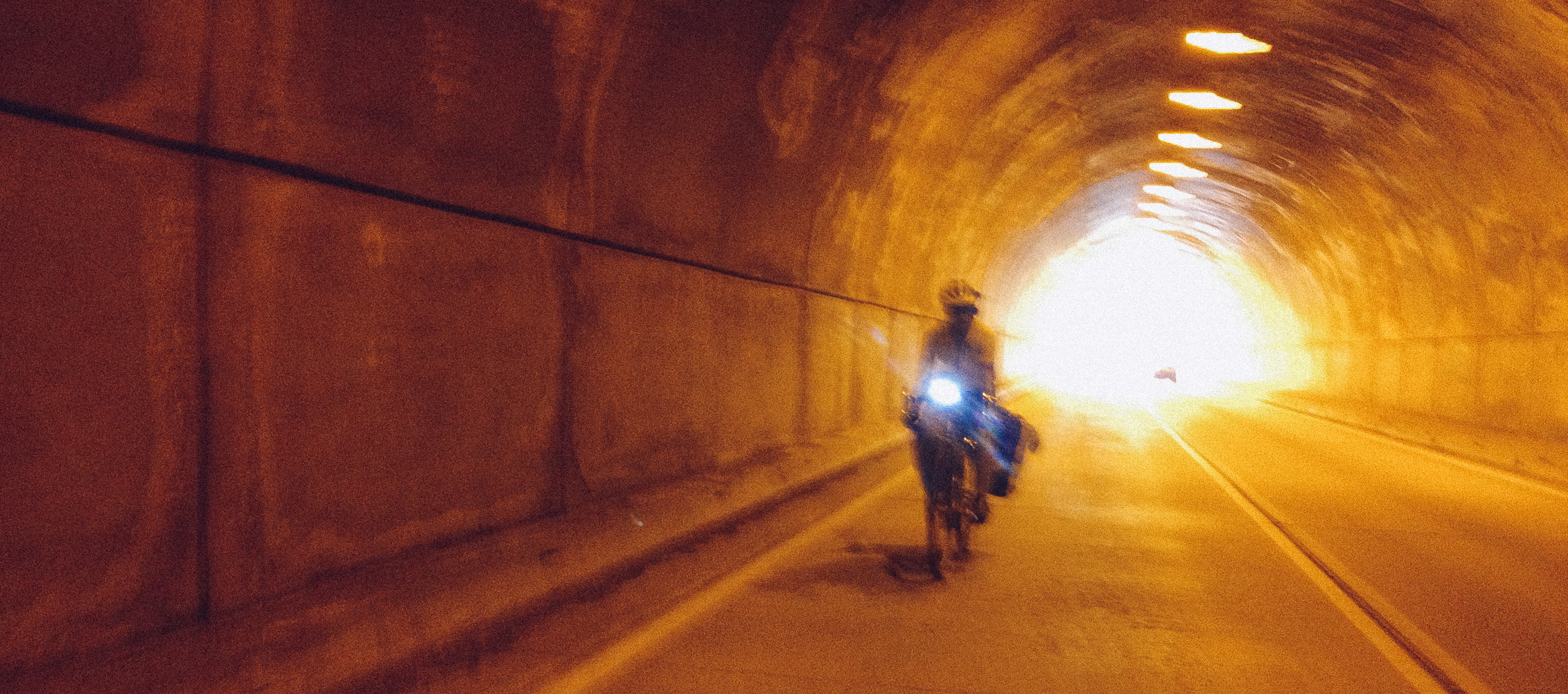 An old grate inscribed with many names was the sole barrier between us and a sheer precipice. We stood and took a last glimpse at the valley before I asked Gen if she would take a picture of me on the opposite side of the grate. I told her I could easily crawl underneath and she responded with an emphatic "no". After a few safe pictures we reemerged from the tunnel within a tunnel to Gen's relief. We pedaled almost 2000' of elevation in the next 8 miles and reached our turning point.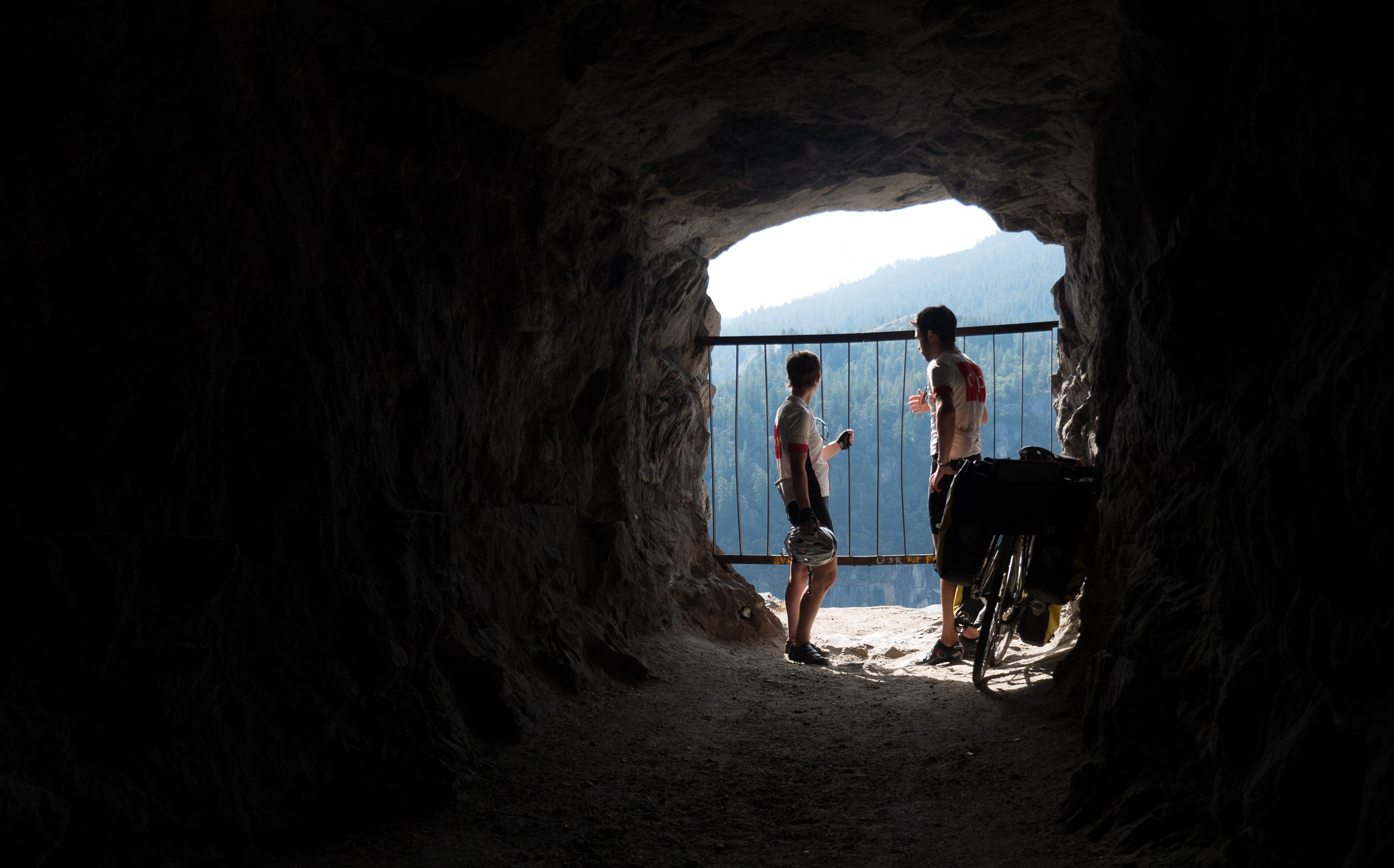 The most challenging climb remaining on the trip had been finished and it was a steady march towards sea-level with the last of 6000' behind us. We stopped at the gas station near Crane Flat for a quick stocking of muffins and water and a much needed bathroom break. Stickers of Yosemite National Park were purchased and affixed to our weathered panniers as symbols of our conquest. The fork in the road was clear and we had come far enough to read 'San Francisco' on a sign. That the end could be so close was both invigorating and slightly sad. We started onto 120 West out of Yosemite National Forest and into Stanislaus National Forest.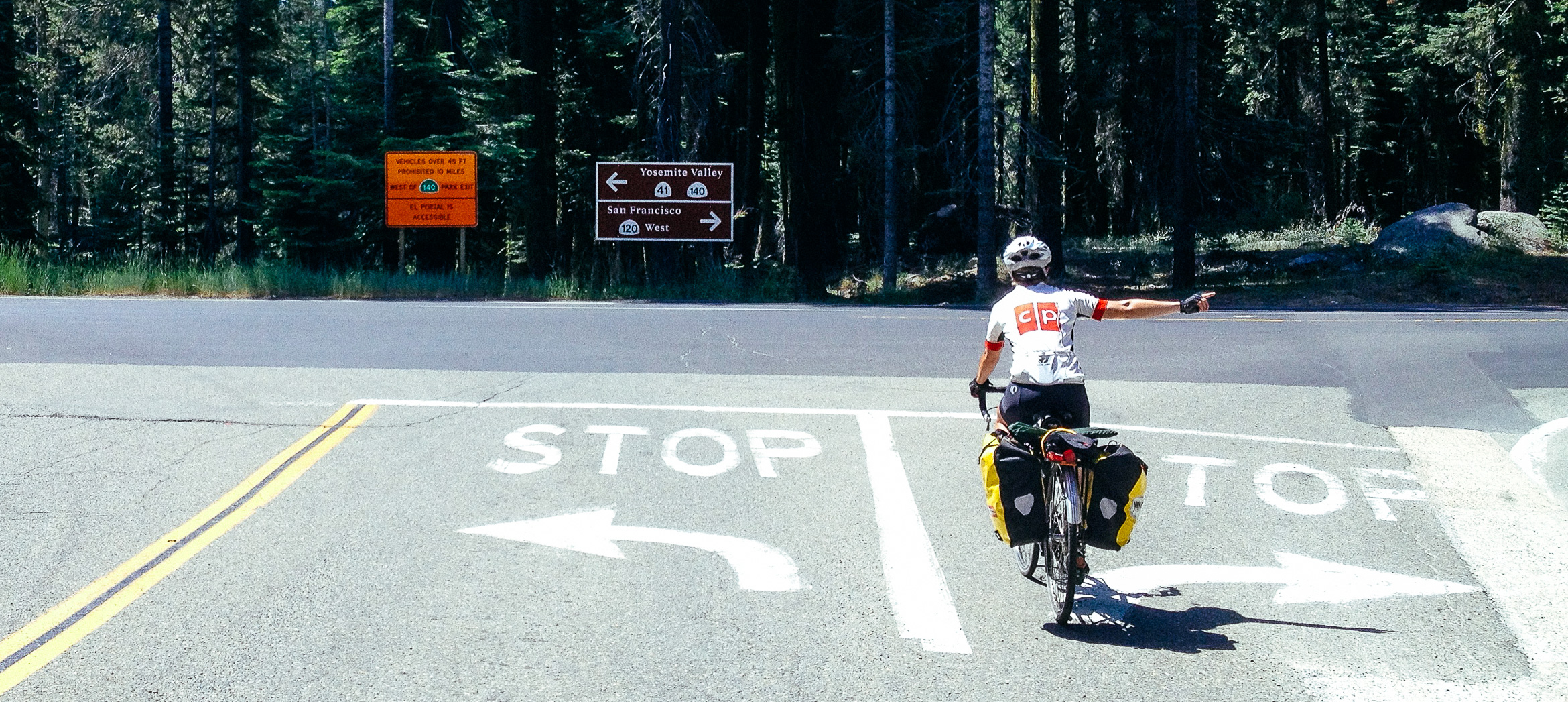 A notable phenomenon occurred as we descended out of the Yosemite Park. The cool air of the mountains gave way to gradually intensifying heat. We both started to sweat profusely as the temperature steadily climbed. During the previous summer, the Stanislaus National Forest was ravaged during the Rim Fire . The Rim Fire burned an estimated 257,000 acres before it was contained and caused over a hundred million dollars in property damage. It started when an illegal campfire grew out of control.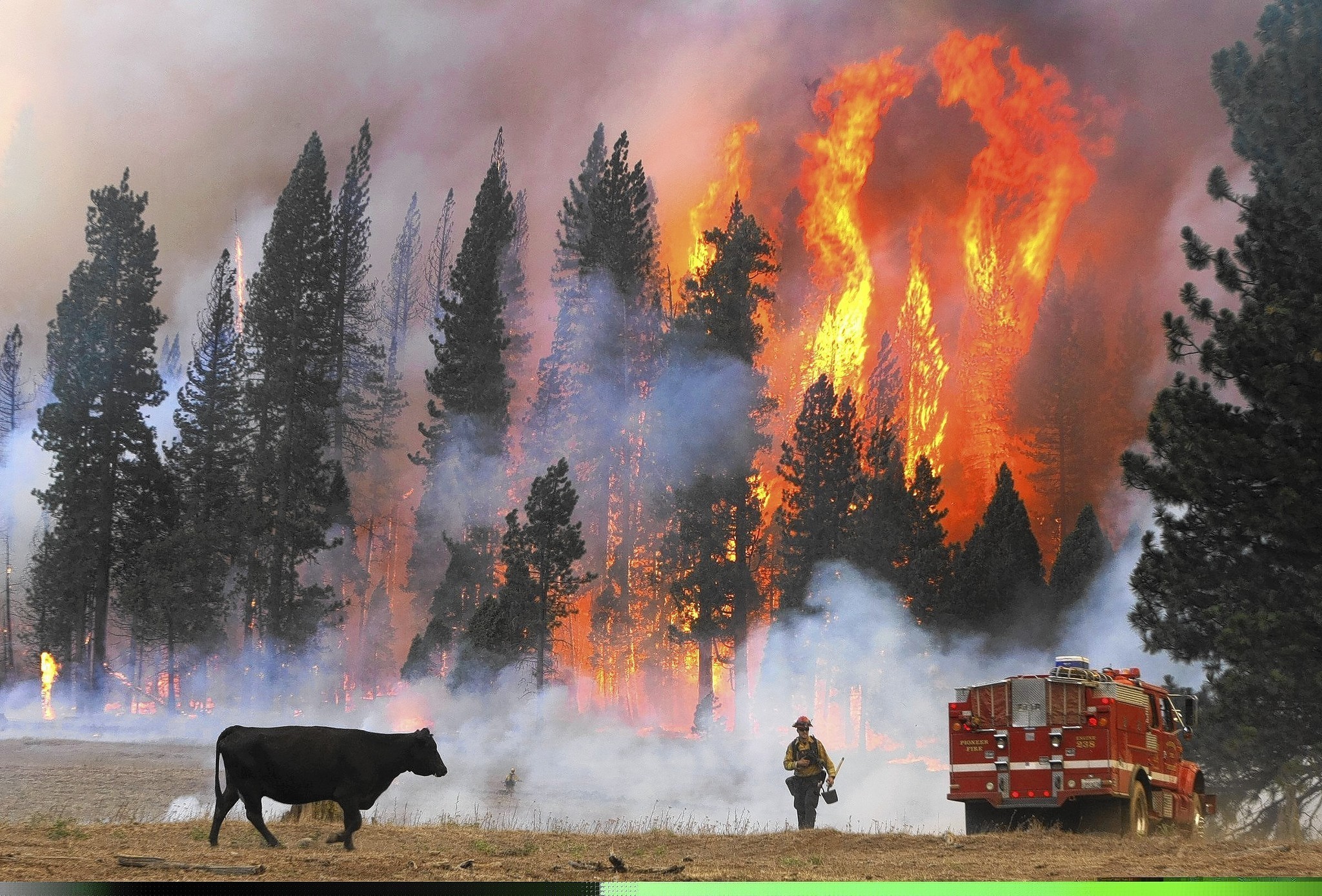 Photo copyright LA Times
While the climb out of the park had indeed been a baby hill for babies, we were stymied by Gen's nemisis the heat mixed with steep and unforgiving rollers. It was little wonder that a forest fire could grow so uncontrollably in the area. Intense heat, a total absence of moisture and dried vegetation offered the perfect breeding ground for a conflagration. The charred remains of giant trees littered the landscape and we passed countless signs forbidding entry into the roadside wilderness.
BURN AREA - DO NOT ENTER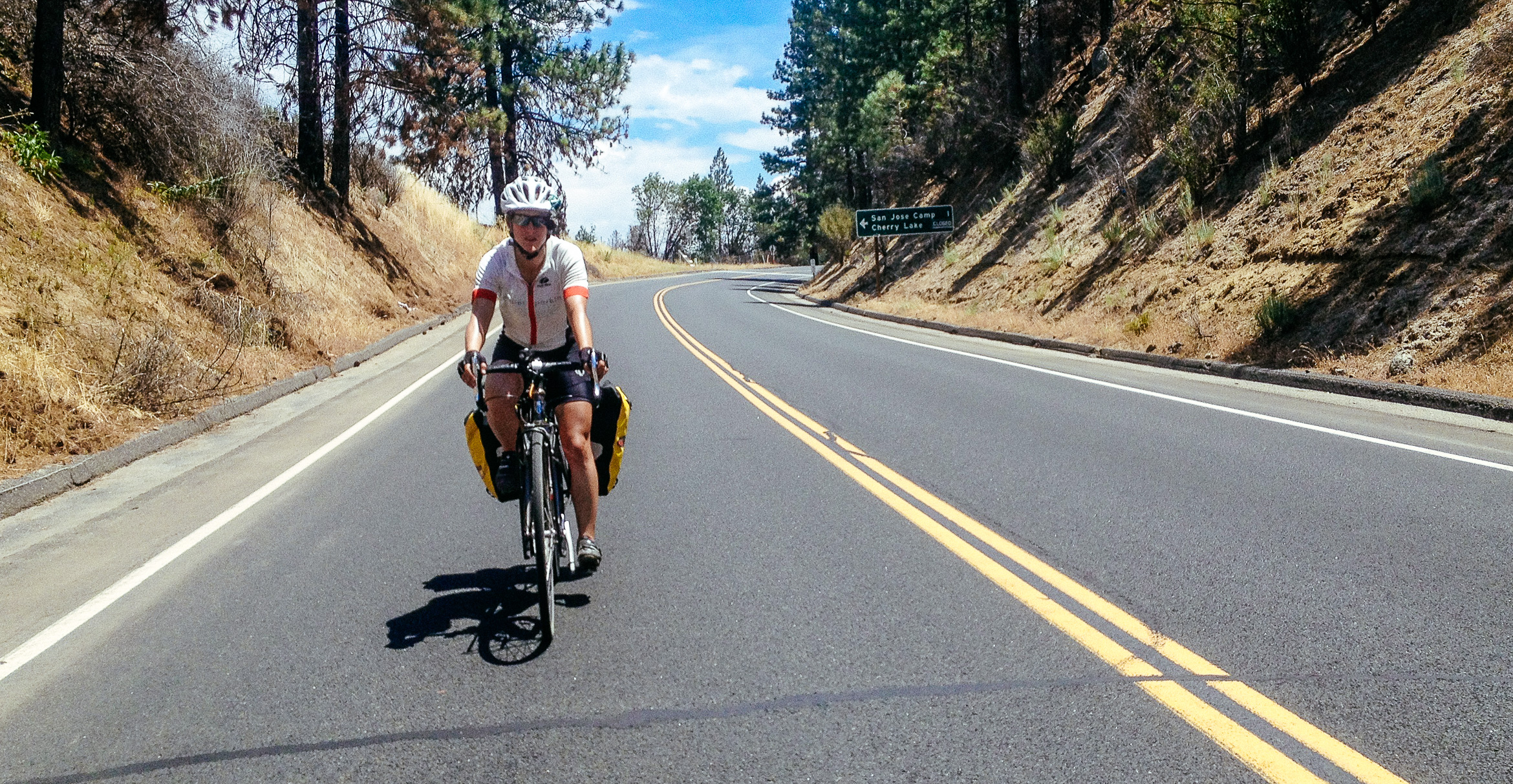 The steep rollers and high temperatures were taking their toll on our morale and the trip which had seemed so trivial last year in a car was proving to be more challenging than anticipated. It is never a good idea to tell yourself the worst is over. Even though our biggest climb was finished it had been a walk in the park compared to these lesser obstacles.
Finally we reached Groveland where we were only too eager to take a break from the heat, eat some food and hang out while we waited for the temps to cool off. Finding nowhere suitable to lock our bikes we were called over by an eccentric looking man across the street at a picnic table. The self-proclaimed hippy promised to keep an eye on our bikes and after thanking him and locking them to the adjacent picnic table we moseyed back over to the 'Iron Door Saloon'. The Iron Door has the distinction of being the oldest continuously operating saloon in California and has the plenitude of decaying clutter to prove it.
Our waitress who was clearly new to the establishment repeatedly apologized for the wait (even though our food arrived in a timely fashion), promising that our food would be right out each time she passed. She forgot menu items and struggled to split the bill but was so overly apologetic we couldn't fault her. After a tasty chicken sandwich and the obligatory blackberry pie I asked Gen if she could be persuaded to nap.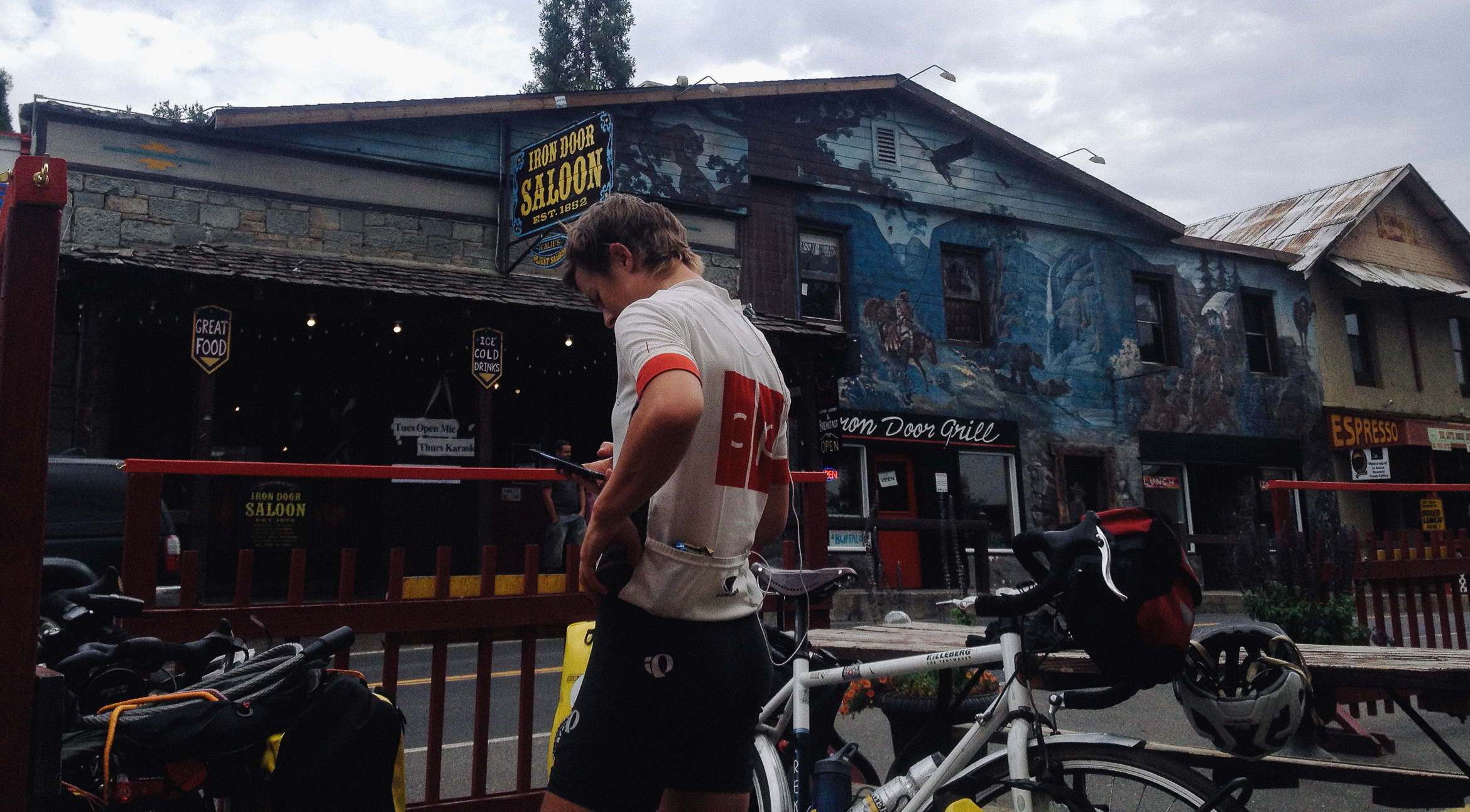 Excited by the prospect of a couch, we went up the street to Firefall Coffee. This small cafe had been a sort of communications homebase for me and Chris Wood the previous summer. The only spot within 20 miles of Yosemite with both a solid internet connection and decent cell-service, we would go there to charge devices, dump memory cards and contact loved ones. The upstairs lounge area with two couches and a carpeted floor also offered a reprieve from sleeping pads and rocky ground.
Feeling obligated to make a purchase, we both ate disgustingly large cinnamon buns, (WHY?!) and Gen relaxed while I attempted to turn out some blog posts. With the cafe closing at 5PM we were back on our bikes into the hot valley below. Jonathan had warned us that the most unpleasant part of our exit route would be the incredibly boring and hot California central valley. Aware of our thermo-sensitivity we decided it would be best to cover as much ground as possible during the cooler hours of the evening. I was excited to exit Groveland because I remembered the hairpin winding route 120 took as it lost elevation. We stopped at a gas station to replenish water where we had a nice chat with a young hippy girl who had spray painter her car with peace symbols and was driving cross country. We wished her luck and she responded likewise.
An RV and Jeep were also filling up which we had seen earlier on our way into town. We had leapfrogged past them 3 times on our way into Groveland and assumed we wouldn't see them again after our nap. Now it felt like we were being followed. The RV was towing the Jeep but couldn't make it over the steep rollers with the added weight and so the wife and husband would decouple the two vehicles at the base of each large hill. I joked that they were stalking us and that we should try to lose them and away we went.

The winding descent out of Groveland was even more incredible than I remembered. The intense turns cut into the hillside and necessitated slow speeds and cautious riding but were exhilarating. Several stops to take pictures, slowed our progress but it was well worth it. We were dogged by the RV jeep team who also seemed to pull of the road at every opportunity managing to keep our slow pace.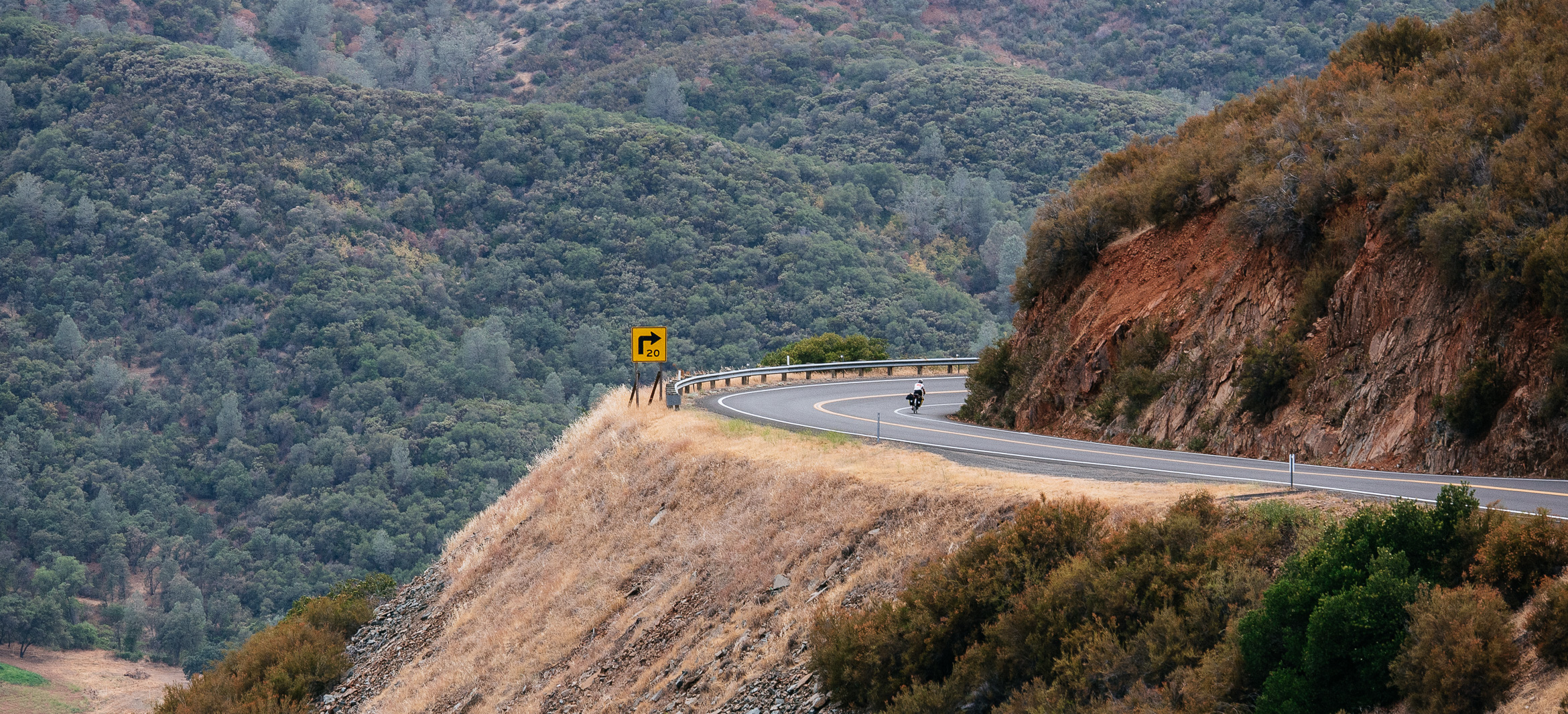 After reaching the bottom we crossed the Don Pedro Reservoir which illustrated the extent to which California's ongoing drought has affected the area. At just 45% capacity, boats sat in the low water inaccessible. The concrete pylons of the bridge we crossed showed water stains that exceeded the current level by more than 40 feet. Water rights and issues are something largely unfamiliar to those who live on the East Coast (ourselves included before this trip) but impressive when faced in person. I don't know nearly enough about the issue to make any sort of intelligent observation or commentary, other than to say water is a messy business on the West Coast. While marveling at the drought ravaged reservoir, the RV made its final and closest pass, not more than a foot and a half from me, on an open stretch of road. I was more than a bit miffed that it had decided to end our short-term relationship on such poor terms.
Into the open expanses of the Central Valley we pedaled. The ramshackle abandoned aesthetic of the derelict mid-western steel towns reemerged and we rolled past countless boarded up buildings and homes. It was a wonder these businesses had ever opened in the first place and we imagined which economic boom must've briefly accommodated their existence. The earlier heat of the day had thankfully subsided and though we were riding at dusk (a time we avoided due to driver visibility) we were treated to a beautiful sunset which painted the dried grass gold.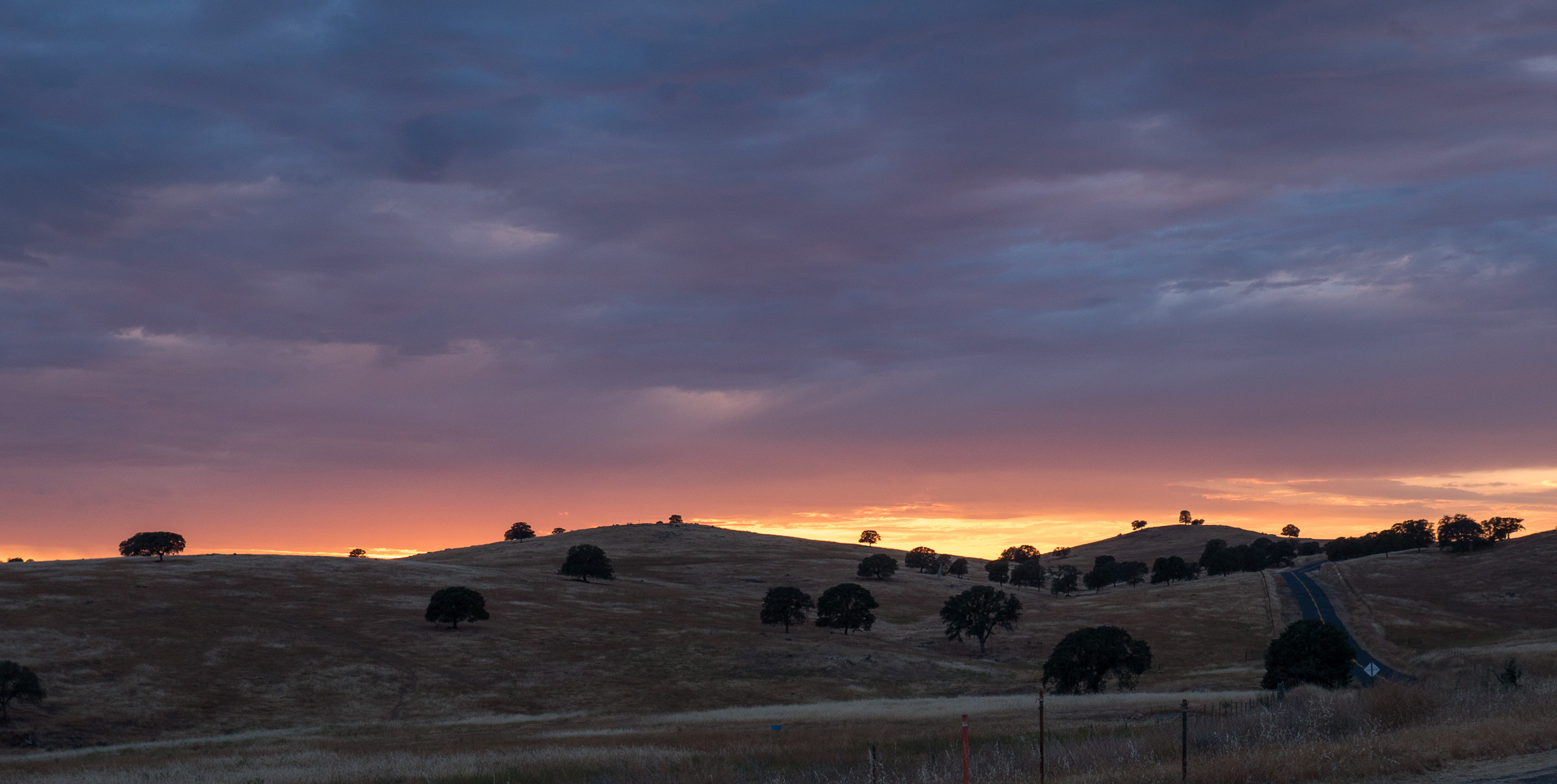 During the sunet, we saw the wisps of light catching feather rain in the air and were too impressed to continue. Sitting momentarily at a park entrance we watched the last of the sun recede beneath the horizon. In the past we had doggedly increased our speed during such occasions in order to eek out every last drop of light. There was an unspoken moment of reverence for this particular occasion. Our ride down the hairpins and through the dusty valley had been so amazingly pleasant. Coming off our beautiful ride up into and out of the park there was just an air of accomplishment, of resolution. We agreed that it could have well been the last moments of the trip and we could reach the ocean content at that moment, such was the beauty and the contentment. But done isn't done until it's done.

We rode through the growing darkness and reached Oakdale late. We had managed to pin ourselves into a familiar situation. Too close to town to bandit camp and too cheap to pay for a motel. It was mile number 94 and I knew our opportunities for centuries were limited at this point. However, the mental armor of night-time riding was absent thanks to the busier urban environment. It was 9:30PM already 13 and a half hours since we started. A Mexican restaurant offered one of the few late night dining options so we locked the bikes in eyesight from the booth window and headed for the door.
As I walked, I looked at the busy street and noticed strange leaves swaying in the night wind.
"Oh my goodness, GEN! PALM TREES! THERE ARE PALM TREES!"
Using her sensible engineer brain she was less impressed by the botanical observation. Of course there were palm trees, we were in California. It just hadn't really hit me how close to the coast we were, that we would see palm trees. It was one of those 'Wow' moments, where the magnitude of your travel really slaps you across the face. Continuing to stare dumbfounded at the tropical foliage, we entered the Mexican restaurant to plan and get some dinner.
The first step when reaching any town without a solid sleeping plan was to call police departments and churches. Police departments will tell you if city parks are permissible for camping or if there are other available options. Churches will often (from our experience) grant use of their property to camp for the night.
"Hi, my name is Fritz, I am on a cross-country bike trip with my friend and we were hoping to camp in the city park."
"No? Absolutely not? Okay, where is the closest camping?"
"26 miles up the road? *Sigh* Okay - thank you."
Gen looked forlorn and started scouting nearby churches. After calling several and reaching only an answering machines, we decided to take the Google Maps approach. The Google Maps approach is where you look on the satellite or terrain view for green uninhabited patches of and that are easily accessible from the road and present out of sight camping options. One of the churches we had called looked to have a large botanical garden adjacent to the property and we agreed that it would be a sensible solution.
While Gen used the restroom, I noticed the family at the table opposite ours staring at me and talking in low voices. When she came back I told her that I thought they were talking about us and I heard them say something about Yosemite. As we waited to pay the bill I turned and greeted them:
"Are you on vacation?"


"Yes we are from the Netherlands and we were visiting Yo-Suh-Myte!"


"Oh yeah? We just came from there today."


"Yes we know, we saw you in the park and when we left."


"You saw us on the road?"


"Yes! We are visiting California and headed to San Francisco!"
We told them we might see them in the coming days as we were also headed that way. After a brief exchange of stories and their advisement not to bike at night for safety reasons we departed. I told Gen I was sad we wouldn't be getting our century but glad we wouldn't have be risking our safety on the busy city streets at night. We pedaled just over a mile to reach our bandit church camping site and pulled off the road into the ditch while there there no cars passing. There was a white fence and gate that blocked entry to the property but the fence only extended 15' before terminating into the shrubbery. I told Gen to go first and held back the thorny tree branches while she wheeled her bike past the fence.
"Nope, no, go back, go back, turn around- go back! "
Though whispering, her tone of urgency was clear as she retreated backwards; peering inwards, I saw what looked to be a large primitive homeless campsite. Gen had a look of panic that meant it was time to go. We ran down the embankment and hopped on our bikes.
What did you see!?


Knees! I saw people sleeping on the ground maybe a dozen of them!


What the ****?! Let's get the hell out of here!
Spooked we decided that bandit camping was a more problematic option than previously anticipated. After we were a mile down the road we laughed that we were at least thinking with the right opportunistic homeless mentality in order to stumble on their camp. Were we actually in danger? Probably not. Homeless individuals are more often substance abusers and suffering from mental illness than they are violent offenders or predators. The fact that they were in a camp would probably have made it even less threatening but it was still not a place either of us wanted to be and a trust exercise neither of us wanted to take. We knew we had to find a camp but this was not the place to do it.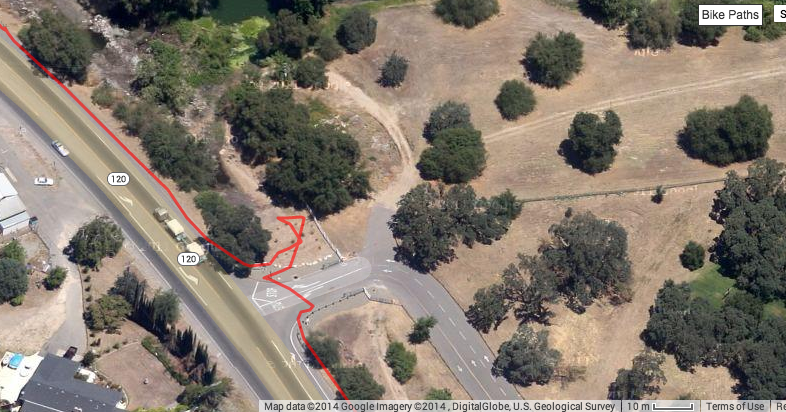 Fortunately, it was less than a mile down the road when I spotted a sign for the reservoir the police had mentioned with a distance marker of 4 miles.
That's when it hit me, the campgrounds were ON "26 Mile Road" . Not 26 miles UP the road. It would be a 4 mile detour, but it would be guaranteed homeless-free, worry-free, legal camping and possibly even restrooms! We were positively gleeful at the change of fortune and I triumphantly remarked we would get our century after all! The last four miles were still marked by uncertainty as we wondered where the entrance to the park might be and whether it would be sufficiently marked. We biked past rows of moonlit orchards on either side and declared them a viable alternative should we find the campground inaccessible. As we turned into the reservoir parking lot we were met by an unoccupied ranger station and swing gate that we deftly outmaneuvered on our narrow bikes.
There were numerous available tent-sites and we took the one closest to the restrooms so as to speed our departure in the morning before the rangers station reopened. We found ourselves additionally rewarded when we discovered the bathrooms were outfitted with showers. Showers are a terrifically under-appreciated daily commodity, and when you are sweating and biking for 15 hours they are a downright god-send. There is a reason the community of couch-surfing for bike tourists is called WarmShowers (though it is truly a terrible name). After showering and pitching camp we were exhausted and more than ready for sleep.
Tomorrow will hopefully take us within a day's reach of our final goal. We hope to finish the last of the central valley and cross the Dumbarton Bridge onto the peninsula where we will stay with Gen's cousin in Palo Alto.