Written By Fritz Ifert-Miller
Day 67 - We're getting good at this early start thing
Distance: 69.56 mi

|

Ride Time: about 5 hours

|

Elevation Gain: 935.7 ft

|

Avg Heartrate: 135.9 bpm
Today was fast, really, really fast.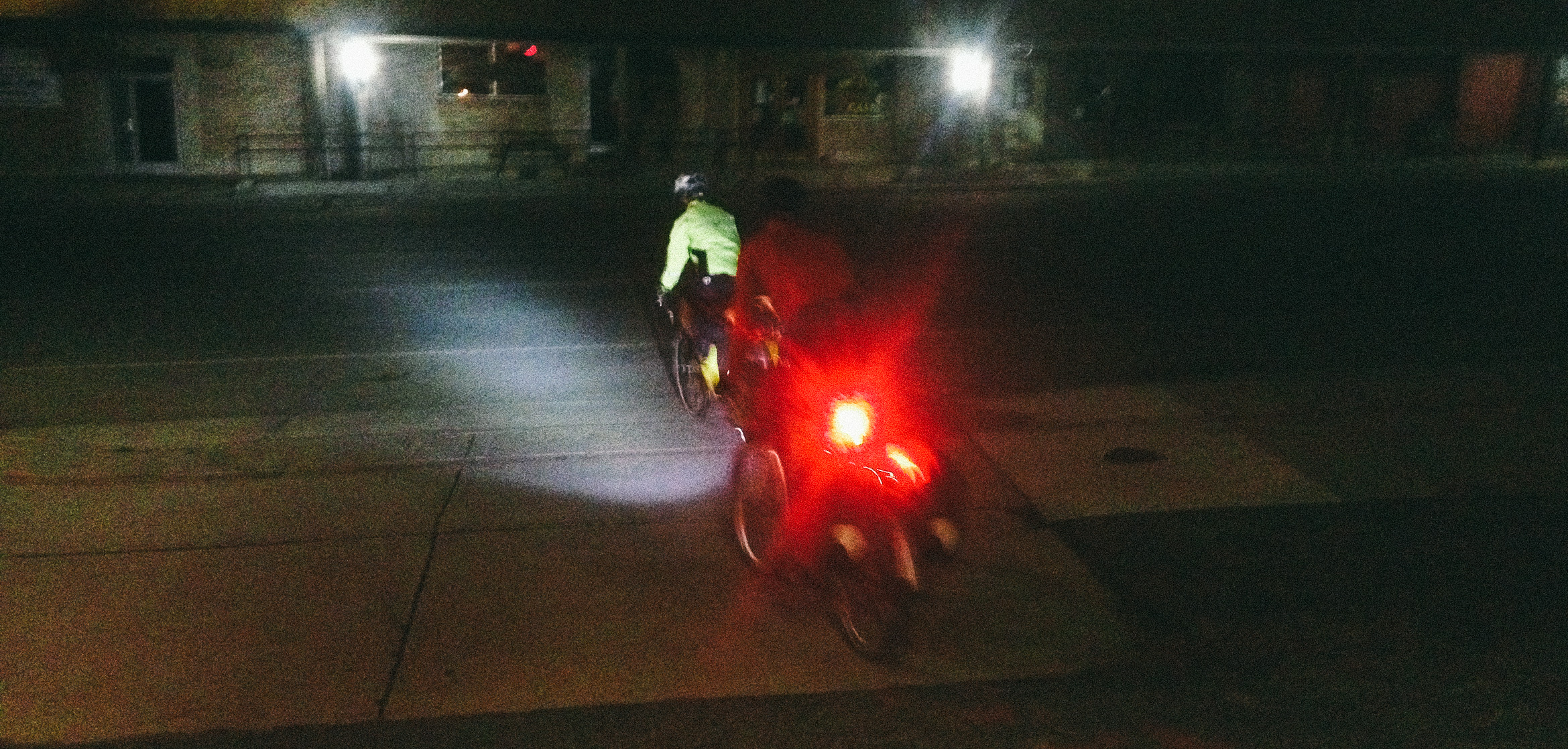 We got up at the sound of our alarms and hastily gorged on an assortment of breakfast foods we had stockpiled the night before. The delays of previous days were absent, and, with coordinated alacrity, we were out before 4AM. Throwing on front and rear lights, we set off down US-50. Throughout this trip, my knees have been an on again off again hassle. The lack of any substantial training left them unconditioned for daily long distance cycling, and they have fluctuated in their daily retribution. Lately, the hard long climbs with heavy loads of water have taken their toll and when I start mashing on hills I am almost immediately greeted by pain directly above the knee-caps.
The last year has been one of the most frustrating of my life. Up until July I had been climbing nearly constantly for about 7 years. After training to do handstands with endless handstand pushups, I had developed triceps tendinitis, a very difficult to treat and protracted recovery period injury. Up until this point climbing had been my primary form of exercise, socialization, recreational activity and stress relief. After seeing an orthopedist to be diagnosed for my elbow pain, I was immediately forbade from climbing until I got better. The predicted 4 weeks turned to 8, then 2 months turned to 6 and a year later, PT, OT, NSAID's and rest have done little to alleviate the dull ache I feel during strained extension of my right arm.
My interest in this bike trip was partly fueled by the intense restlessness and frustration I dealt with being restricted from my favorite activity. What I learned from my elbow injury though, was my totally human fragility. The body doesn't like sudden change, it takes time to build muscle but eons to strengthen tendons. They respond slower and in turn injure easily when the muscle outgrows them by a large margin. Ill-equipped to handle the increased stresses, they inflame and tear. While cycling is considered a low impact sport, pedaling 80-100 miles a day and climbing thousands of feet of elevation on a loaded bike that weighs close to a hundred pounds is a recipe for problems when done in a hurry.
Two months of long distance high intensity riding has taken its toll, and I now gingerly ease my legs into the day in fear of the sharp pain that I anticipate when I push too hard.
When we checked the weather this morning, the forecast had deteriorated to the extent that a flash flood watch was in effect for the area starting at 11AM. I can't bike as fast as Jonathan and Gen, and keeping up with their pace/draft tempo had proved to be more exertion than I could handle without knee pain the previous day. I was anxious about holding the group back, knowing what excessive delay might mean if we were caught by the impending storms. I knew that I would have to make up the miles somehow, and when within the first 10 miles Jonathan and Gen stopped to pee, I told them I would continue on ahead and let them catch up so that I could bike at a comfortable pace for the time being.
I knew that I might not be able to outpace them, or even keep their pace, but that I could stop less. I set out to keep a comfortable high rpm pace with minimal strain or heavy pedaling, a pace that I could maintain indefinitely and they would catch up when they caught up. I watched in my rearview mirror as their headlights grew fainter and watched as they started off again. The predawn light was starting to leak over the mountaintops and the orange chased the pale blue higher into the sky.

I biked like I was being pursued knowing the longer I could stay ahead, the less I would hold everyone back. Every corner I could cut to stay on my bike I cut. Previous rides had seen separate stops to pee, to eat, to put on or take off jackets etc. When I got hot I took my quarter-zip jacket off over my helmet while pedaling. I fetched my PB&J and spare water from my pannier while peeing and ate once I was back on the bike riding. I had only one non-essential stop to photograph the sunrise which I managed to take while relieving myself as well.

After reaching the bottom of the first climb with less than 35 miles left to go and half of the day done, I drained all of the remaining water in my bladder onto the roadside, dropping all the superfluous weight I could manage for the upcoming flats and eventual climbs. During this another cyclist passed me and I exchanged pleasantries warning him of the inclement weather headed through the area. I was back on the bike and cruising again.
Other days I have watched my bike computer to monitor heartrate and cadence, and to check speed. Today I swore not to look at anything other than the elevation profile until the end of the ride. I wanted to go entirely by feel and ride what was comfortable--not what the computer said was correct.
I find that music goes a long way in terms of making the ride go by more easily, and I left a single album on shuffle repeat throughout the day. The musical styling of the self-titled first release Rage Against the Machine blasted me through the entire day on repeat without halt. I hadn't seen any sign of Jonathan or Gen in 40 miles, and I knew that if I could start the big climb of the day before them I would not delay us by much when they passed. As I started up the first of the two summits I was ecstatic to know that we were within 12 miles of our destination and even at 5 miles an hour I would be done before 11AM. At every turn of the road I was certain that they would emerge from behind the bend and pass me at an unattainable speed.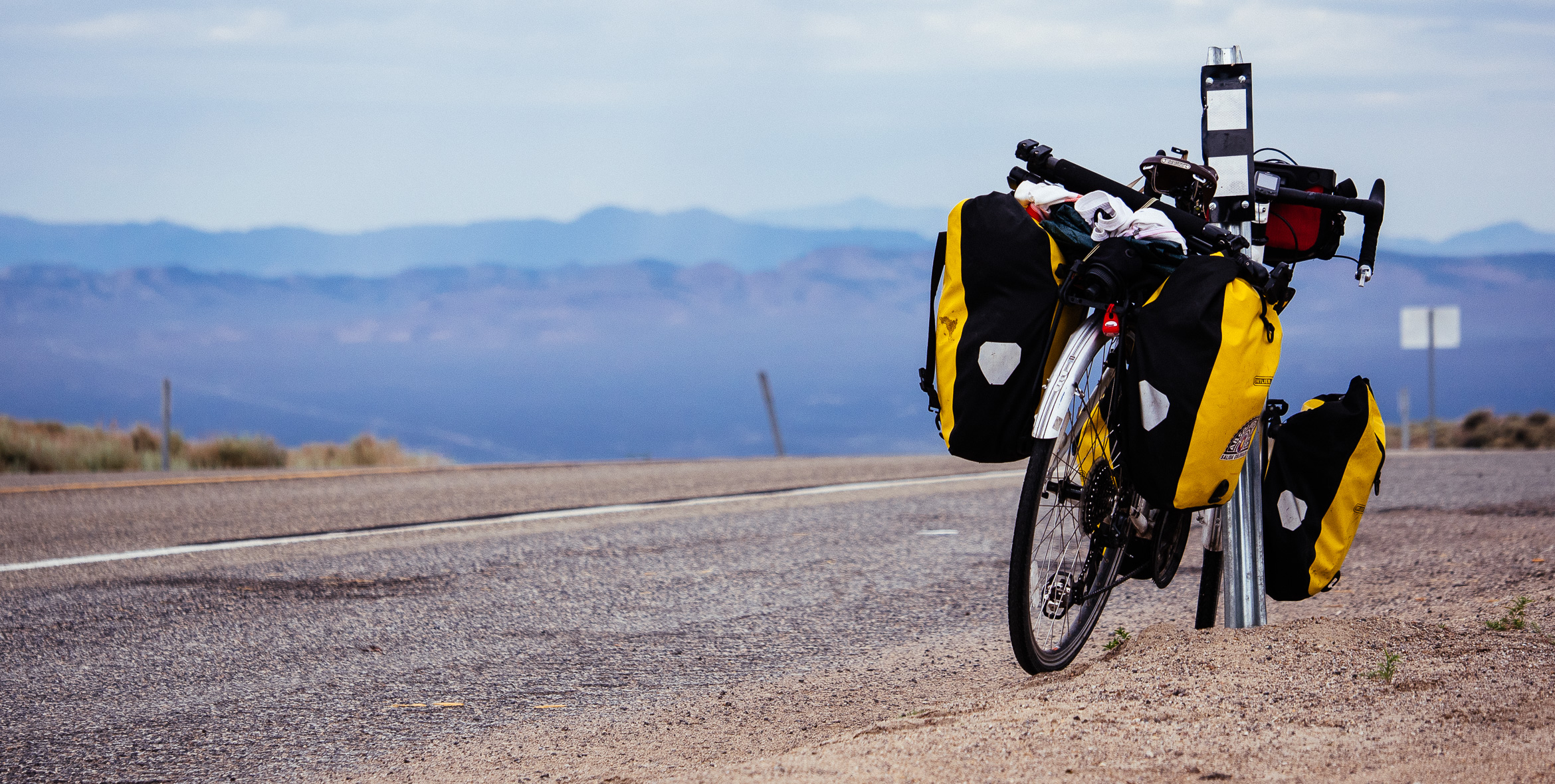 I stuck to my self-imposed policy of stopping the absolutely minimal amount and only to pee or fill water bottles, chugging water when I felt the need to pee so that I could do both simultaneously. I charged up the hills and reached the peak of the first summit. Still no sight of Jonathan or Gen. I tucked and coasted down the backside and started the next climb. I was overjoyed to be on the last climb ahead of schedule and ahead of the weather. The miles and elevation fell easily, and, before long, I was at the summit waiting for the two. Photographing their summit climb, we celebrated our safety and good time and shot down the hill towards Austin.

We reached the local diner famished and found that our plans for lunch were stymied by our haste. Breakfast was the sole menu until 11AM an hour from when we arrived. We had managed to knock out 70 miles and over 3,000 feet in under 6 hours. A fast clip owed to our recognition of mortality. The day was over before lunch and we spent the remainder bumming around cleaning bikes and relaxing. It was nice to get in so early and the weather thankfully deteriorated as predicted over the area we had traveled later in the day, validating our haste.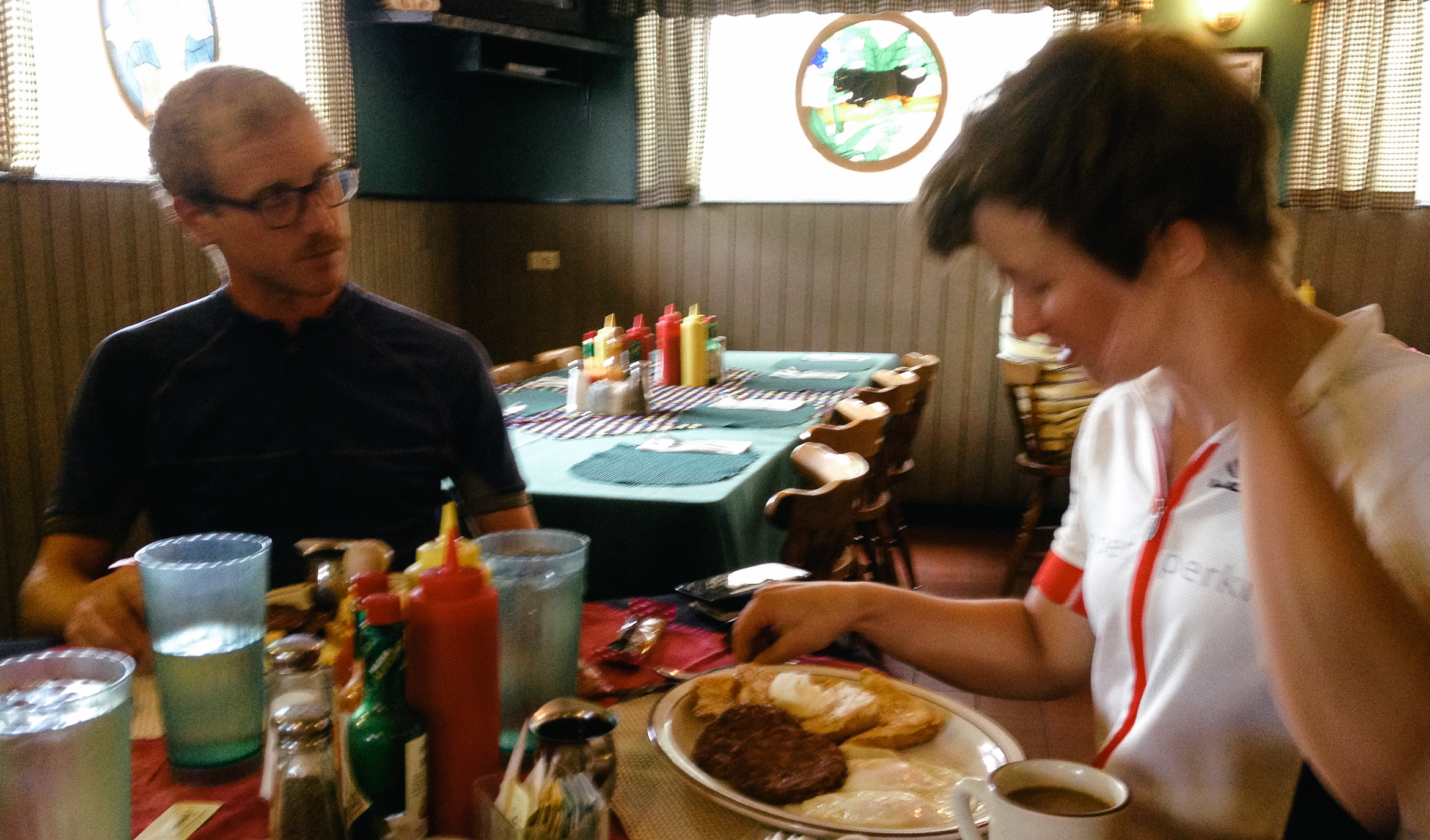 The remainder of the day was spent taking care of some well-needed bike maintenance and being lazy blobs at the 4th and last motel stay of our Nevada, no-services, 3-person-team, stretch.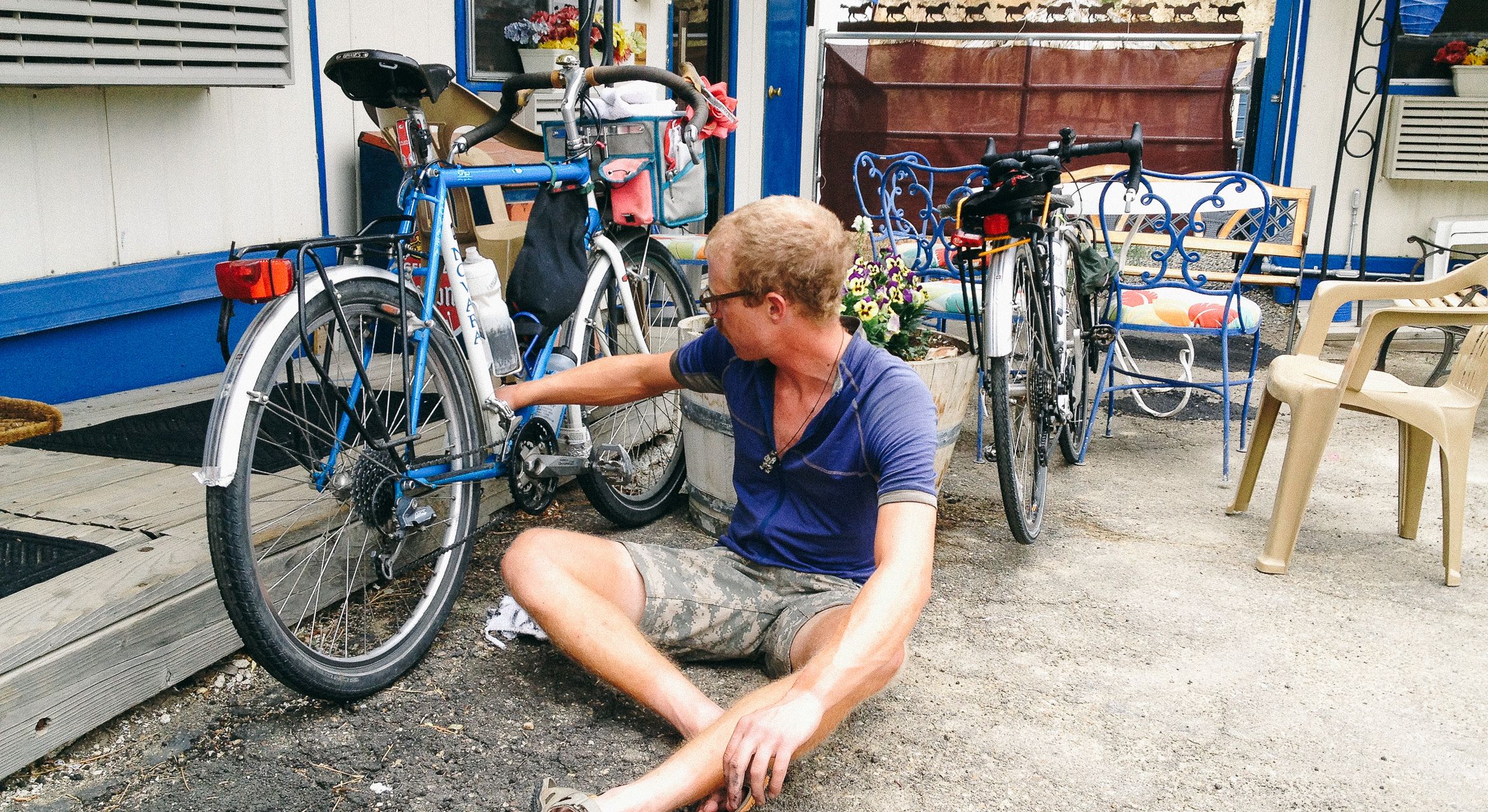 We watched the Tour de France and Seinfeld and generally enjoyed a full day in Austin having reached it with plenty of time to spare. The storms over our earlier path pummeled the road as promised, and we once again rested feeling validated in our concern and rush.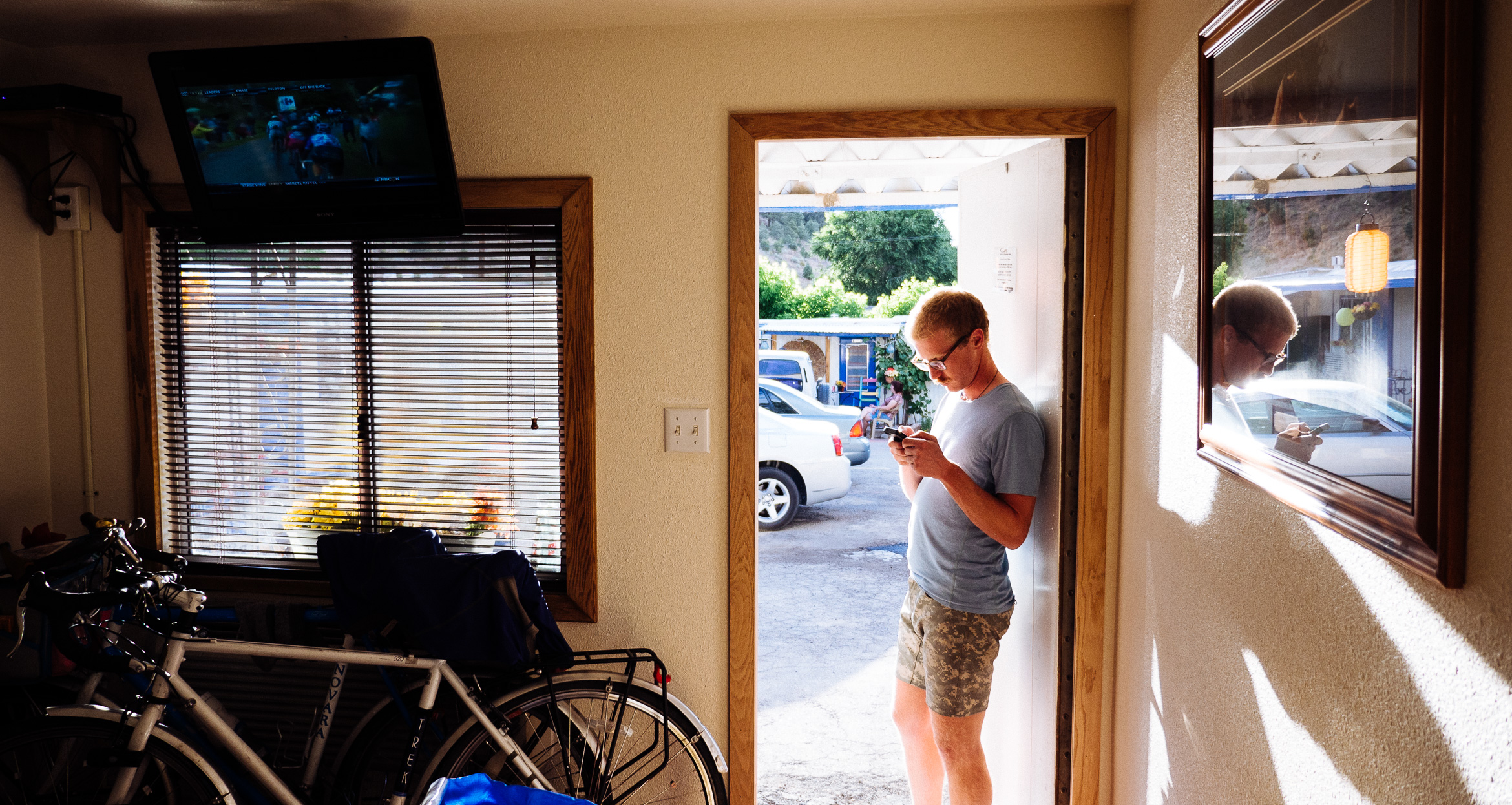 Tomorrow we make the 110 mile push to Fallon and then we are only a single leg of US-50 left to escape the borders of Nevada.