Written By Fritz Ifert-Miller
Day 64 - Jonathan Coleman has joined your party
Distance: 64.89 mi

|

Ride Time: about 6 hours

|

Elevation Gain: 1421.9 ft

|

Avg Heartrate: 132.7 bpm
At 2:30 last night we awoke to the sound of someone rummaging through camp. Realizing that it must be Jonathan we called out to the headlamped figure.
"Jonathan?"
"Hey guys hahaha"
He had made it all the way from Cedar Breaks 160 miles away. Setting up in the dark we laughed at the impossibility of his presence and promptly passed back out. This morning over breakfast we discussed the options afforded to us and Jonathan expressed interest in staying on our mileage schedule to avoid camping in the desert solo.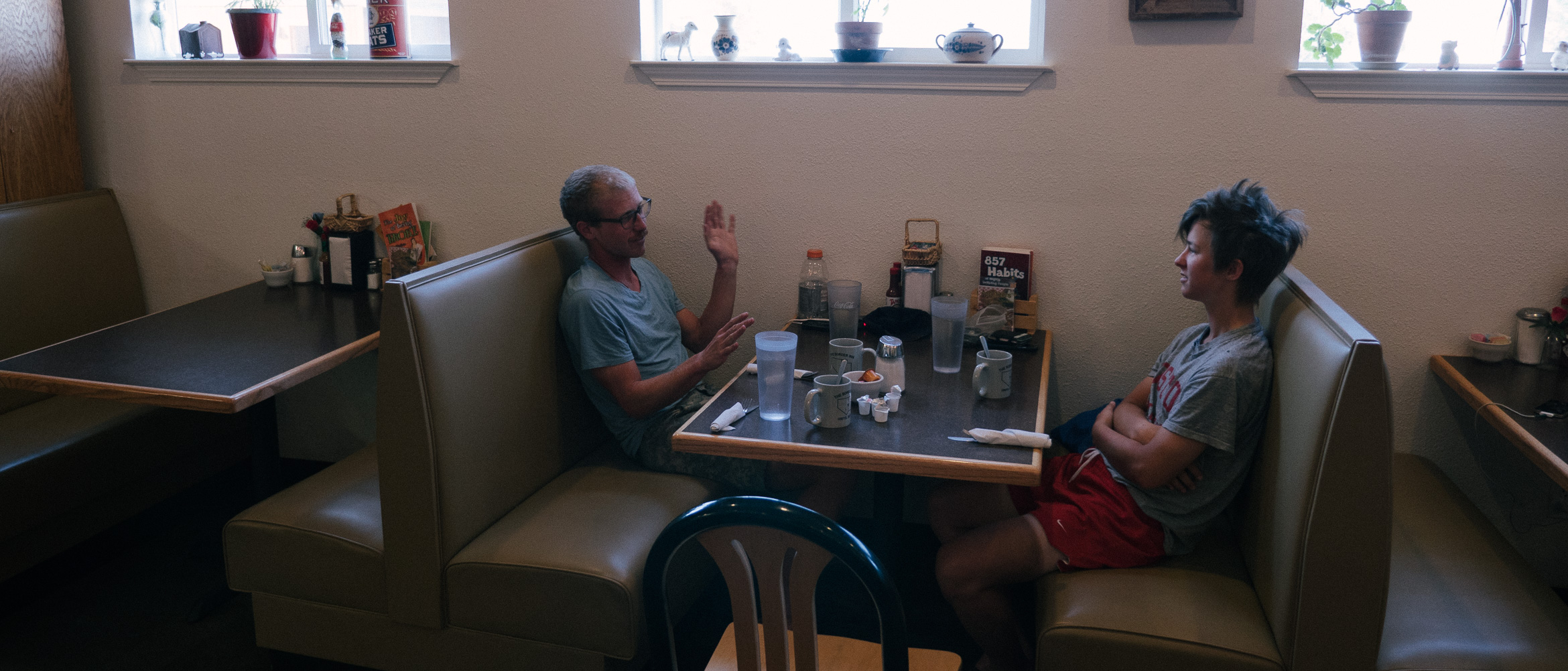 During the previous night, he had encountered countless snakes, a possible puma, a skunk and nearly fallen off his bike, trying to avoid a psychotic rabbit. The addition of a 3rd party member meant we would be able to split the cost of hotel stays significantly during our hot desert days if we decided to switch into a nocturnal schedule.
The day ahead consisted of two passes--a shorter one before the longer Connor's Pass. The ACA maps characterize this portion of the route as the roller coasters of Nevada and for good reason. For every foot of climbing you do you are almost always guaranteed a long speedy coast on the other side. This makes the cycling very goal oriented and breaks the day up into manageable legs.
You do your approach to the mountain on gradual terrain that grows increasingly steep until you are in the thick of your ascent, snaking your way between peaks. US Highway 50 carves along the natural weaknesses and valleys using the most obvious passes. It is an intimidating sight to watch the mountains close in on either side as you begin the long climbs and a relief when blue skies peek through the v-shaped peaks of horizon signaling the impending end.
Jonathan's long previous day did little to slow his pace and he cruised up the first pass with ease, Gen muscling her way up behind him. The gradual sub 6% grades are my slowest in comparison to Gen and I am content to sluggishly plod at a tortoise pace, certain the summit will inevitably come. Half way up we stopped at a rest area for 5 minutes to rehydrate and eat a bar before continuing to the top. Creedence Clearwater Revival played in the solitary earbud and I merrily plugged my way up to the musical stylings of John Fogerty. At the top Gen and Jonathan had waited for me to meet them and we started our long descent down.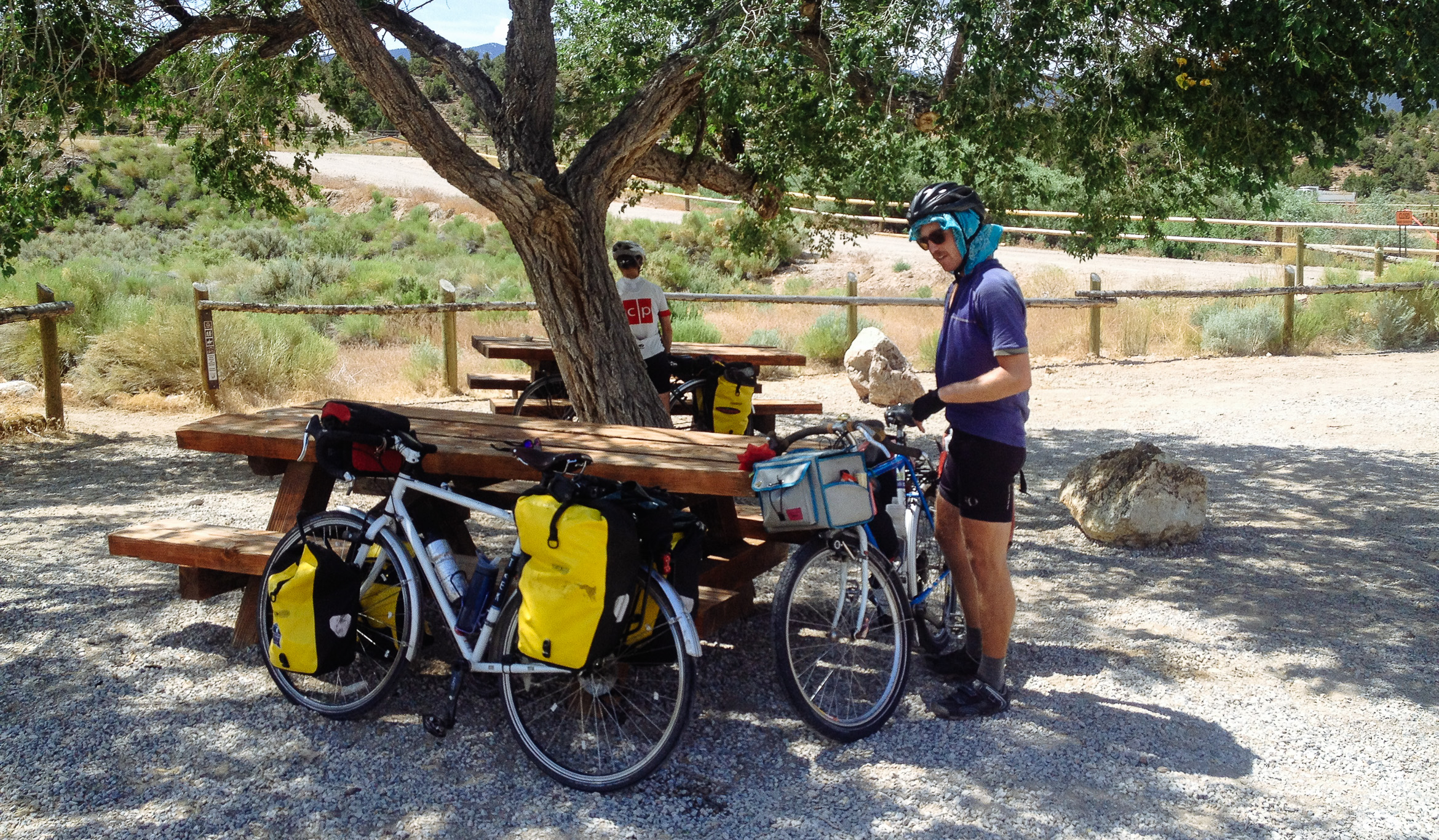 Throughout the climb, a breezy tailwind had assisted our efforts and now that it was time to go downhill offered us unimpeded acceleration down the long stretch of steep grade. What this meant for me was that with all of the added ballast of water weight I was able to hit my top speed of the trip so far, a startlingly quick 46.8 mph. On a loaded touring bike with 2" of surface contact with the road this is quite a velocity to reach and left me contemplating mortality, road rash and the secureness of my quick release skewers. After 6 minutes I had already gone 4 miles and the downhill continued at a rate that heavily skewed the ratio of time spent coasting to climbing.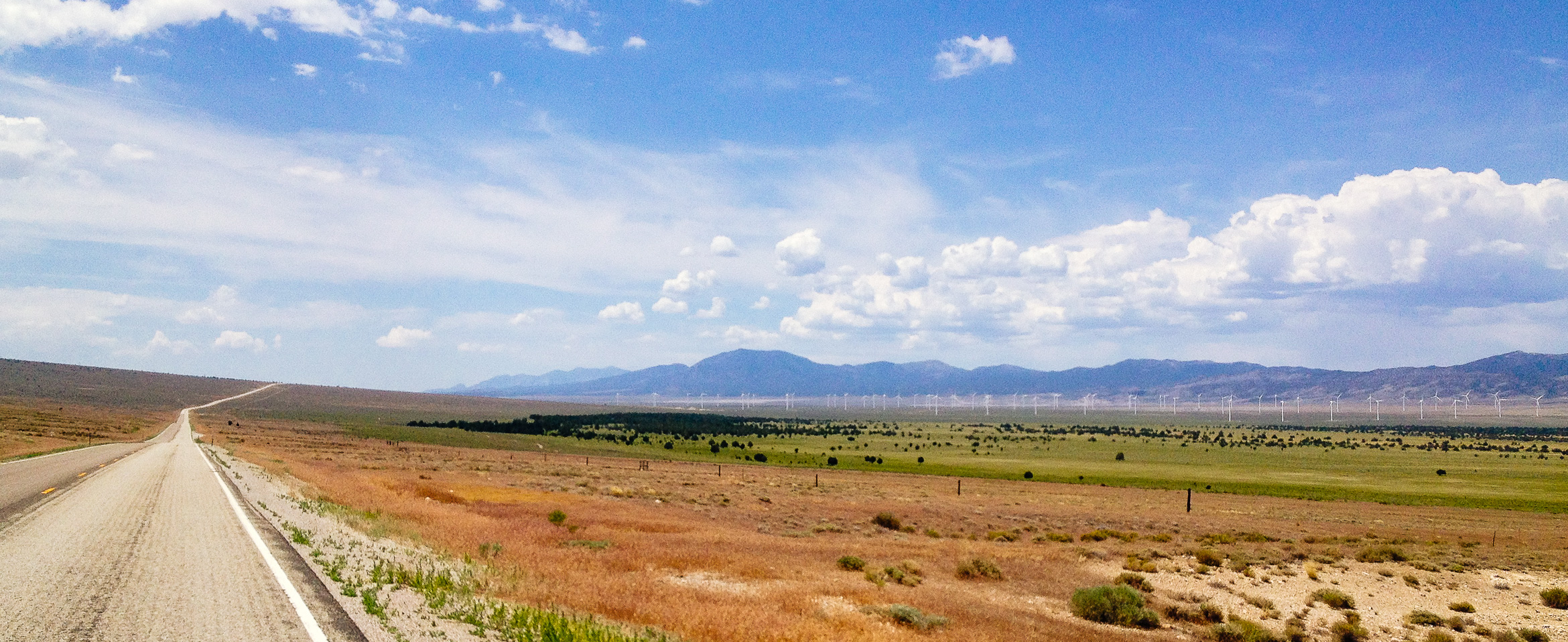 Rounding the bend of the coasting stretch we were greeted by a stunning mountain valley, rife with wind turbines and looming mountain ranges on each side. Each of us was blown away having expected a Nevada that was little but sand and rock. This was a welcome surprise and it really made taking US-50 feel worthwhile. The absence of traffic increased the enjoyment as we were passed by no more than a dozen cars per hour.

Now in front thanks to my leaden pack weight which acted as ballast, I started the ascent from the valley floor where a small hump lay between us and the next pass. We consolidated at the top of the hump and started towards the next range of mountains. The ACA maps had said no services for 64 miles, but a curious beer mug icon sat at the base of the mountain indicating some likelihood of food. This prompted some fast pedaling and speculation as to the myriad possibilities:
a bar that served beer and beer only

a brewery that served nothing

a bar that had bags of chips

a real life restaurant

something that was closed on Sundays

Resigning ourselves to the likely scenario of being disappointed, we held onto vestigial hope that we would be positively surprised. The Major's Junction Bar ended up serving food and liquor and we were able to have a lunch midway of burgers, chicken sandwiches and coke.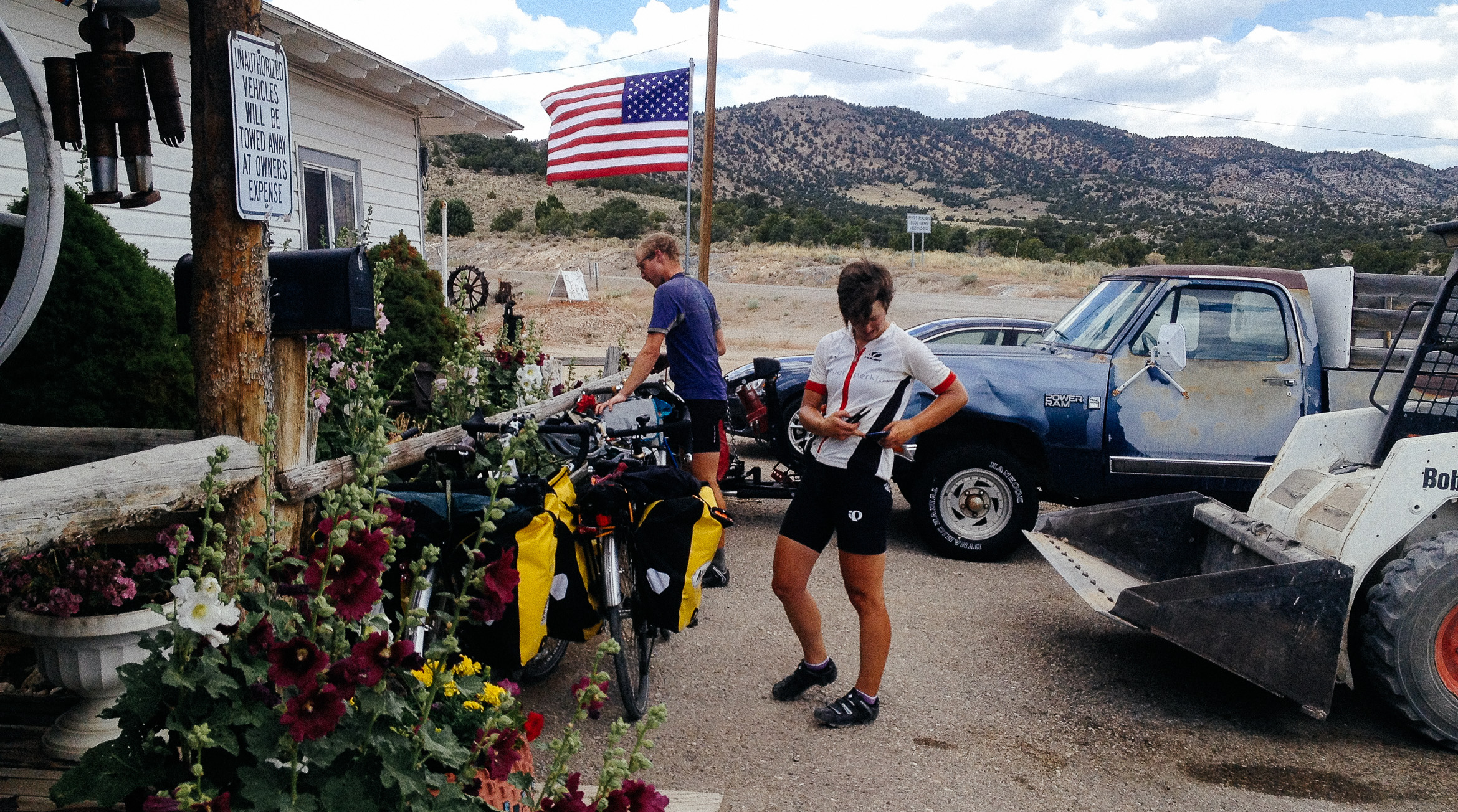 With bellies full and riding high on the pleasant surprise we cruised up Connor's Pass and did another fast coast down the backside of the mountain. This time the tailwinds were gone and in their place familiar headwinds and crosswinds buffeted the bikes as we reached speeds in excess of 30mph. When the terrain began to level out we were forced to pedal to keep our pace due to the wind. The last 15 miles to Ely we paced and drafted in a 3 person line sharing the burden of breaking the headwind.

The difficulty with this terrain is that, unlike in Kansas where changes in elevation are gradual and the horizon remains at a fixed distance, you can see for miles into the valleys. This can mean seeing a town that's more than 10 miles away. It becomes maddening towards the end of a day when you can see your endpoint and it doesn't get appreciably closer as you pedal. This was the case today as we worked against the wind towards Ely, the town rested on a hillside which meant we would have to start climbing again to reach it. As we got closer, it became apparent that what we had seen from 10 miles away wasn't Ely at all but a neighboring village, the real town was an additional 5 miles up the road.
Cursing our luck and stupidity for assuming it would be closer than the map said we banged out the last 5 miles as hastily as possible. Jonathan's monster biking day had left him mentally and physically ravaged (mostly thanks to sleep deprivation) and he opted for us to get a motel for the night so that he could ice his knees, shower and sleep in a bed to recover.
With the motel room secured we washed up and got dinner across the street at the Hotel Nevada. Since I have been in Nevada, I have been inside 3 eateries with rooms for rent and slot machines. Evidently, because gambling is legal, it makes little to no sense not to have money generating Skinner boxes in every establishment. Needless to say, it would be pointless to visit Nevada and not try our hands at the tables, so after dinner we went to play Blackjack. Within two hands I had lost my starting 3 dollars and my interest in funneling more money towards a losing prospect. Gen and Jonathan ended up walking away with 6$ and 9$ of winnings respectively. It remains to be seen if they will come out ahead in Nevada. For now we are going to ice knees and get some rest. Tomorrow promises less climbing but more miles.