Written By Fritz Ifert-Miller
Day 41 - Finding Hope... Kansas, AND A KITTEN!!
Distance: 89.02 mi

|

Ride Time: about 7 hours

|

Elevation Gain: 521.0 ft

|

Avg Heartrate: 129.2 bpm
Today was an awesome day. One of the best in the trip.

After a pathetic showing yesterday getting blasted with headwinds, we were ready to seek revenge on the alleged plains of Kansas. Having already determined that these so called flats were actually rolling, we no longer held out hope that the next rise would yield an even landscape. With the right mindset we were ready to approach a Kansas more reminiscent of the rolling hills of West Virginia.
The morning started slowly as I struggled to maintain any cohesive order in terms of getting prepared. I walked back and forth from breakfast to the bathroom to the guest room doing a fraction of everything instead of accomplishing anything. Finally prepared and ready to begin, I threw my bags on my bike and met Gen who was patiently waiting in the yard. Paul, our WarmShowers host, had left for work earlier and asked that we meet him on the road so that he could have a picture of us fully outfitted in our biking regalia. We called ahead to let him know that we were departing and set out on our way.
Immediately the difference from yesterday was apparent. The brutal winds that had lashed against us retarding progress were absent, and in their place a gentle Northwestern tailwind nudged us along the road. Feeling the ease of the pedals under my feet, I checked the elevation profile of the road and determined that our ride into Council Grove had trended uphill and our exit was taking us back down.
The slight negative grade and the tailwinds meant easy progress, and we moved effortlessly in comparison to the prior day's toil. We met Paul at the roadside 3 miles outside of town and posed for some very action-packed shots before thanking him again and making our goodbyes.
With no more stops planned, we slipped into our 3 mile pace routine and started knocking out the morning miles. At around the 25 mile mark, we stopped in the small town of Herrington where a roadside bakery advertised fresh bread and other sweets. Ready for second breakfast we stopped in for a muffin and a cinnamon bun and remarked upon how much easier pedaling with the wind was. After chatting with a family who asked about our travels, we were again on the road and into pace formation.
After a quick 3 rotations, Gen had taken the lead and I spied a steel cutout of a covered wagon and rider on the hillside. Commenting that it was the third and final one we would see I said that it might make sense to snag a picture. Gen recommended we stop and use the camera rather than our phones. As we slowed down to pull over and capture the cutouts, a crying "Mew!" could be heard and a kitten emerged from the tall grass on the opposite side of the road and came loping towards us.
Gen said: "Kitten!" and ran over to rescue the little guy from the 60mph country road.
"It's so cute!! What do we do with it?"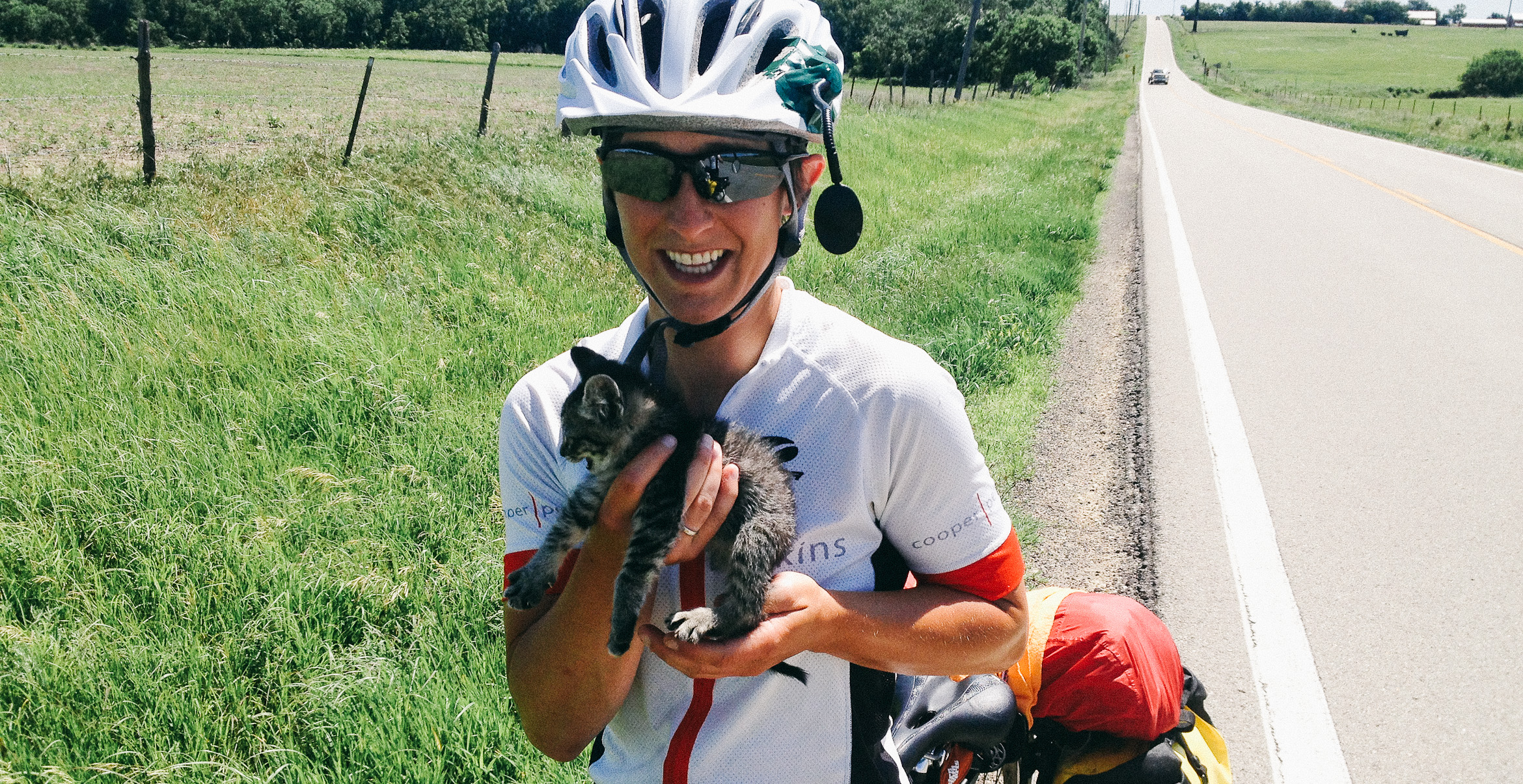 The kitten continued to cry, squirming to escape Gen but purring at the same time.
"We can't very well carry it on our bikes, the thing won't stop moving." I replied.
"I want to keep it!" Gen said half-joking.
"It's gonna get hit by a car for sure out here." I said. " We should try to get it off the main road."
Gen attempted to bike with the cat in one hand and the handlebars in her other as the cat desperately fidgeted and writhed, too excited to stay still. A country road a quarter of a mile ahead offered some opportunity to get the kitten out of traffic where we could try to find an owner or at least feed it something.
"I can't bike; it won't stay still."
I considered the options and decided that my front bag would be large enough for the tiny kitten. Passing Gen my camera, I asked her for the furry little fiend and placed it in my handlebar bag. Unwilling to remain inside, it attempted to leap back into the street. I promptly closed the lid saying:
"Please don't pee, little guy. Let's move!"
Racing down the street with the kitten stowed safely, I reached the dirt road and began bumping my way down it. The kitten's muffled cries became more desperate and I realized that the likelihood of urination or defecation increased the longer it remained trapped. After getting a fair way down the road I told Gen I would walk the cat and my bike.
"Maybe we should feed it"
"I don't want it following us back out onto the highway"
"What do we have that a kitten could eat?"
"Do kittens eat bananas?"
"I think so."
The kitten ran alongside us looking up and crying incessantly, occasionally halting progress as it attempted to run under our rolling wheels or in between the spokes. Doing its best to be entirely underfoot, it chased after me as I trotted ahead.
A driveway on the left offered some possibility of reprieve, and we decided to check if the tenants were possibly the cat's owners (knowing full well the chances were astronomically slim). I knocked on the door, kitten in hand, and waited for a response. The sound of a barking dog didn't prompt positive thoughts. Spying movement at the other door, I said:
"Hello?"
A woman came to the door and said Hello, and I greeted her explaining the discovery of the wayward kitten and inquiring as to whether or not she might be the owner.
She replied that she wasn't, but introduced herself as Corky and invited Gen and me to join her on the porch where her husband George and their tiny Maltese joined us. We sat and enjoyed iced tea that they served us while we related the purpose of our passing through their town. Corky held the kitten and exclaimed:
"Awww how cute he is; we haven't had a kitten in so long!"
He clamored over her, nuzzling and purring, and we sat listening to George explain how our road, highway 4, was the first paved highway in Kansas and that his father had helped build it. George is 84 years old and has lived in Kansas most of his life, working as a farmer. Corky is a painter by trade and her work can be seen around Hope, KS.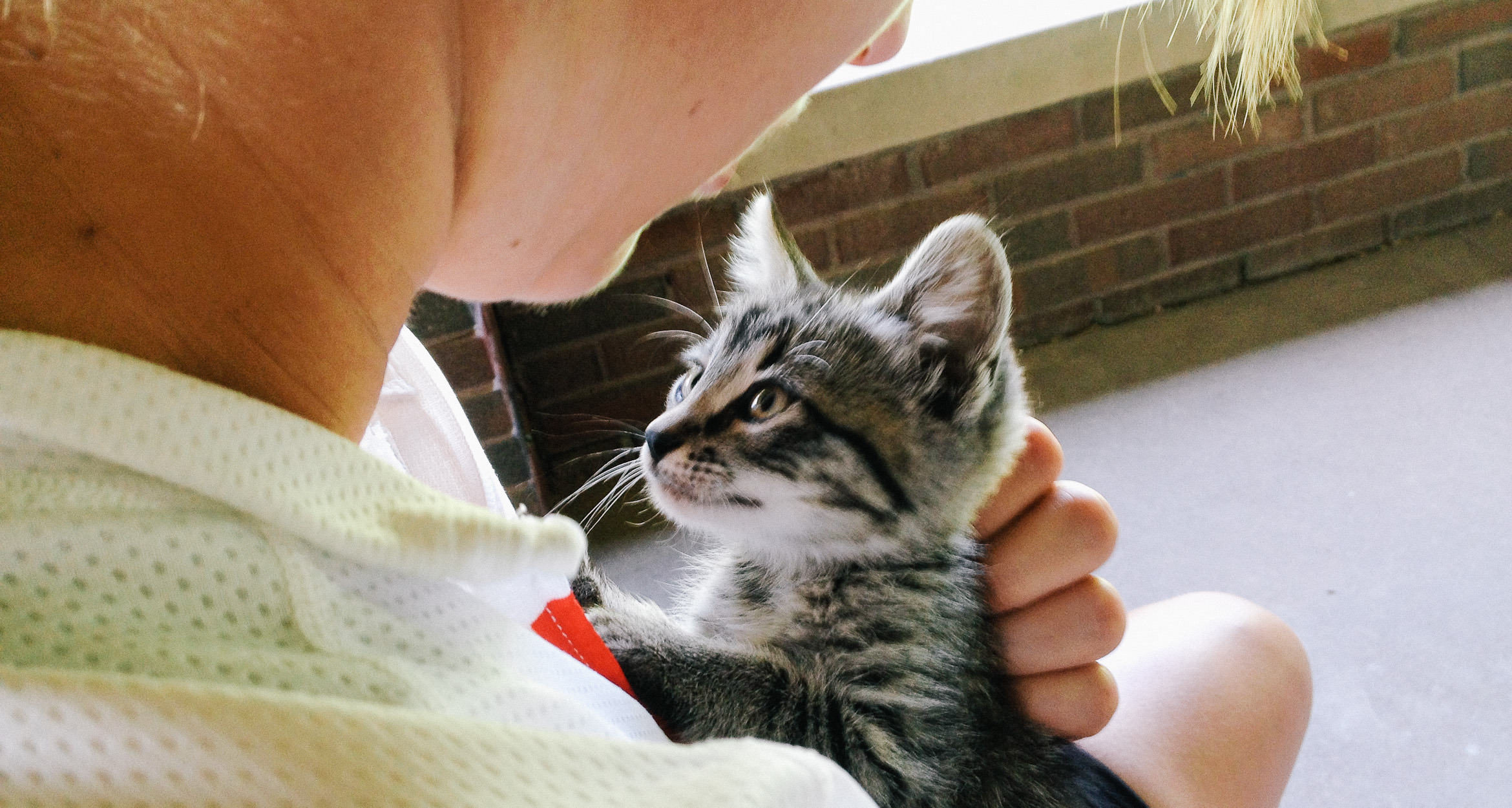 Corky, originally from Colorado, lit up when she heard that we would be traveling through her home state and reviewed our route with Gen while George and I alternated in holding the kitten who climbed up George's jeans, onto the table, crossed to me, and scampered over my shoulders. With the decision that he was likely hungry, Corky poured a saucer of milk and the kitten voraciously lapped it up. The earlier crying made a great deal more sense.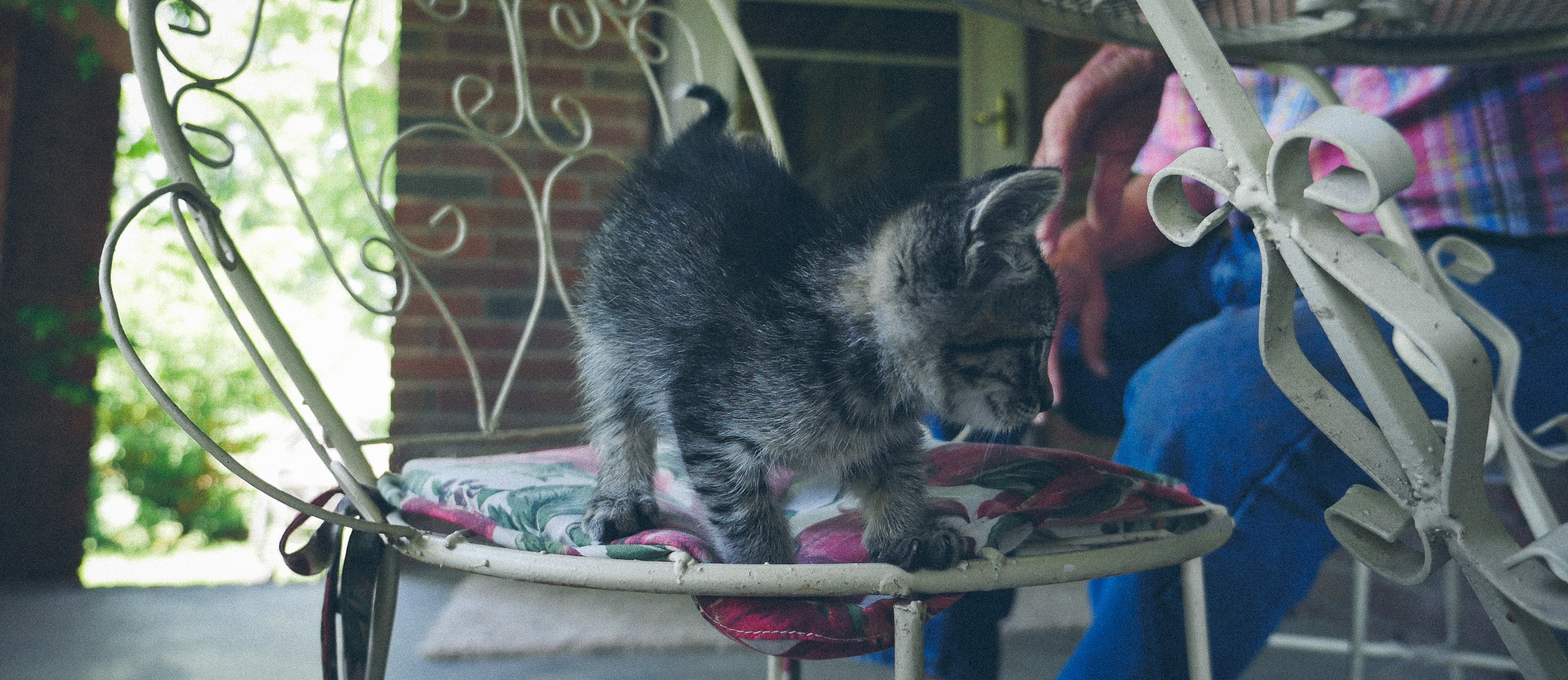 We chatted with them a while longer and watched as they introduced the kitten to their dog Willy who licked the small kitten which nuzzled him in return. We thanked them for the iced-tea and the peace of mind that the kitten would be in a good home and we posed for a group photo--animals and people alike. As we made to leave, George insisted that we take 20$ to buy lunch at the Gridiron Café up the street. We attempted to dissuade them, offering to instead use that money to buy cat food, but they would hear none of it. We thanked them, exchanged contact information and pedaled towards a tasty burger down the street.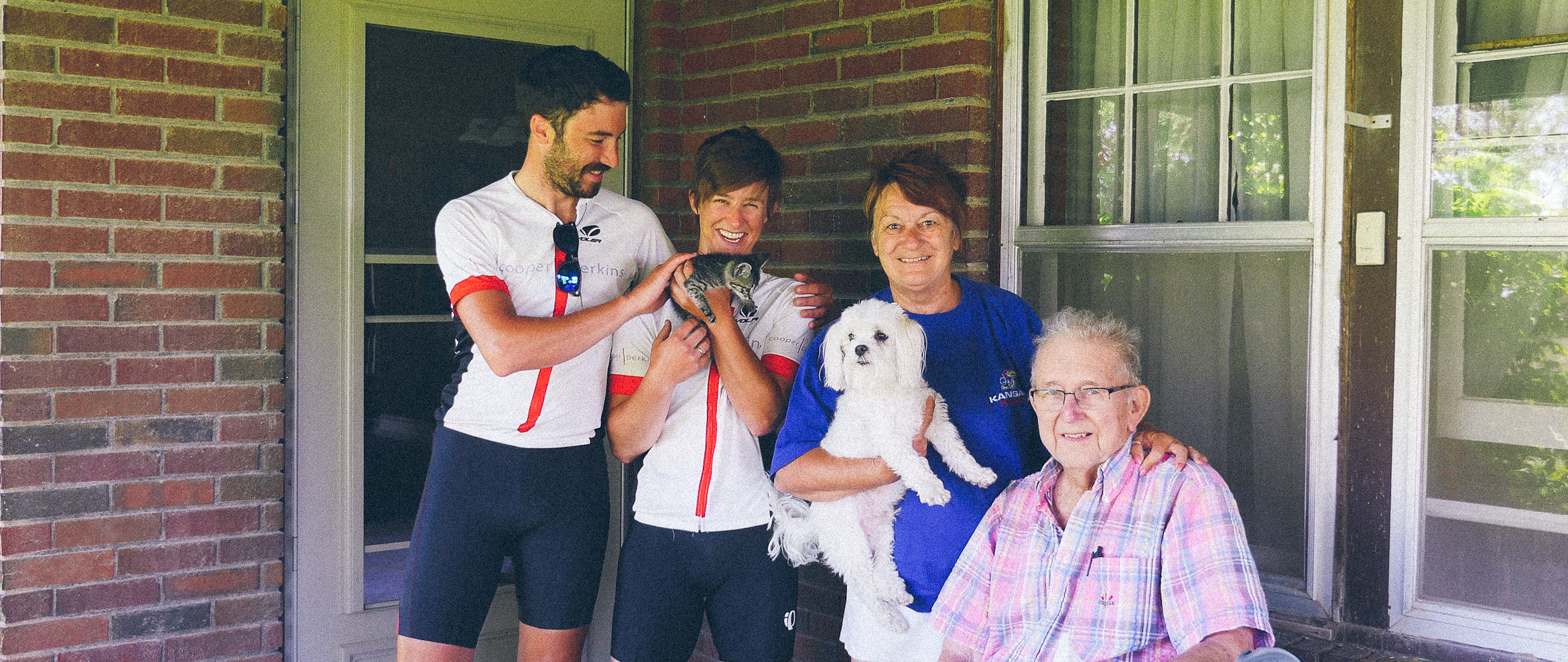 "That was my favorite hour of the trip so far!" Gen enthusiastically offered.
Agreeing that it was something special, I told her I wanted to come back and visit the cat someday.
Sitting at lunch in Hope, KS, Gen commented on the serendipitous quality of our afternoon, how all of the things that happened permitted the opportunity for us to come across that kitten at that moment in that place. From the slow short day yesterday, to the late morning departure, to the stop to take a photo, all of it was part and parcel of the encounter.
The rest of the day was uneventful. I found a sign that indicated my participation in an Olympic decathlon with good friend Steve.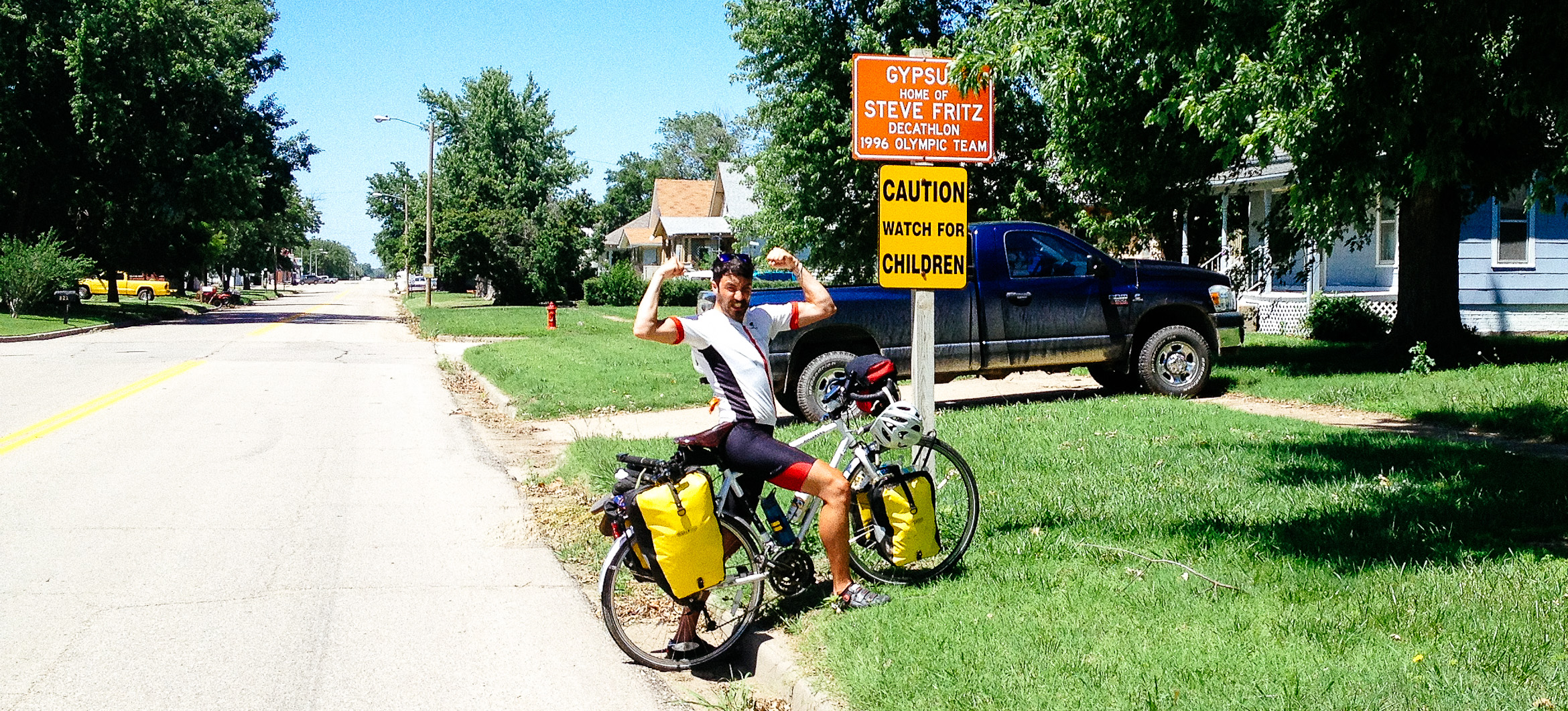 We stopped for some photographic evidence of green Kansas.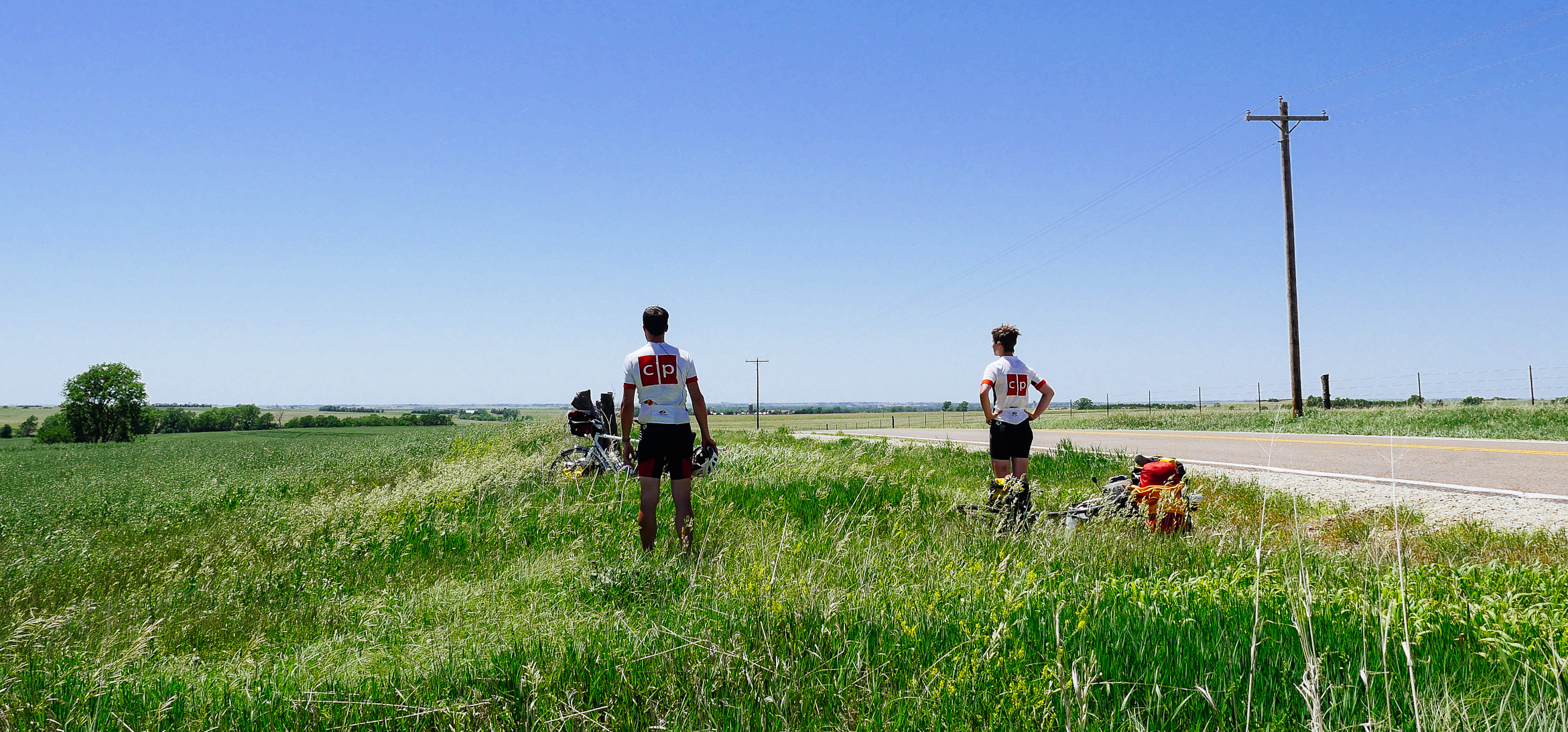 We pedaled out our remaining miles elated with our encounter and enjoying the lush scenery that George and Corky had remarked was uncommon for the area this time of year. The cool temperature coupled with low humidity made for an easy 89 miles of pedaling by the time we finished.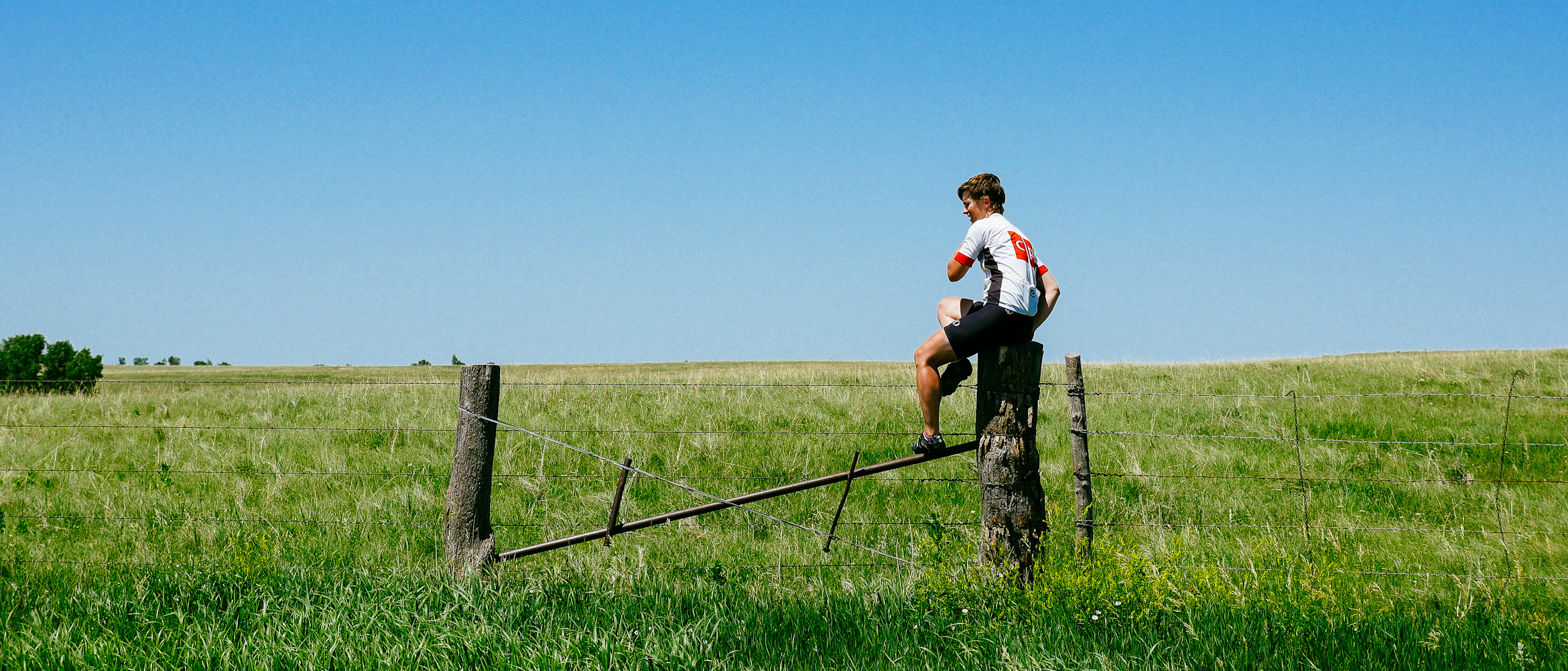 Seriously, Kansas is not flat--it is rolling, and beautiful at times.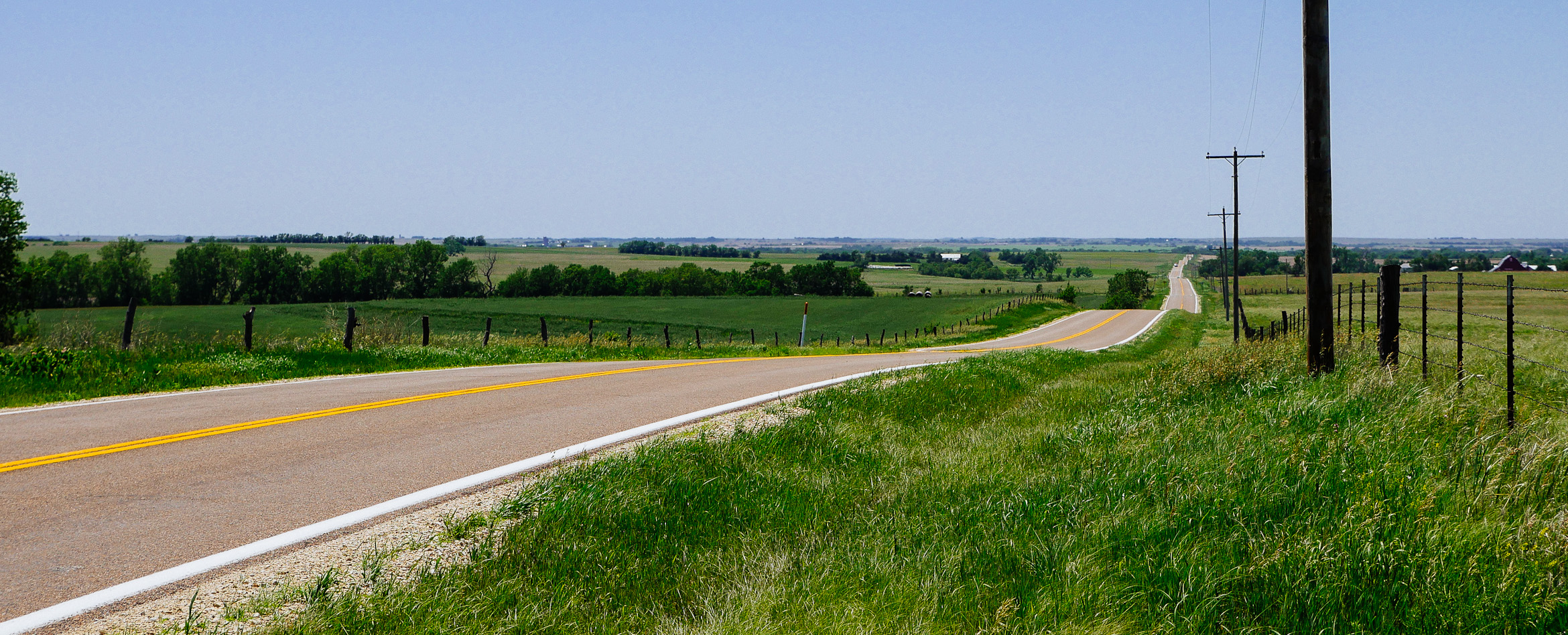 A dinner at the Renaissance Café (an old converted schoolhouse complete with basketball court) in Assaria left us full and content.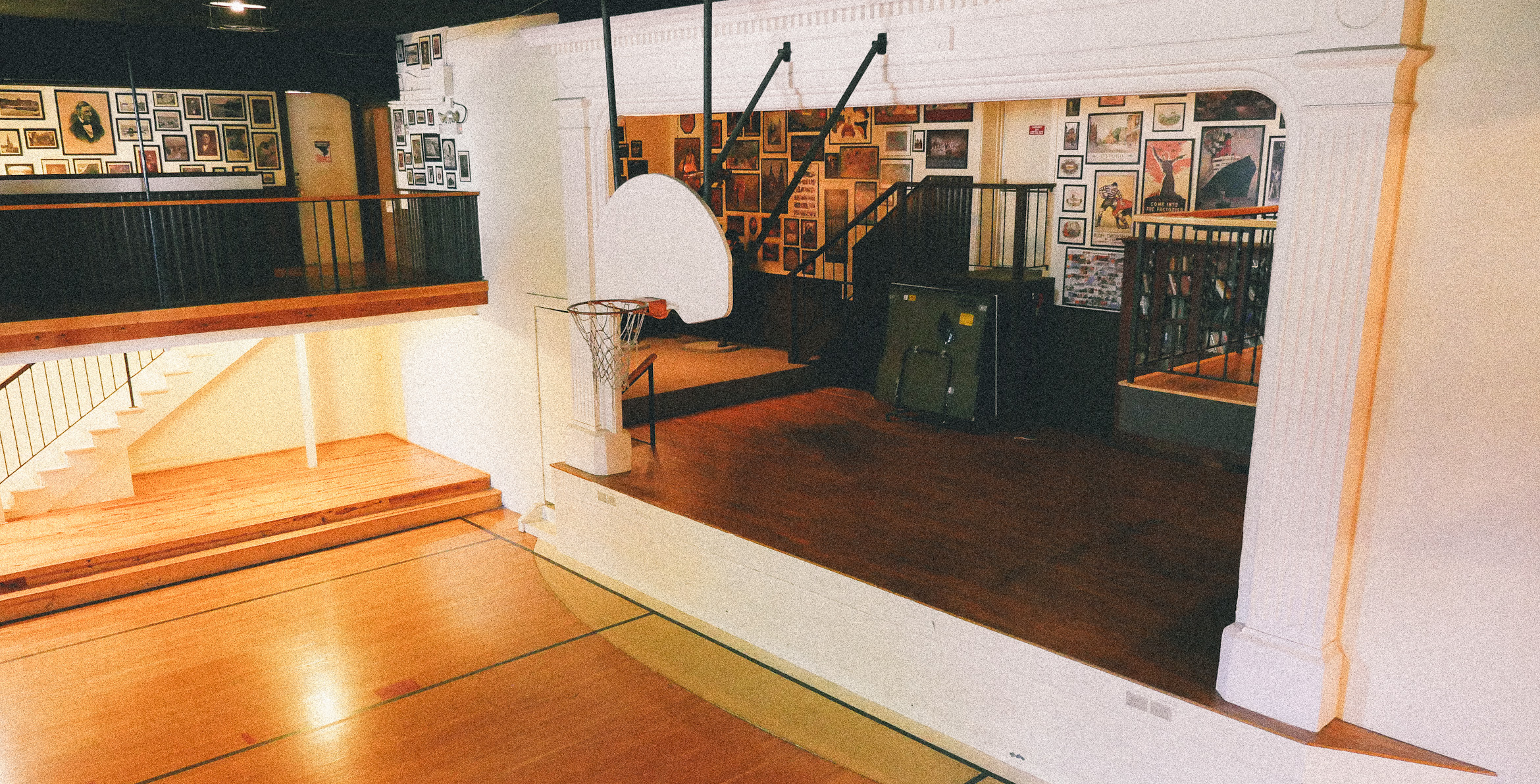 Gen scouting pee-spots under the overpass.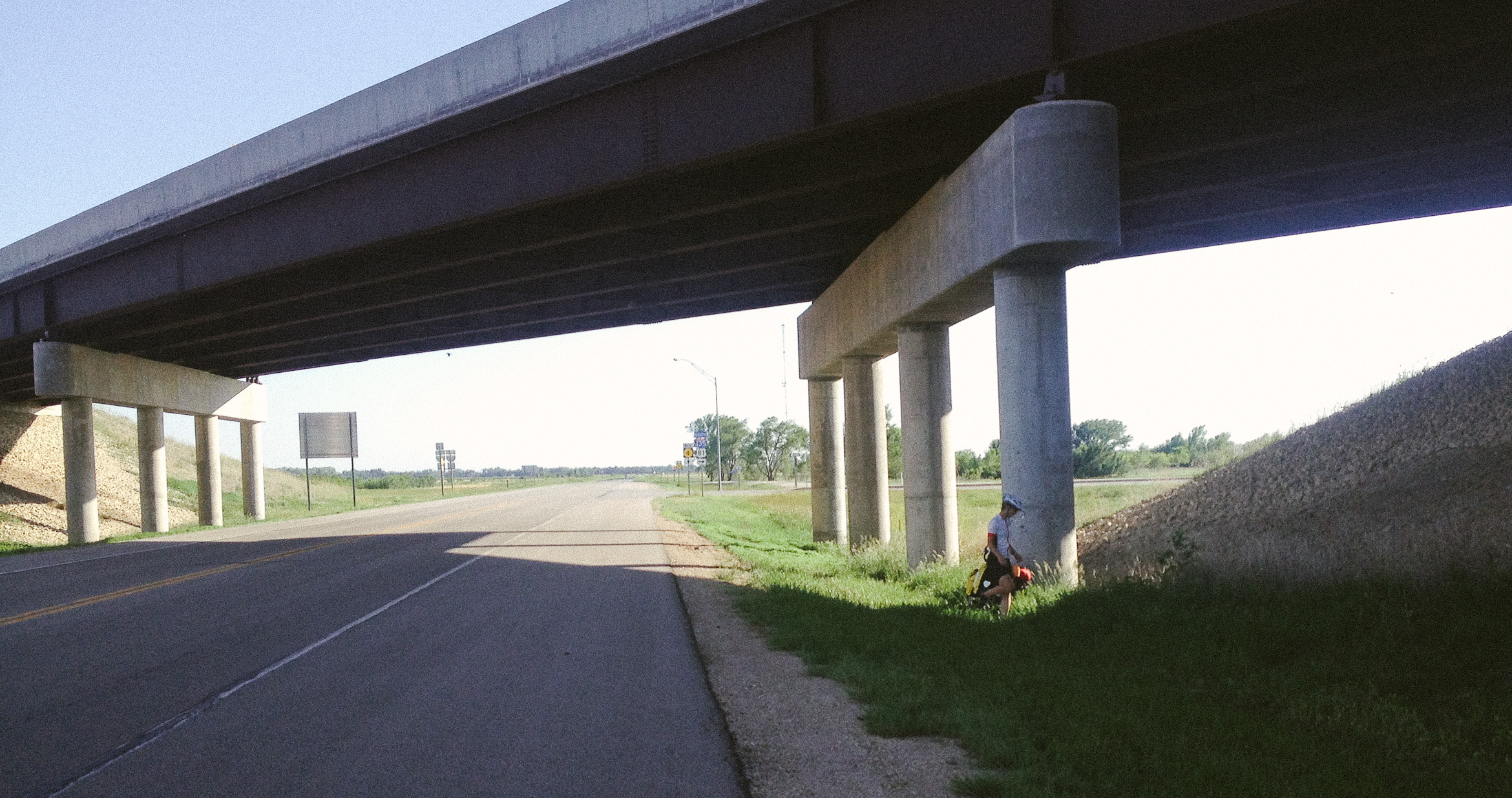 The last 18 miles took us to the small town of Marquette, which was clearly downwind of a pig-farm today because the entire city stank of septic. Otherwise, it was quite lovely.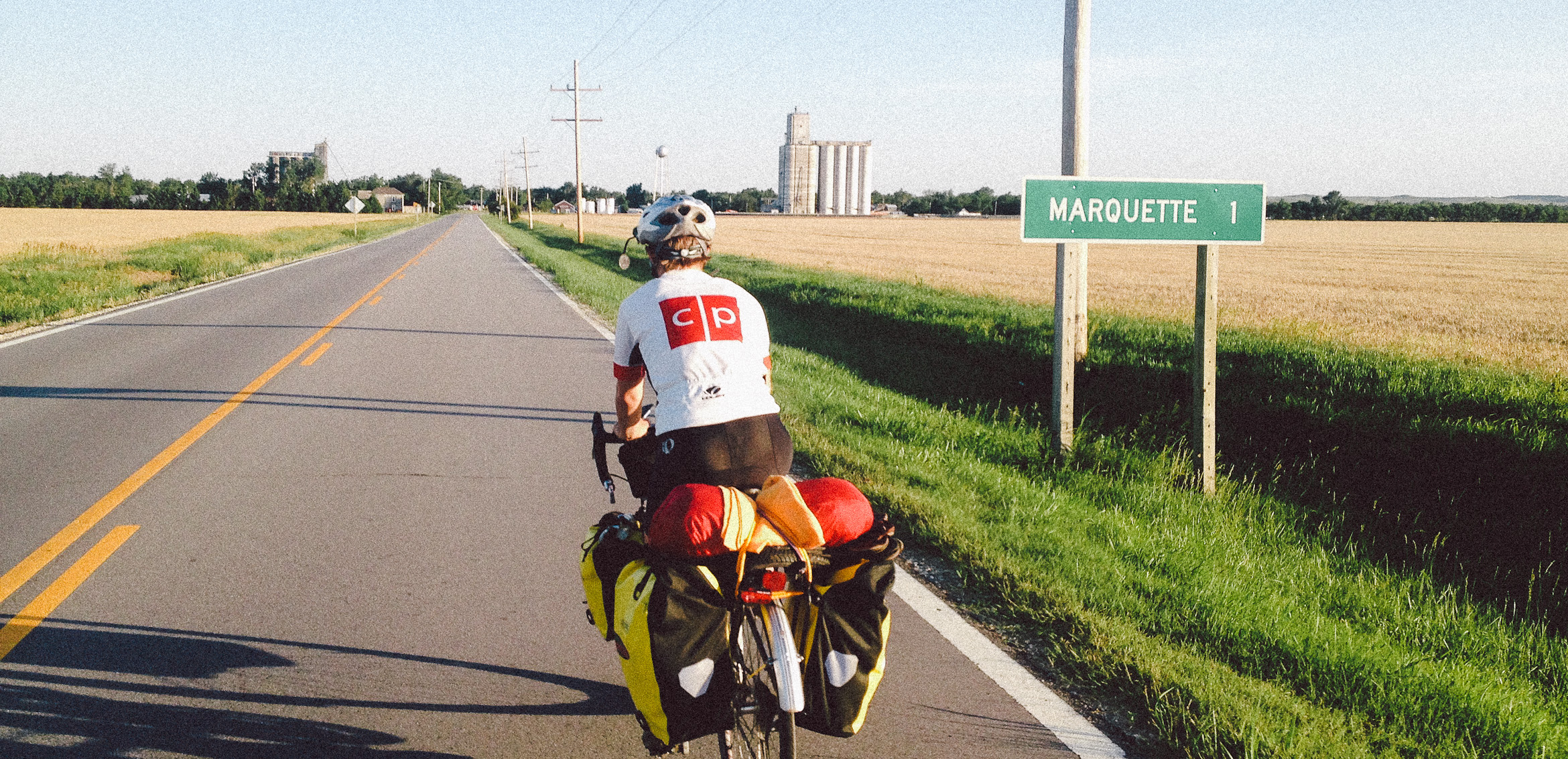 Tomorrow we head to Great Bend, KS where we hope to swap our cassettes for something more climbing conducive.