Written By Fritz Ifert-Miller
Day 28 - Leaving Glendale
Distance: 84.55 mi

|

Ride Time: about 6 hours

|

Elevation Gain: 592.6 ft

|

Avg Heartrate: 131.5 bpm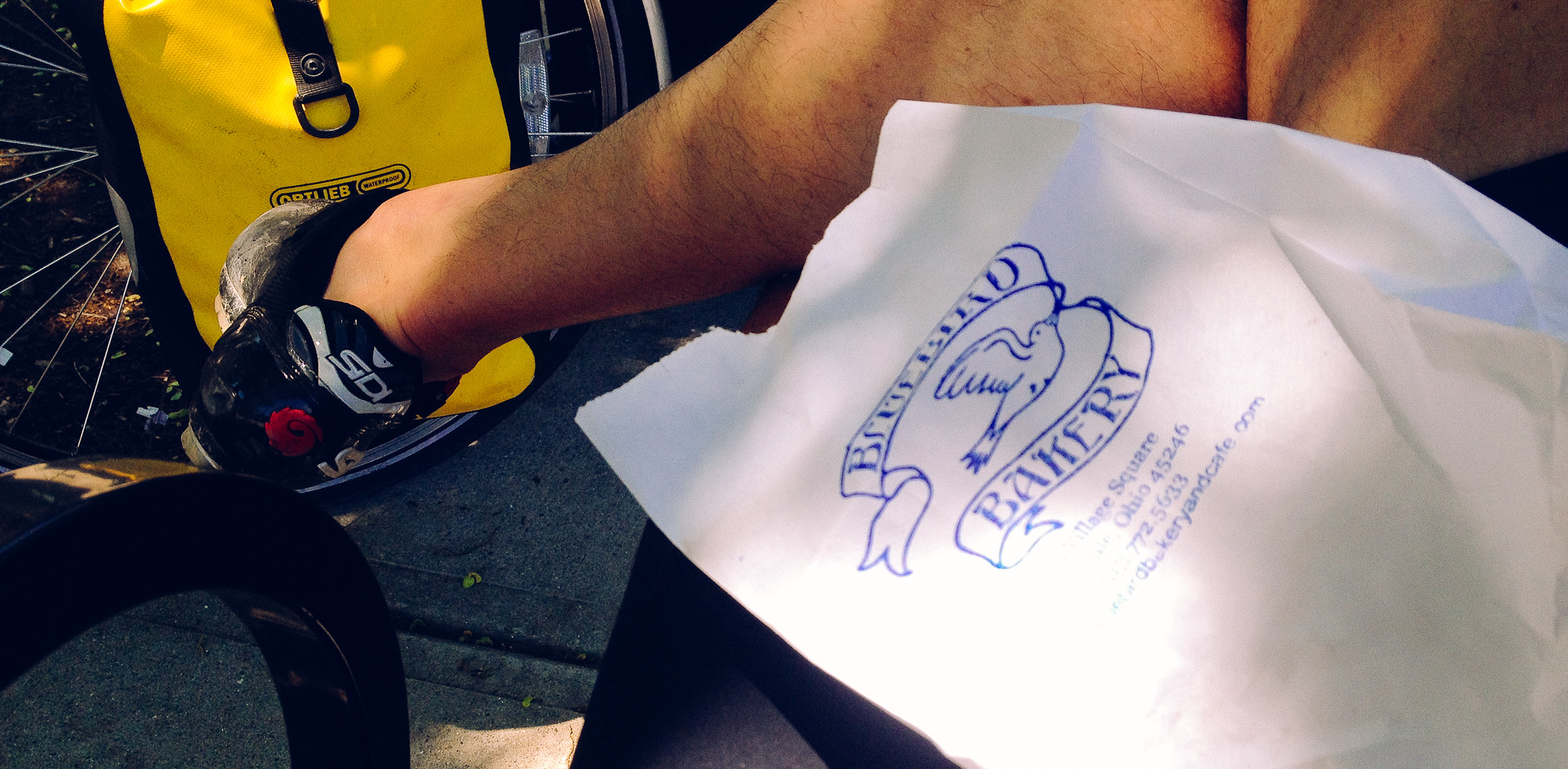 This morning we started late, owing to a busy night with plenty of packing and planning. After coffee with John, we each took a quick shower and loaded our bikes up with packs. Bidding a fond farewell to John and Anne and getting some nice departure action photos, we proceeded to the Blue Bird Bakery where we enjoyed a breakfast sandwich and chatted with the regulars. Out onto the road we left my hometown of Glendale and proceeded down Congress Avenue past the Springdale Cemetery and Graeter's. The GPS eagerly blinked and beeped routing us towards interstate 275 and 74. Gen realized that somewhere down the line she must have saved the wrong map and checked the Garmin to confirm it was trying once again to murder us.

After some smart-phone Googling, we plotted a course west towards a Starbucks which would have wireless to reconfigure the Garmin. Nearing noon we were not in position to knock out another century but at least we had arranged a route that would reduce our chances of becoming road pizza.
Heading west – northwest the population thinned, the towns shrank, and became less frequent. The roads in turn reduced in their traffic volume and the shoulders grew. All things we like to see. Then we saw our favorite thing, the American flag, blowing fiercely in the breeze- away from us. We pointed and shouted like crazed apes at the zoo. Gen flung her poo in merriment. On the trip so far, the number of days with appreciable tailwinds could be counted on one hand. I pedaled up to 16mph and felt no wind on my face- just dead air. When I got up to 20, I started to feel a small breeze.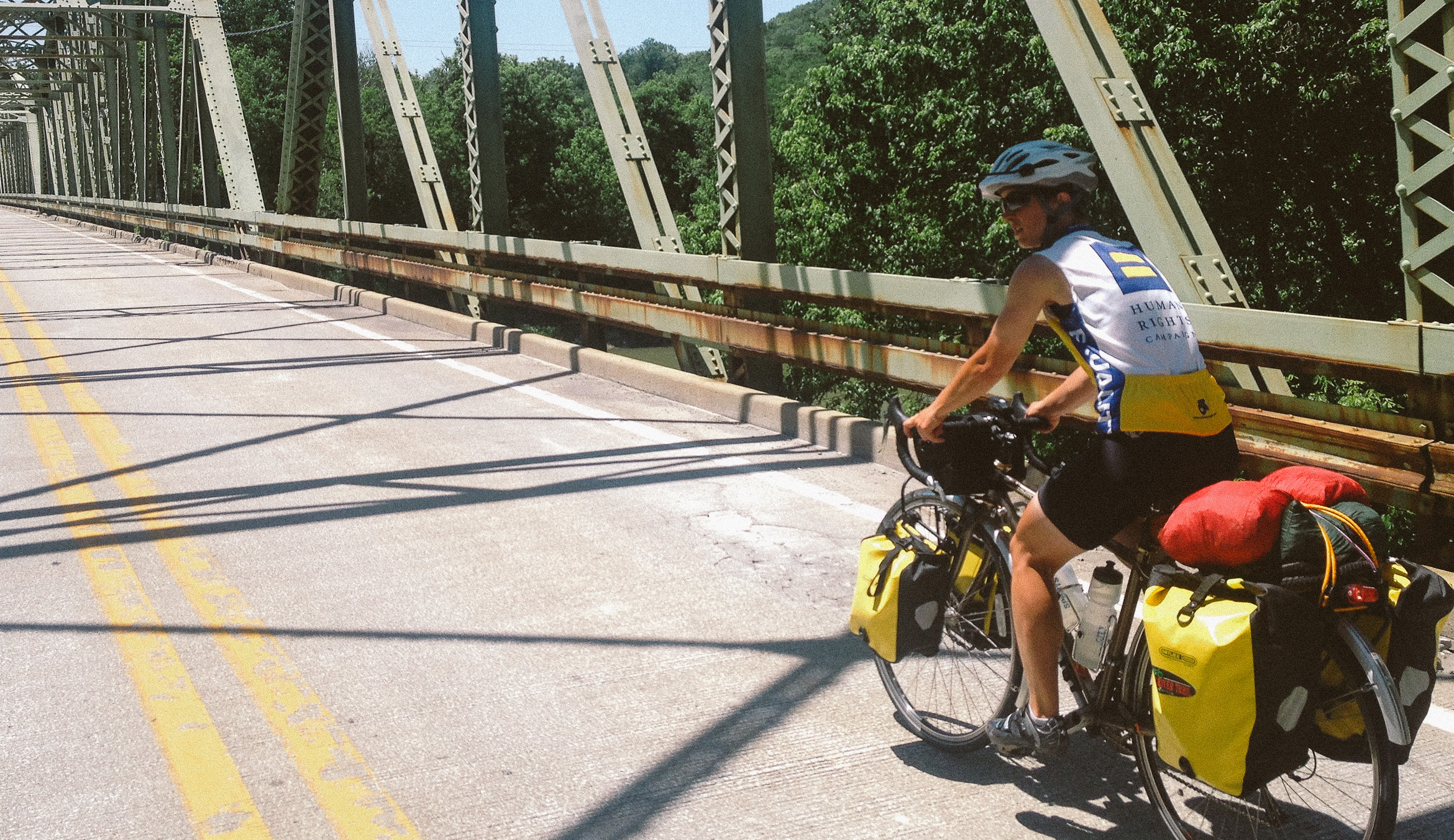 Sailing on the favorable gusts we cruised effortlessly across the Ohio flatland into the shallow rolling hills of Indiana. Feeling pangs of hunger, we decided 4 hours was enough time between snacks and elected to seek refuge in the shade and eat a bar. The midday sun left few opportunities for a cool place to sit. Gen pulled into the yard of someone mowing their lawn and asked to borrow the shade of their trees for a snack. They said yes of course and asked us about where we were coming from and where we were headed. They recommended when passing Batesville in 10 miles to detour off left half a mile for a late lunch at Lil' Charlie's Brewery .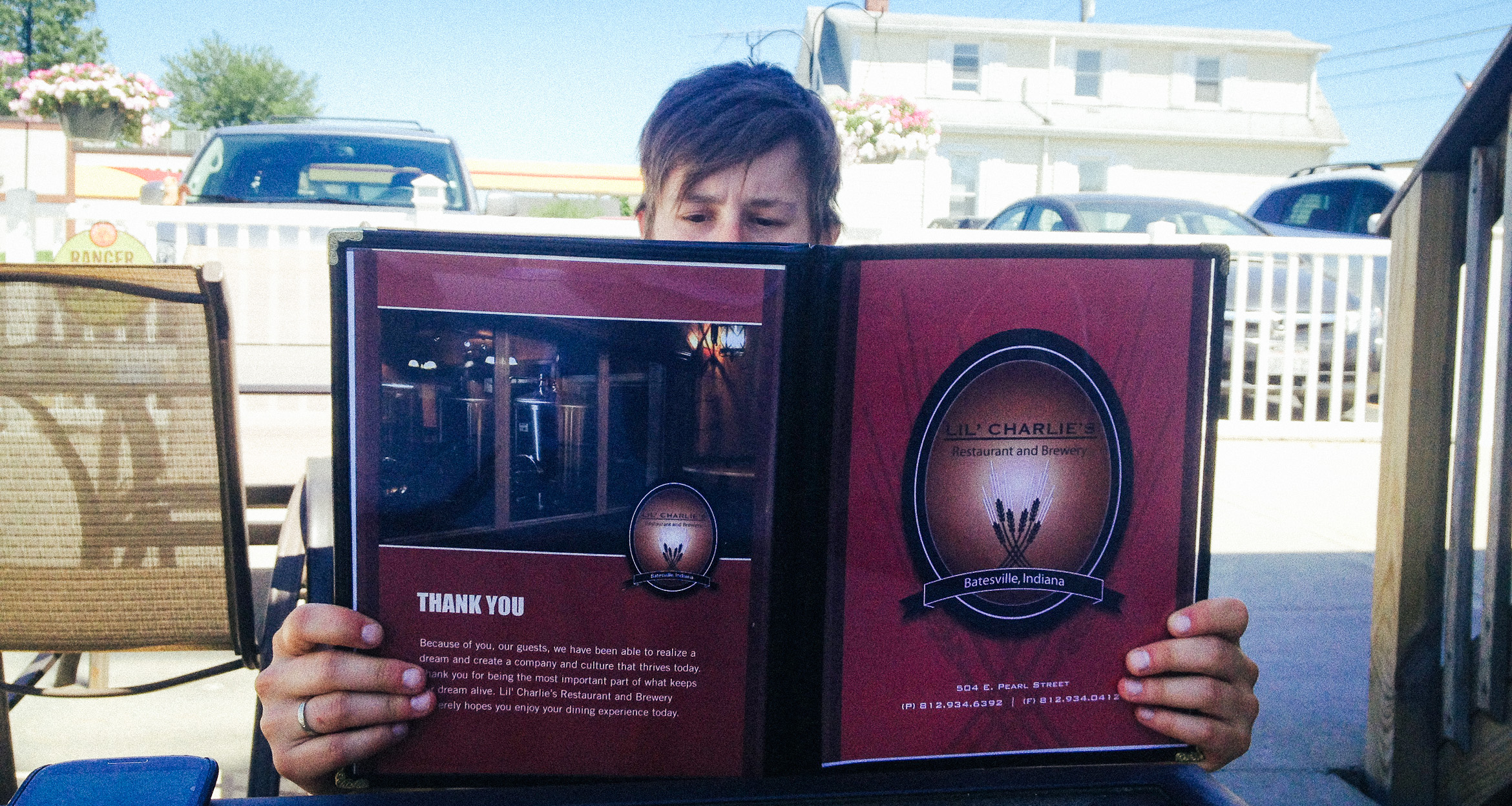 Excited to eat something other than fast-food in the Midwest, we thanked her for the suggestion and continued on. Lil' Charlie's proved to be a great meal where Gen got to have an Amber Ale while I downed a frozen margarita. With 50 miles already out of the way, we felt fresh enough to continue pedaling so long as there was sunlight. Especially given the good luck of a tailwind.
The next 35 miles went effortlessly as we covered as much ground as we could while there was sunlight to be had. The tailwind and flat plains of eastern Indiana were making our late day riding easy, and we cruised along counting our blessings. With the day's light diminishing, Gen's butt likewise started getting sore, and she said that she could pull off a century tonight but it would probably come at the cost of fatigue and misery tomorrow.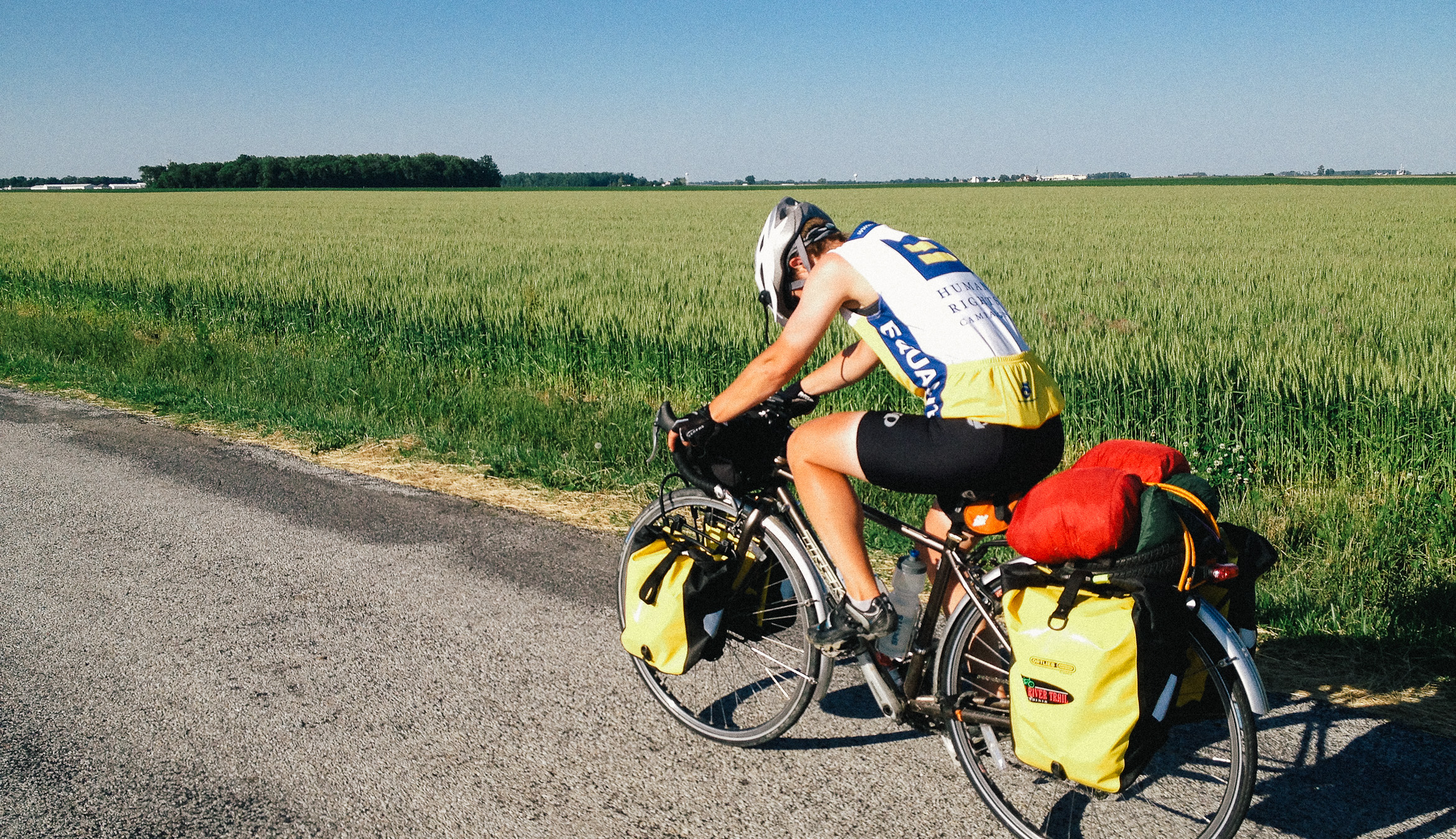 Passing a church, we saw a car parked outside and decided to ask if we might spend the night camped in the backyard. We met the pastor's wife as she was shuttling goods into the church and asked her politely if we might set up our tent out back.
"That would be no problem at all! You are more than welcome, my husband, the pastor, is inside hanging curtains, but go out and make yourselves at home!"
Our tent was quickly erected, and we were met by Pastor Bob and his wife, Cassie, who had bottles of water in hand. We thanked them for permitting us to camp on their property, and they told us they were excited to be part of our trip.
Bob is a native of Columbus, Indiana, and for 10 years has been working in prison ministry preaching to inmates at Edinburgh Correctional Facility. Through working at the prison, he decided to open a church and started with a small following out of his garage. His fellowship grew, and he told his wife Cassie that he wanted to upsize. The tiny itty-bitty speck of a town St Louis Crossing had an old school building dating back to the 19th century, which was later used as a community center. Over time the building fell into disuse and the ownership of the property changed hands several times.
When Bob asked the owner about purchasing the property, he was met with the steep asking price of 250$. He paid the owner outright and was told that the 250$ would be put towards filling the gas for the building in good faith and as a gesture of good luck. So that was how Bob and Cassie went from operating out of a garage to a large converted schoolhouse essentially for free. Their good fortune had in turn become ours as we washed our clothes and used the restroom, pleased that we were not trespassing on someone's land to set up our tent in stealth. We were further grateful for their hospitality when they brought out snacks and water for us saying that no guest should go unfed.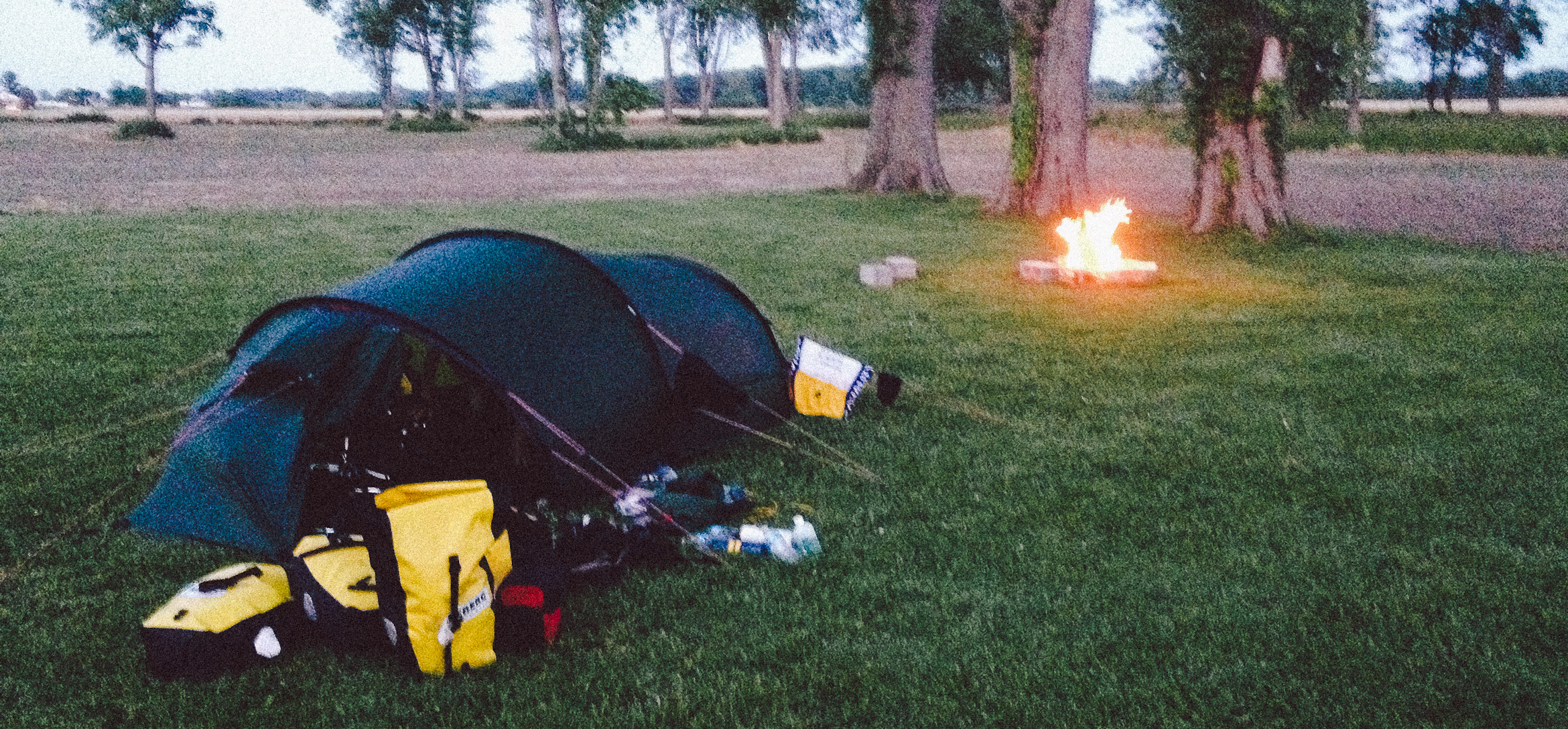 With that our hosts departed for the evening, but not before giving us a business card with their cell phones should we need anything. We thanked them again and tucked in for a good night's sleep. Tomorrow we head for Illinois or at least as close as we can get!