Written By Fritz Ifert-Miller
Day 26 - 15 year reunion with Glendale, Ohio
Distance: 112.81 mi

|

Ride Time: about 8 hours

|

Elevation Gain: 406.2 ft

|

Avg Heartrate: 130.9 bpm
We woke at Dan and Sandra's and enjoyed a short breakfast of frosted mini-wheats and coffee before checking the forecast for the day. We had a clear window until 2PM with flash flood warnings persisting to the north and the south. It seemed our choice to pursue the Ohio River had been fortuitous and provided an alley of safe-passage. We thanked Dan and Sandra once again for being our impromptu hosts and so graciously offering us shelter during the storm. After exchanging contact information and promising to let them know when we reached California safely, we made our goodbyes and coasted down their steep driveway into the morning fog.

Our previous day's goal of banging out as many miles as possible had been cut short by weather, and we hoped we could make up for our lost progress with a big day today. It would be more than 110 miles of biking to reach Cincinnati, the Queen City.
Cincinnati holds a special place in my heart as my childhood home and the spot where I spent my formative years. It is a place that I regard with nostalgia, but until now have never revisited since we left 15 years ago.
We were off to a fast start, keeping a steady pace above 15 miles an hour on the flat terrain. I flipped to my cadence computer and focused on maintaining ~90rpm for as long as I could manage. The fog occluded the road ahead and behind, and we hoped that cars driving in the early morning would be able to see our flashing lights and reflectors.
In short time the first 10 miles were out of the way, and Genevieve recommended we switch positions. In less than 40 minutes another 10 miles had gone past. With a roadside pee-stop, we agreed that we wouldn't get off the bikes for a real break until the 30 mile mark.
Continuing down the road, we decided that 10 mile shifts would be unsustainable and opted for a more frequent 3 mile interval. Our decision to pace and draft and swap helped preserve our stamina while leaving us focused as well. By 10:30, it was only 2 hours and 20 minutes into our day and we had already traveled 32 miles-- good sign if the pace proved sustainable.
We ate a greasy spoon brunch at a delicious diner called 8-ball where I had a single pancake that outweighed a stack back in boston and bacon egg and cheese on a biscuit (hold the gravy). The kind cook had loaded my sandwich with so much bacon that I actually had to remove some. Fortunately, a stray dog had smelled us from up the road and came to inspect. I made a fast friend while finishing breakfast and lamented we couldn't trailer the dog behind us, Gen sarcastically retorted:
Yeah, because you don't already have enough weight.
We ordered some chicken sandwiches for lunchtime so that we could avoid stopping again for a long meal.
Back on the road, we continued our 3 mile pace interval and resolved to not stop again till the 60 mile mark. The road rolled along the southern border of Ohio, and the mighty Ohio River was never far from sight. Our choice to add extra miles for a flat elevation profile had paid off, and we were soon at mile 59 in a small town called Higginsport that was home to only 2 shops. We resupplied our Gatorade and water and snacked on our previously purchased grilled chicken sandwiches on a small bench.
We can do this thing.
We're already more than half way done!
That critical mental milestone had been reached, and we had passed the midway mark of the day. With less than 56 miles to go and still almost 8 hours of daylight, we knew Cincinnati was well within our grasp. We didn't dare say it would be a definite, as we both were too nervous to jinx ourselves with injury or violent weather. But we knew it would likely happen, and excitement fueled us as we got back underway.
The early morning had been cool and overcast, permitting quick pedaling with little sun and heat fatigue. As the day wore on, the skies cleared and the day warmed. Thunderstorms and dark skies could be seen straddling our path along the river, and we knew the hot air was indicative of impending climatic changes.
We pulled over at a local gas station near a nuclear power plant as we watched the storms collect and threaten to converge on our route. We'd discussed the possibilities of riding in the rain earlier that day, agreeing that we would press on so long as lightning wasn't an issue. Thunder rumbled, and we wondered whether that stipulation would hold us back, ultimately deciding to continue up the road until the situation arose.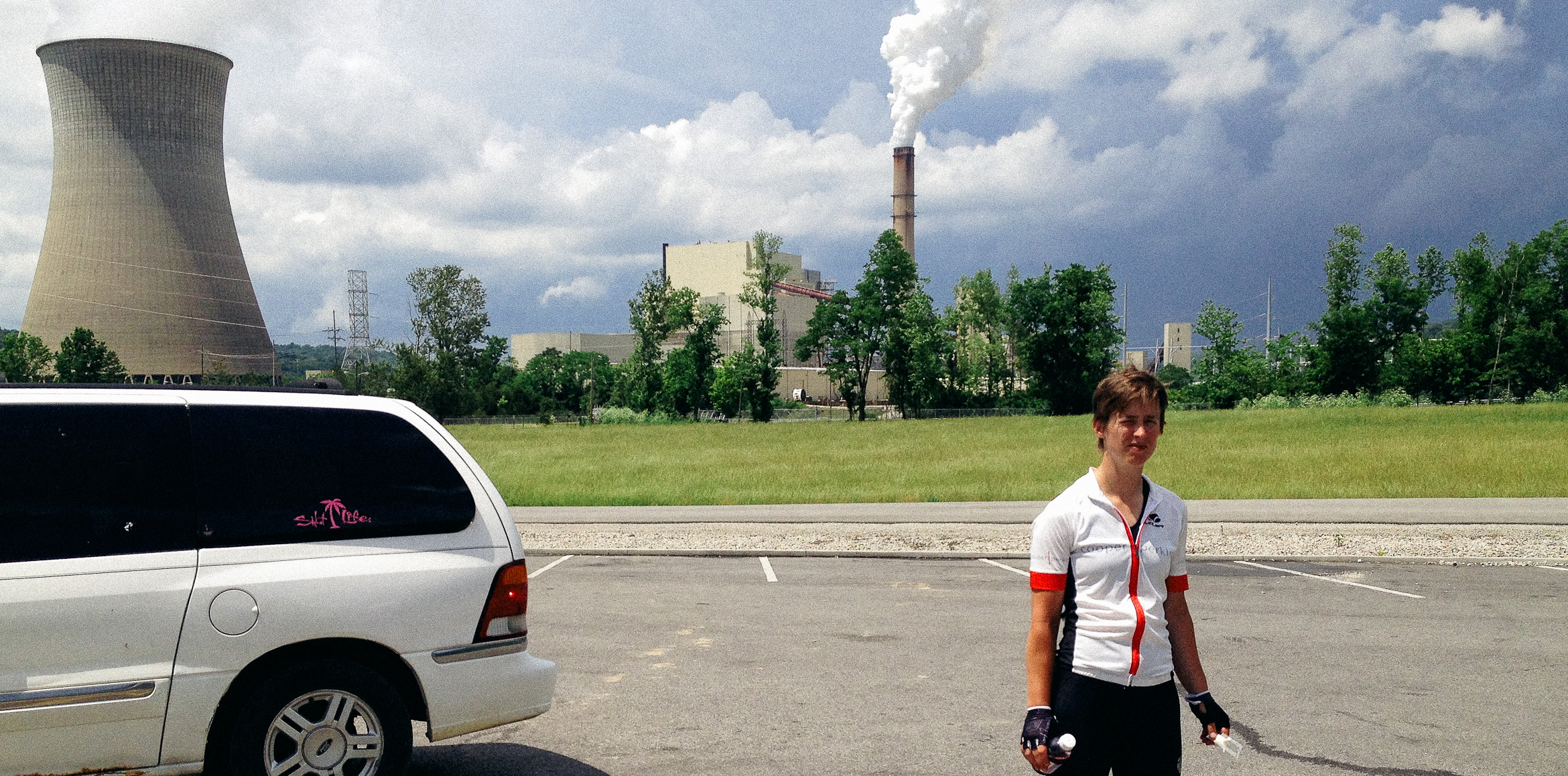 The hot humid air was stifling, and we were eager for the storm to usher in cool winds, even if it meant the accompaniment of precipitation. Keeping an eye on the horizon, we left our raingear easily accessible.
A sunshower started, and we elected to continue without stopping in the light rain as we pedaled down US-52--the Ohio River Scenic Byway. The byway transformed, and soon we were on a 4 lane divided 55mph road with considerably more traffic. The shoulder, however, remained large, and we felt safe enough to continue. Eventually, we had traveled 93 miles along the extent of US-52. Here the road proceeded to merge with Interstate 75, a real highway which neither Gen nor I had any interest in chancing. A stern advisory posted on the roadway forbade bikes and pedestrians, and we quickly realized we were unintentionally pedaling onto I-75.
Thinking quickly and seeing a break in traffic, we hooked right the wrong way down an on-ramp staying well into the shoulder to escape the dangerous interstate. We were rewarded with a nice scenic trail which lasted for all of ¾ of a mile. Back onto city commuter roads during rush-hour traffic, we cursed our luck and the terrible potholes as we made our way farther towards the Downtown area.
Gen requested safer passage to Glendale, and we consulted Google Maps to seek an alternative. A sign up ahead advertised the continuation of the "Midland Trail", and we reconnected--happy to be back off the road. Past the Cincinnati Municipal Airport, the trail provided smooth pavement and only the occasional pedestrian, but the promise of easy riding ended too soon, and we were once again thrust into the late afternoon rush-hour.
After negotiating several tricky intersections and a number of confounding traffic patterns, we were on Vine Street riding past Wyoming and Woodlawn--the towns immediately preceding Glendale, and I knew that we were close. The turn right onto Oak Street signified our arrival, and we coasted to a stop in front of 750 Woodbine Avenue, the home of the Vialls, family friends from our time in Ohio.
Tonight Anne made us a hearty meal of mac and cheese and pesto lasagna which Gen and I polished off two plates apiece, along with nearly an entire bag of grapes. Afterwards, John returned home and was excited to talk cycling with us. We set off to get some dessert ice-cream from Graeter's and chatted about our experiences thus far.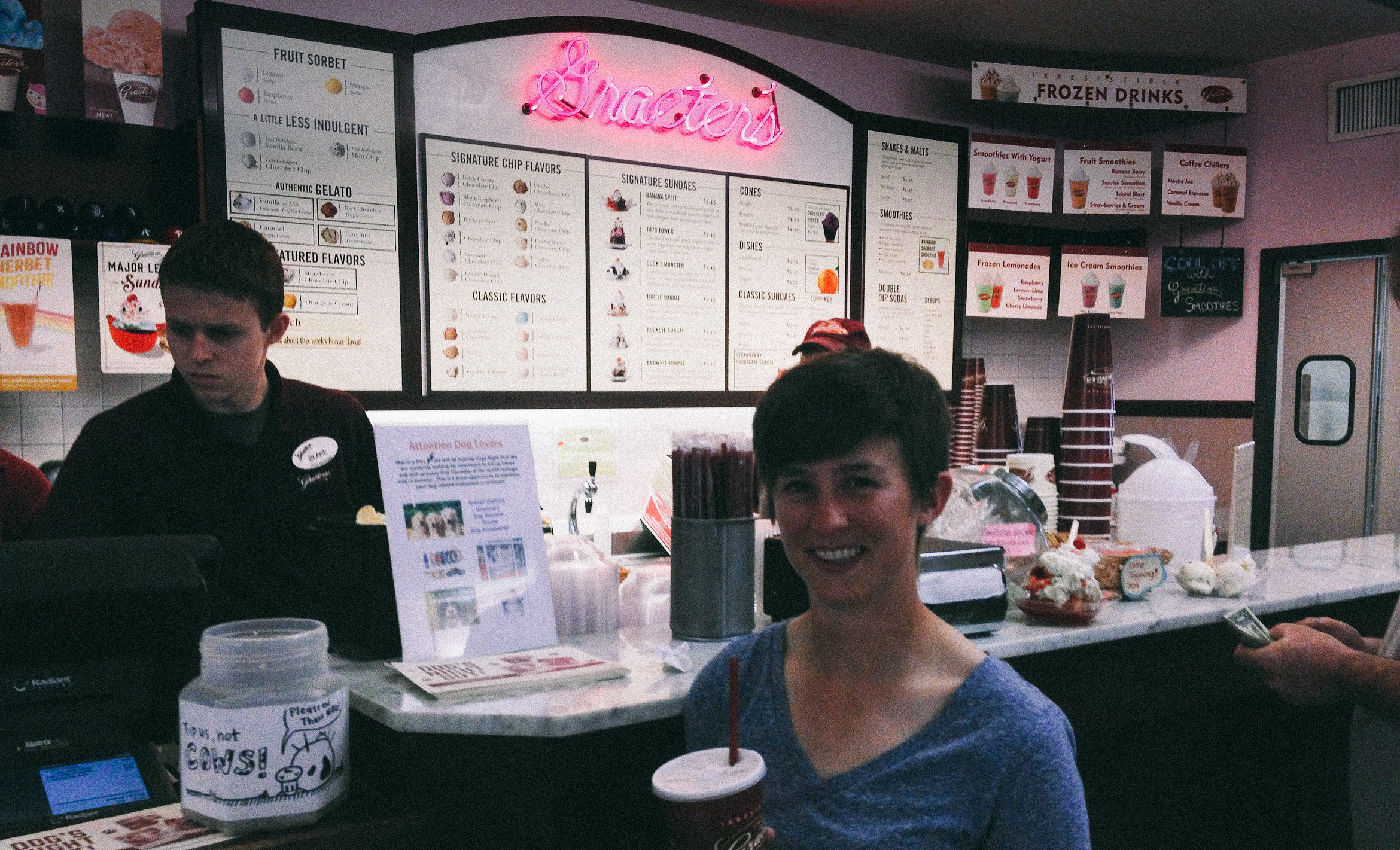 When planning this trip, I'd often thought of John. Growing up, I'd heard his many stories of cross-country bike journeys. Each family gathering meant another exciting tale of biking down the Loneliest Highway in America, or slogging through fresh laid tar, or being suspected of bank robbing. The fact that he had done the trip more than once was reason enough to believe it had to be at least moderately enjoyable.
We spent the remainder of the night sharing pictures and recounting the trip thus far. John showed us pictures from his own trips and consulted our maps, making suggestions for sights to see and places he'd avoid. It has been wonderful to spend time with the Vialls, and being back in their home it feels like no time has passed at all.
Tomorrow will be a rest-day in my hometown of Glendale. Gen and I both need new helmets and some other bicycle accessories, and our drivetrains are in desperate need of care. Maybe I'll even get some blogging done!? In any case, I get to fall asleep tonight to a sound that I haven't heard in 15 years--the trains rolling down the tracks less than a half a mile from my childhood home. With a total of 112 miles ridden, it is sure to be a good night's rest.