Written By Fritz Ifert-Miller
Day 25 - Surprise Weather - Surprise Hosts
Distance: 42.4 mi

|

Ride Time: about 4 hours

|

Elevation Gain: 318.9 ft

|

Avg Heartrate: 121.3 bpm
We began our day with a delicious breakfast cooked for us by Tina and Liam. Tina had made banana bread while Liam had made eggs and coffee. He offered us some of his potatoes and, though I was tempted, I channeled self-restraint knowing the past few days' giant breakfasts had left me hurting later. We politely declined, sadly wishing that we could enjoy some fresh homefries.

Packed and ready to go, we thanked Tina and Liam for their hospitality and asked them to pose for a picture. We then posed in turn for Liam to take our own picture.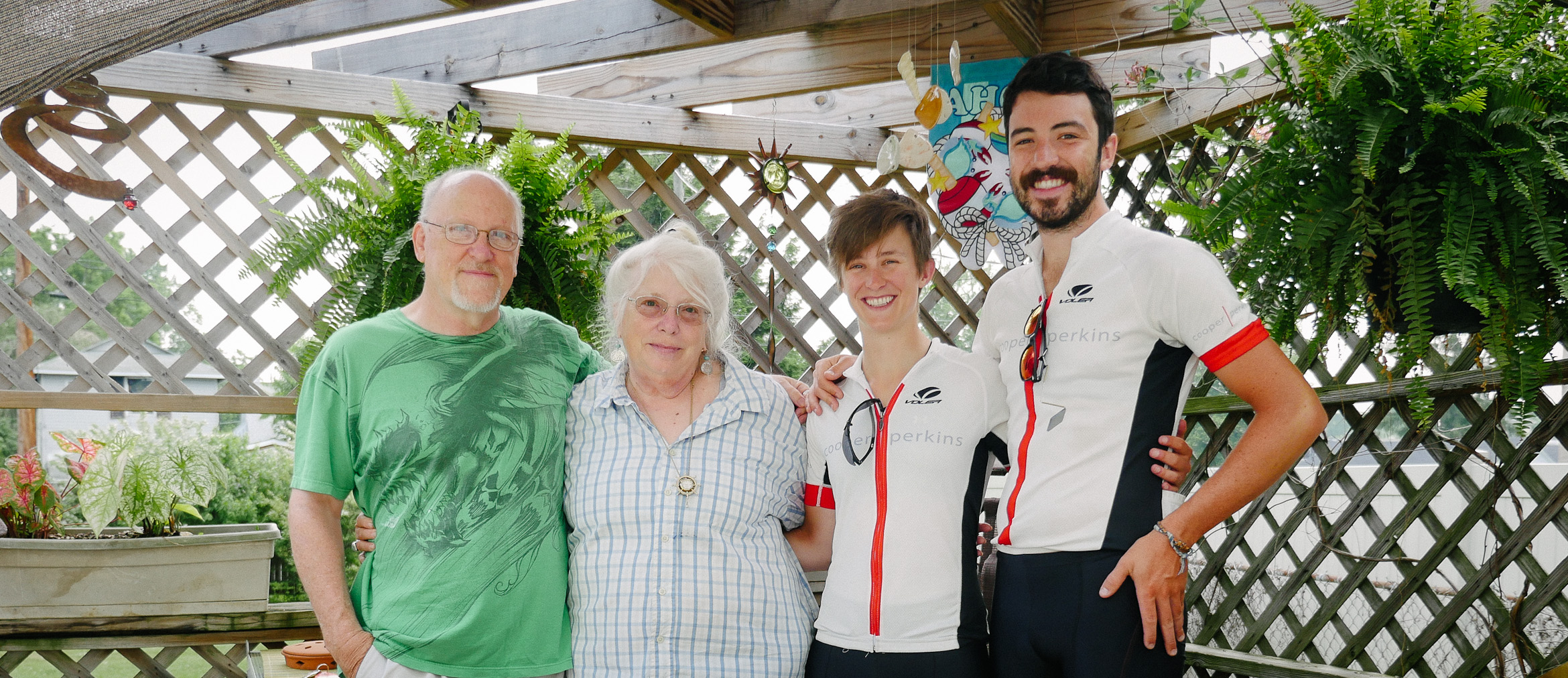 We were off and away from Ashland but not before snapping a quick photo of a town mural on the way out.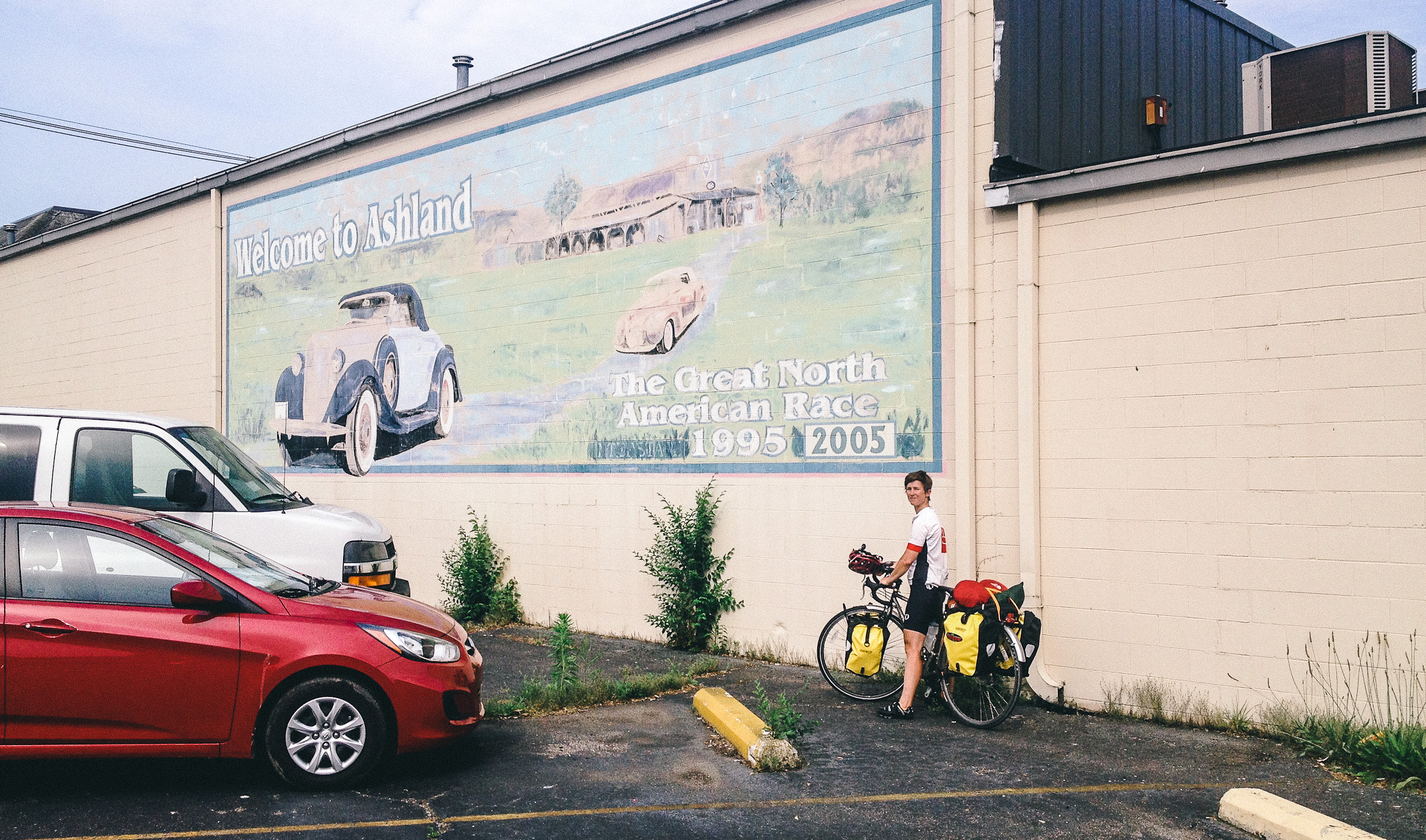 We made quick progress down the road and exited Ashland following the directions we had plotted via Google. You, being the smart reader you are, can probably predict what happens next. You know how in a movie they introduce some seemingly unrelated character or item that they have no reason to show if not for the contrivance of plot interconnectedness later in the climax of the film? Yeah, well, computers once again conspired fervently to steer us awry. The road diverted from KY-23 and placed us on roads parallel to the rail tracks and steel mills. Gen expressed her concern wondering aloud:
Are you sure we shouldn't just turn back? I don't know if there is an exit ahead.
I told her the map on my screen clearly showed an outlet. We reached an aquatic impasse, a short tunnel leading beneath the rail lines, which had flooded during the previous day's rain. We cursed our luck but were simultaneously reluctant to return. I biked up and over hoping an access road would lead past the inundated roadway. No such luck. I returned to Genevieve and suggested that we ford the floodwaters. She bravely soldiered through a standing puddle that appeared no more than 5" in depth. I say appeared because we quickly observed the water reaching more than a foot and a half in depth.
Gen's bike halted, unwilling to push large buoyant bags and skinny tires through so much liquid. She stood sodden and sullen, disbelieving the situation. I took her moment of resigned frustration to snap a photo and told her I would be looking for alternative routes to meet her on the other side.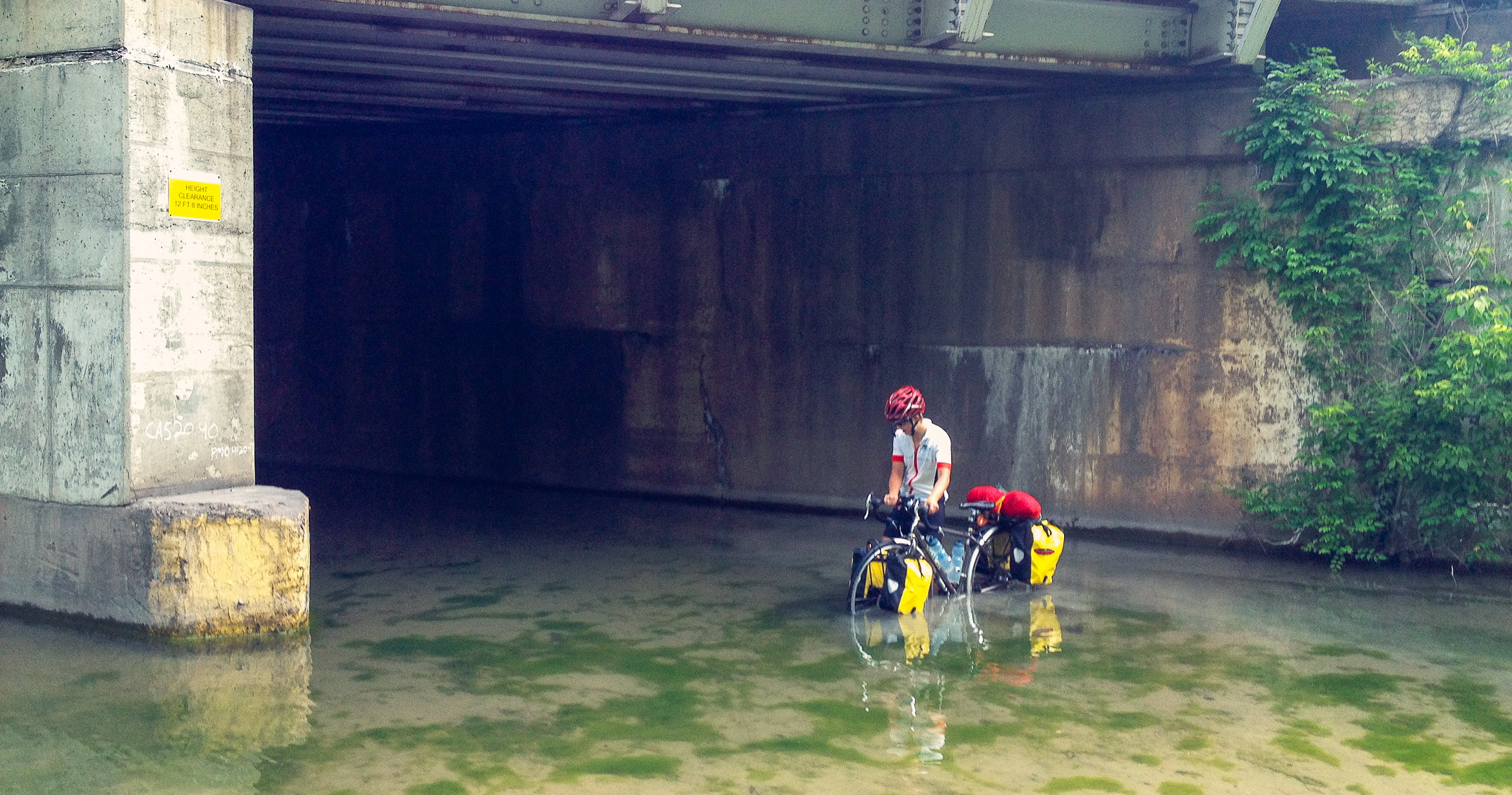 Marching over active rail lines without a crossing nearby is always unsettling, even if no train is in sight. I quickly carried my heavily laden bike over the tracks and gingerly carried it down a steep embankment to reach a very water-logged Genevieve. She showed reluctance to proceed, and I told her I had no interest in turning back now. We biked down active steel mill roads and gave wide berth to the heavy Euclids that carried large loads down the muddy gravel roads. We passed out of the mill and reached the exit only to be pulled over a second time in our trip by a security officer who asked us to destroy any photos we might have taken of the mill. He politely explained it was private property and the police had been called when cameras saw us trespassing. We explained our Google induced error, and he kindly assured us we were not the first individuals to be routed this nonsensical way.
Out of the mill we continued down KY-23 and stopped at an auto repair shop to dry out Gen's wet squishy shoes and filth-covered legs. The mechanic gave her a plenitude of blue shop towels, which worked wonders for drying her doused duds.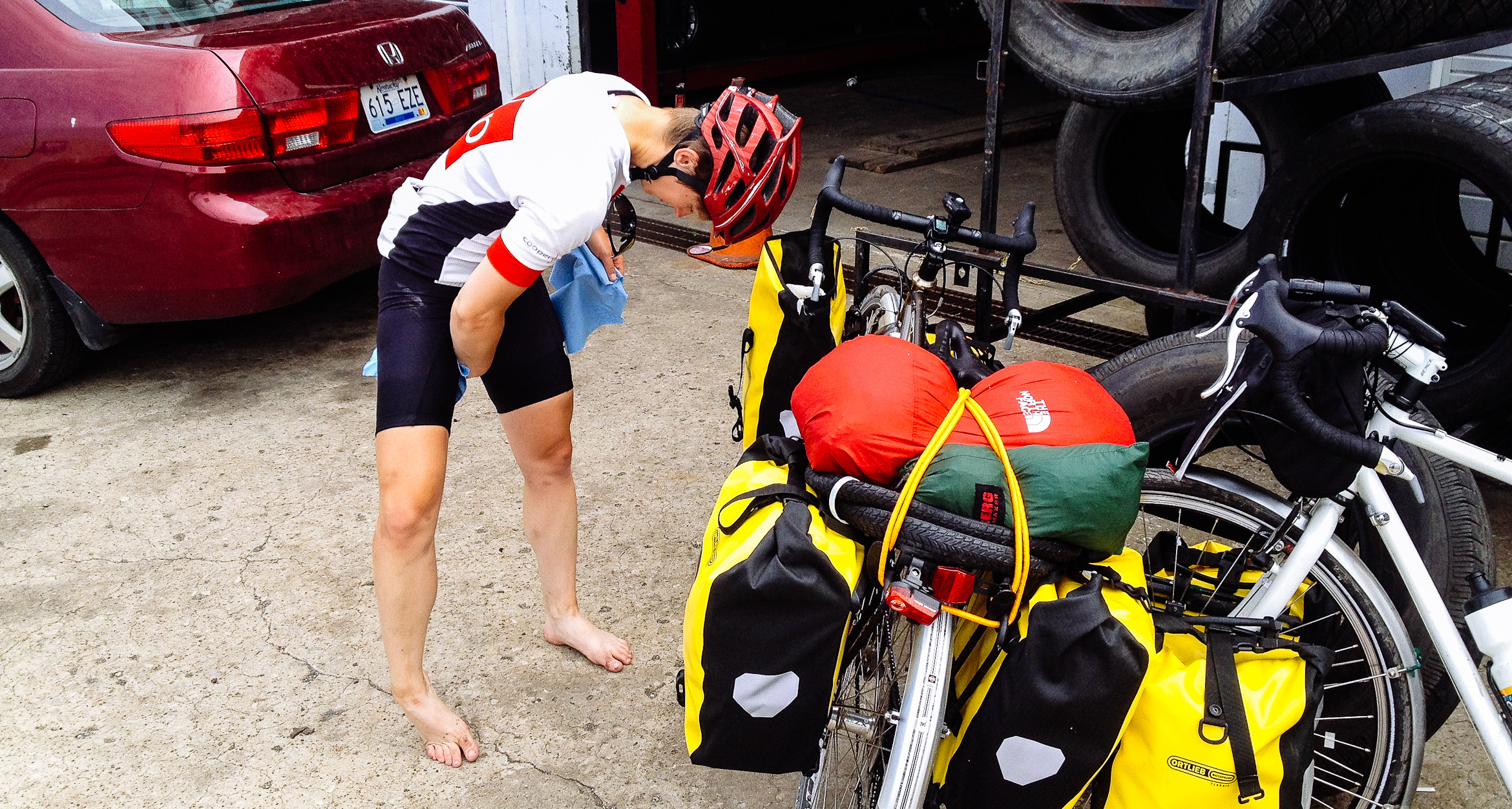 A few miles down the road, we stopped for a brief lunch at a grocery store where we enjoyed Turkey sandwiches, avocados, and Gen had her first taste of a Kentucky staple: Ale-8-One

The beautiful Midwest continued to impress us with its rolling landscape and homey appearance. This rural backdrop of course has its occasional pitfalls as sharing the road can sometimes prove to be a unexpected and challenging proposition. The upside is that the locals are much more understanding of slow-moving cyclists when they regularly deal with sloth-like tractors and farm equipment on rural country byways.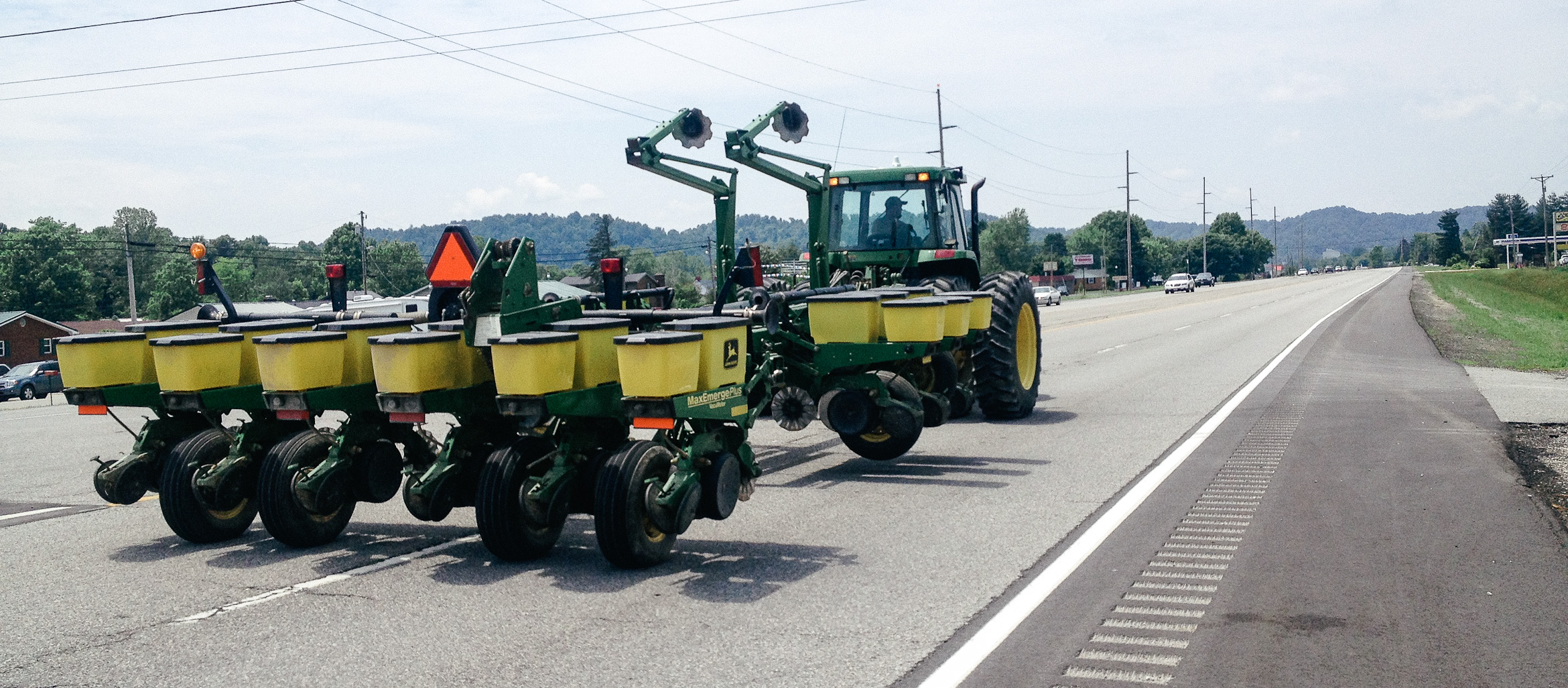 KY-23 eventually crossed the mighty Ohio River into my childhood home state where we stopped on the bridge to bag one more photo.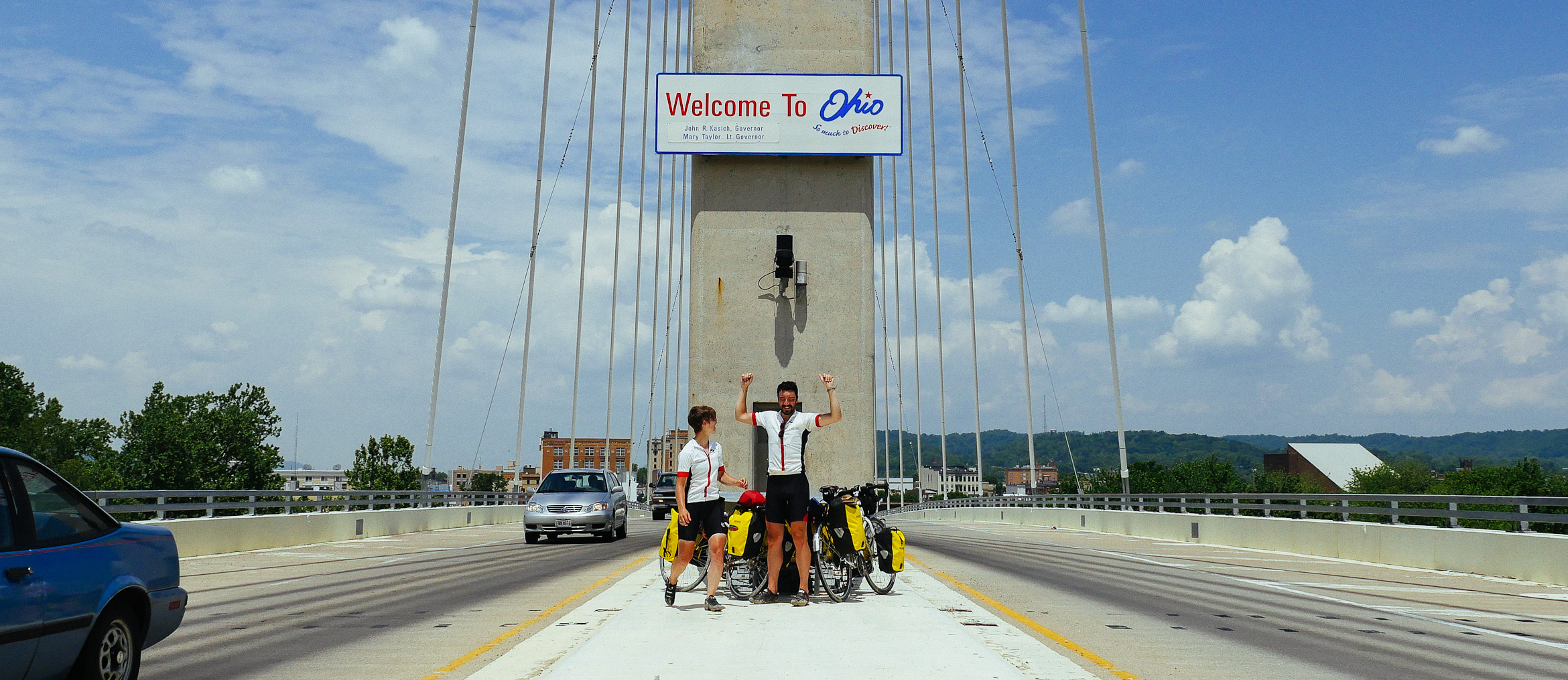 We merged onto OH-52, which is the Ohio equivalent of a scenic river byway. Some difficult biking on small shoulders with fast moving cars was interrupted when a forced stop was afforded us by Gen's tire chomping down on a shard of jagged rock. She patiently changed her tube and patched her tire while I ordered a replacement Kevlar-lined Schwalbe to be delivered ahead of us in Cincinnati.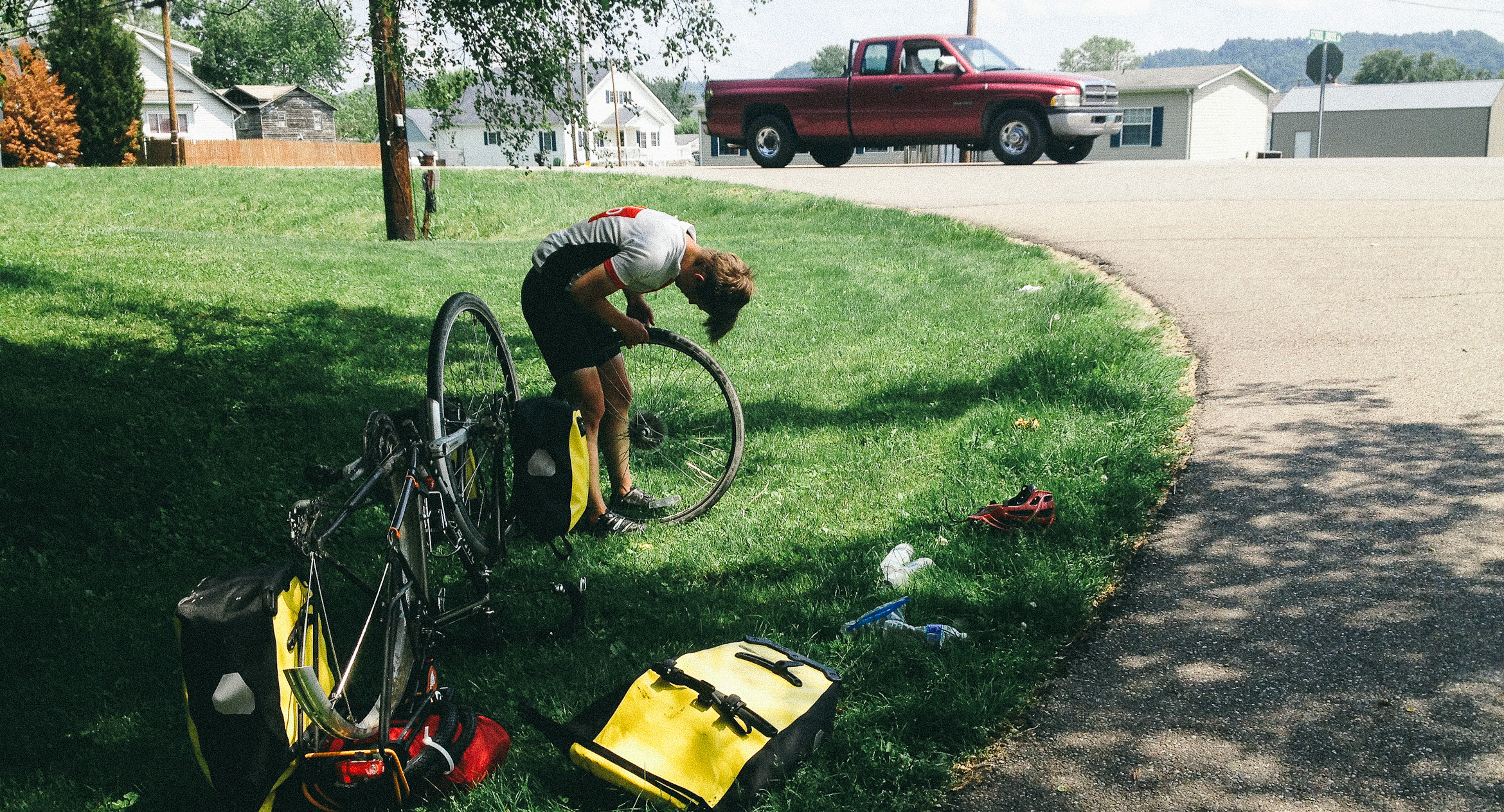 Back on the road we pedaled hoping to make some decent headway to Cincy and leaving less work for the following day. Ahead, the sky loomed, low and dark. Slate blue skies in front of us spelled imminent precipitation and loud rumblings of thunder acted as harbingers of the thunderstorm that was racing east to meet us on our ride west. Realizing the storm would quickly overtake us, we turned around seeking shelter at a barn we had spied at the roadside half a mile back.
On our way to the barn, a gentleman emerged from his porch waving at us to come up the driveway. We hastily took him up on his offer and climbed the hill to his garage where he congratulated us on getting off the road in the nick of time. He said the storm was due to be a big one and invited us to park the bikes in the garage and wait for the storm to pass. We introduced ourselves and joined Dan and his wife Sandra on their porch and watched the storm roll over the river valley.
The forecast for the evening did not look promising, and we realized that we would be camping in the rain, which would delay us in our morning endeavors to get back on the road. Dan and Sandra told us that the distance we would be able to cover in our remaining daylight would leave us with few camping options and recommended that we instead stay the night, enjoy a hot shower, a warm bed and a warm meal and get a jump on our riding early the next morning.
Hesitating, we looked at each other and realized it was indeed the most sensible solution and thanked them for the generous offer. After a very filling all you can eat buffet, Dan took us on a small tour of West Portsmouth, Ohio. He drove us through the beautiful Shawnee State Park and showed us his childhood home and farm.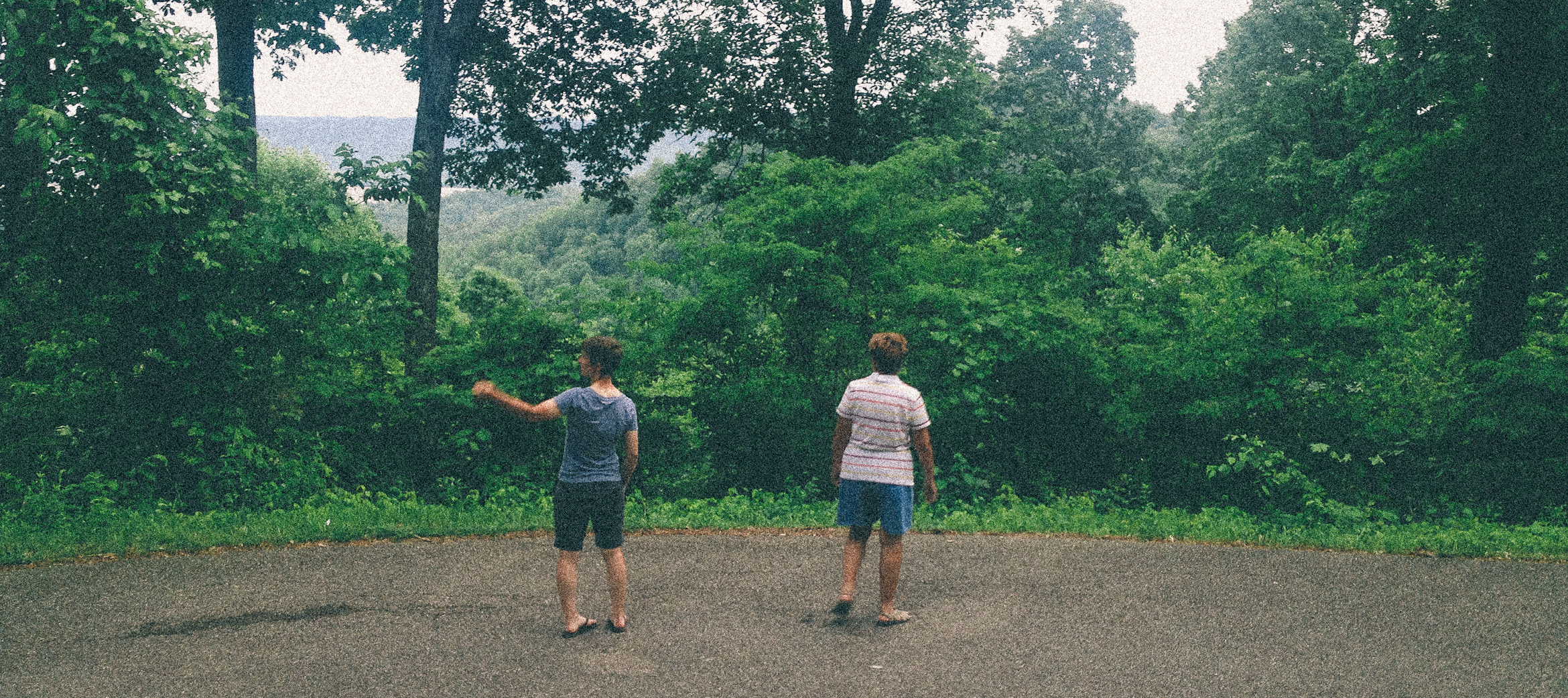 Dan and Sandra are high school sweethearts and have been together for 50 years now. They have lived in this part of Ohio for most of their lives, only in the last decade (post-retirement) starting the snowbird tradition of fleeing to Florida for the winter. Dan keeps a limited Transformers edition Camaro which he takes to car shows and displays to impressed children who excitedly point and shout: "BUMBLEBEE!"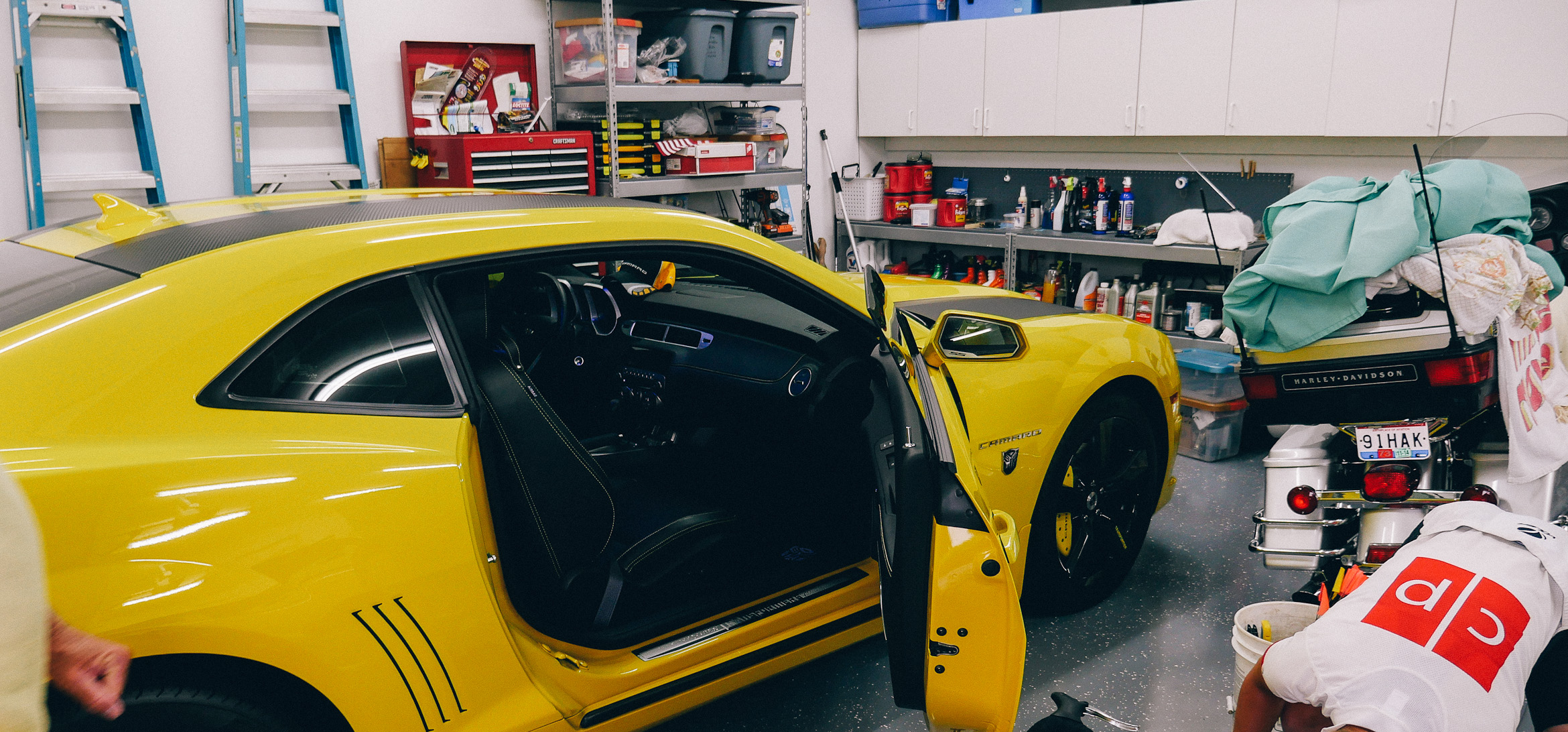 I know I am beginning to sound like a broken record, but, really, strangers on this trip have been unfailingly welcoming and kind. We couldn't be luckier in terms of the experiences we have had and the individuals we have met. Dan and Sandra are just one more example of this recurring trend, and I hope that we can continue to meet more people like them on our trip west.