Written By Fritz Ifert-Miller
Day 24 - 40 miles to Ashland
Distance: 44.95 mi

|

Ride Time: about 4 hours

|

Elevation Gain: 217.0 ft

|

Avg Heartrate: 120.8 bpm
This morning we slept in having vowed the previous night not to waken any earlier than we pleased. For Genevieve, this meant 8AM because she is physically incapable of sitting still for any longer than is positively necessary. Thankfully, this meant that she did a load of laundry while I continued my repose. Our host Tom was kind enough to permit us the very slow start we desperately needed after our 100 mile day post sleepless night.
Laundry done, we fried farm fresh eggs with bacon and sausage that Tom had provided, along with cookies Linda had baked and left for us. They were scrumptious. Consistent with the paleo diet, the cookies were absent milk and flour, instead substituting almond flour and coconut oil. Whatever the rest was, it was delicious.
Bellies full and bags packed, we posed for a group photo with Tom and thanked him again for his hospitality. He encouraged me to keep up with the blog as we have at this point fallen about two weeks behind schedule on updates. Here's hoping that we can finally catch up.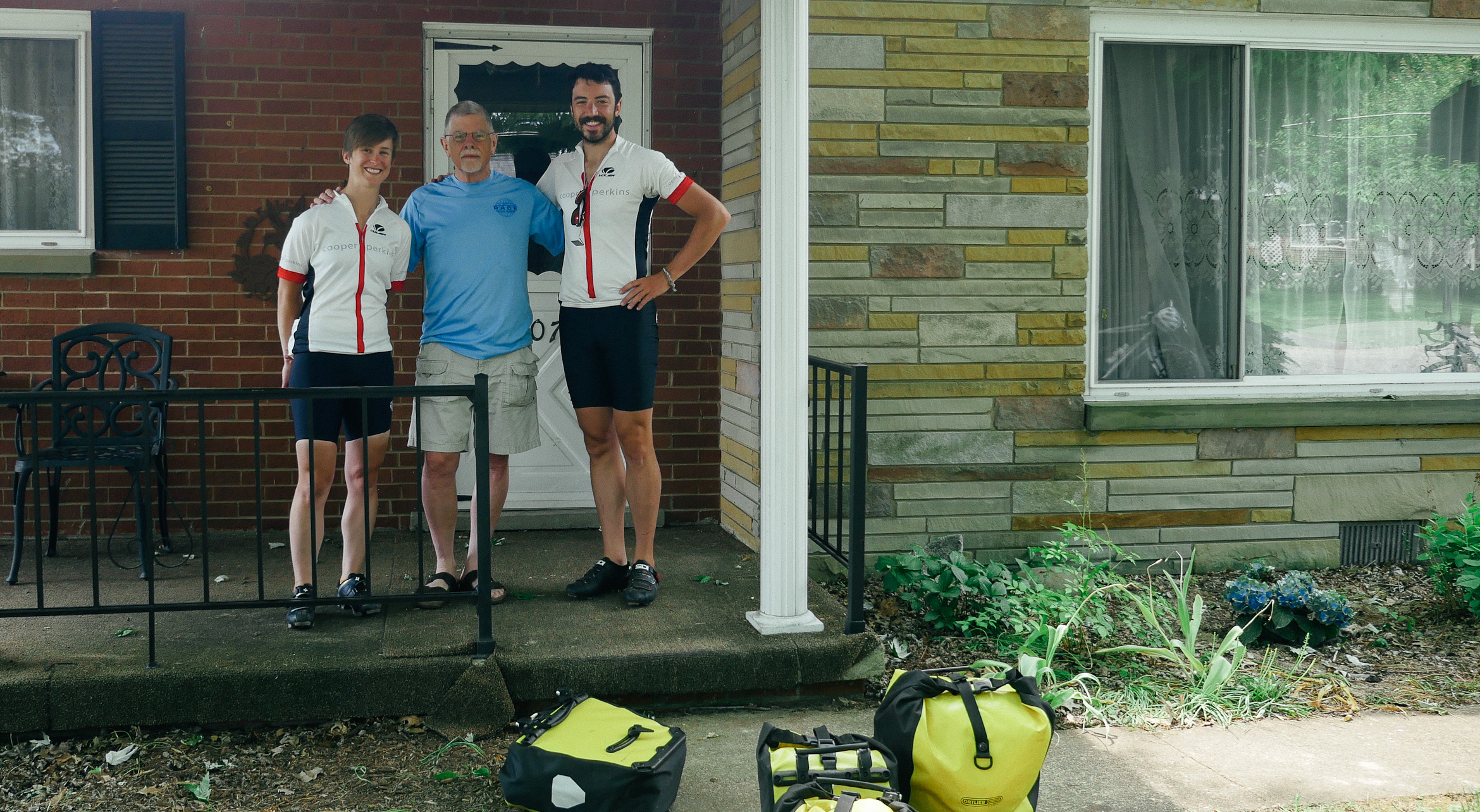 Our 100 mile day had put us within reach of a warm showers location that was only 40 miles from Hurricane. With yet another route metamorphosis, our sights were set on Cincinnati, my childhood home, following the flat path of the mighty Ohio River. Though the forecast called for scattered thunderstorms, we knew that 40 miles even on our beaten bodies would mean a short day.
The ride out of Hurricane took us back onto WV-60, which trended just barely downhill. Eager to put as many miles away as quickly as possible, I opted to pace set, plopped down into my drops and wound out the gears as tall as I could manage while keeping around a 90rpm cadence. This put us at a solid clip averaging around 20mph, which we kept for half an hour. Gradual climbs and traffic lights slowed our progress, but we continued as fast as we could manage trading places when one of us fatigued.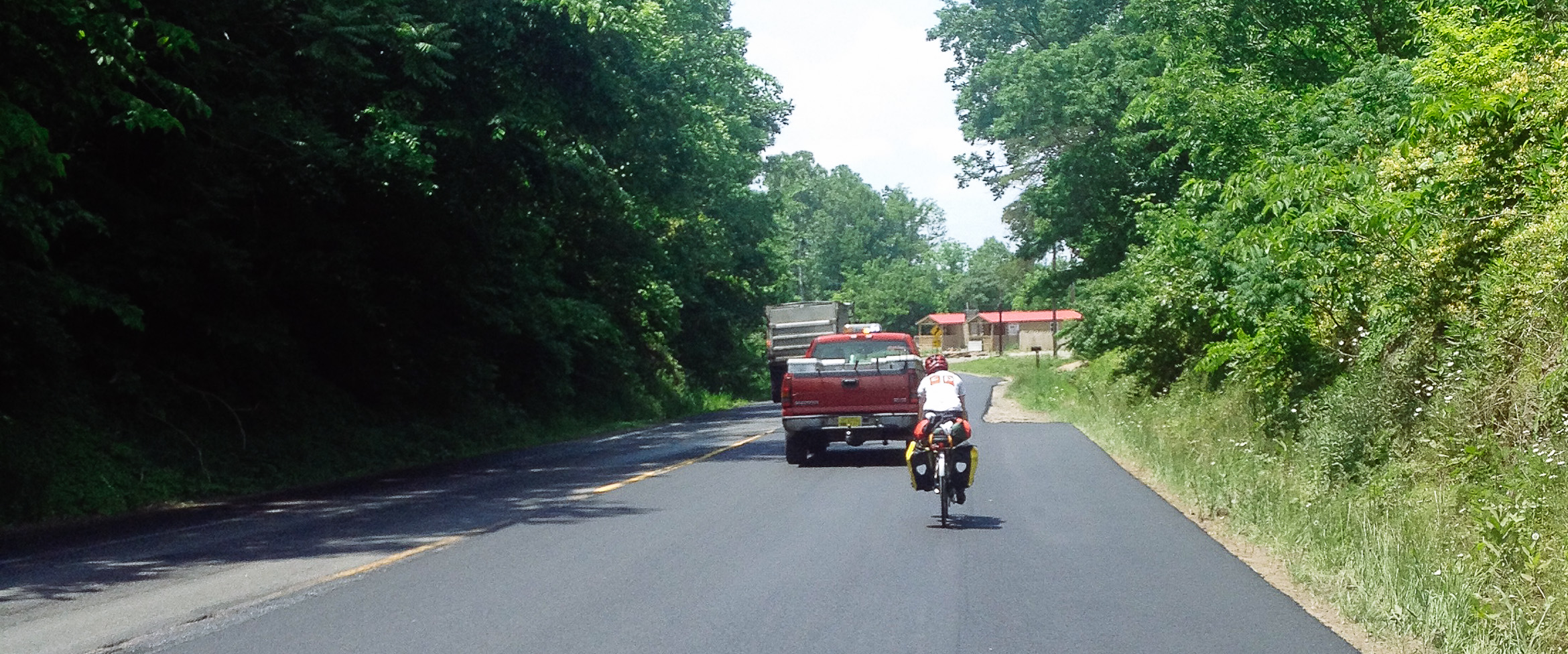 Ahead, a single lane road closure emerged, cars waited patiently for their turn to rumble down the freshly paved asphalt, and we settled ourselves at the front of the line. The man with the sign swapped his Stop for a Slow, and Gen set out behind the pace truck leading the pack of cars that waited anxiously behind. The fresh asphalt had yet to fully solidify in the midday sun, and our tires picked up residue like a marble rolling through glue. A construction worked yelled from the roadside that we should avoid the edge and ride in the middle to keep from sinking into the still hot pavement.
We cleared the road work and listened to our tires on the regular pavement as they picked up every bit of sand and gravel they rolled over, intermittently ejecting gravel into our fenders.
After a few hills we had passed Barboursville and concluded half of our day in good time. Thunder sounded on the horizon, and we looked up to see dark blue clouds collecting overhead. The hot muggy air was periodically interrupted by cool gusts and it was evident that the storm was headed our way and quickly. We donned raingear and continued on until the lightning was visible and the thunder intervals were below 5 mississippi. At this point, we decided it was time to find shelter.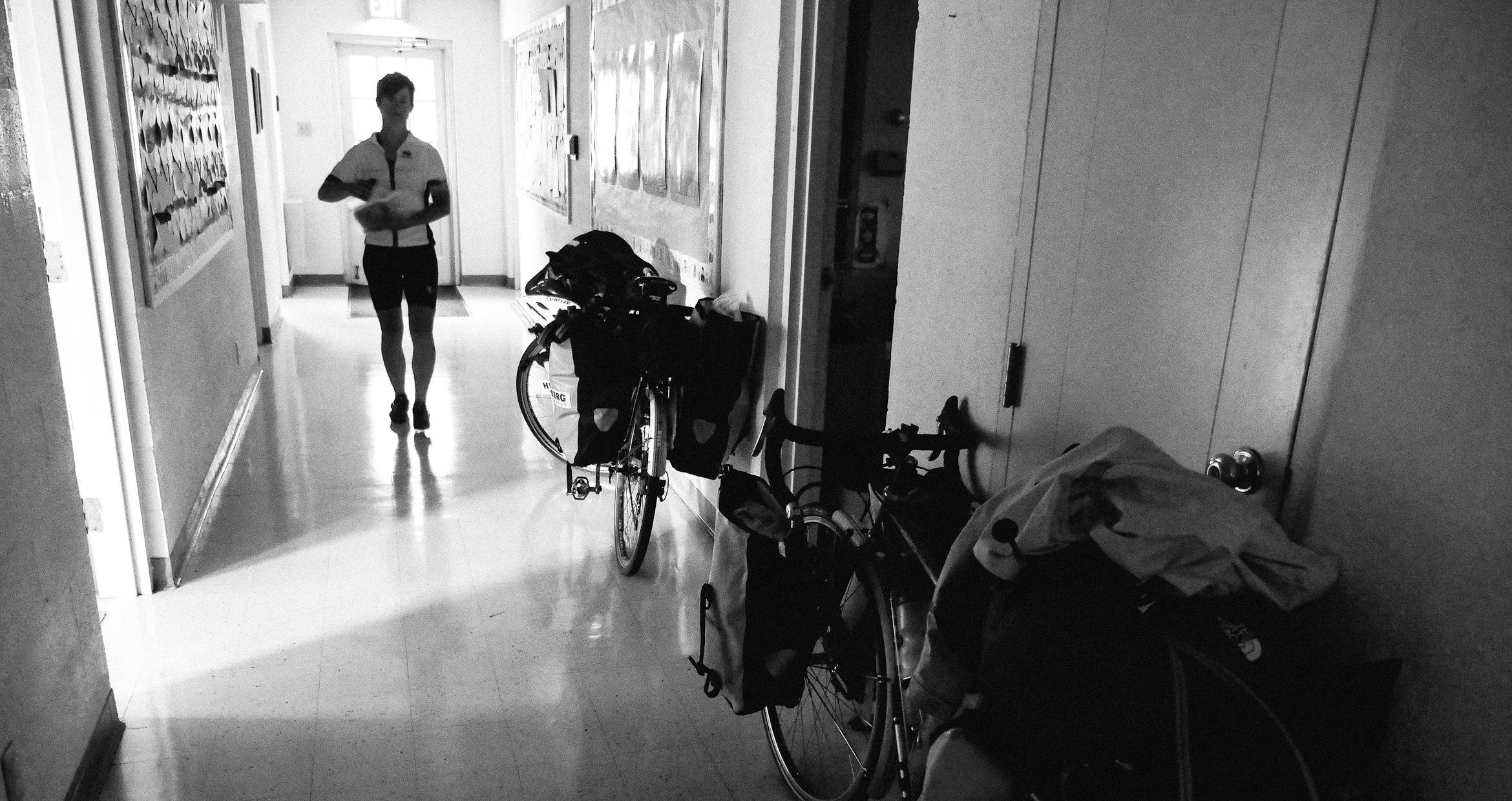 An Episcopal church at the top of the hill offered a dry place to wait out the storm. Once again, we were sheltered by the kindness of unlocked doors as we sat and watched the deluge pass.
VIDEO rain
Only 17 miles remained to reach Ashland, and we repacked our bags and left the shelter of the church. We stopped in Huntington, where Tom's son worked at the Visitor's Center, for a quick bite to eat.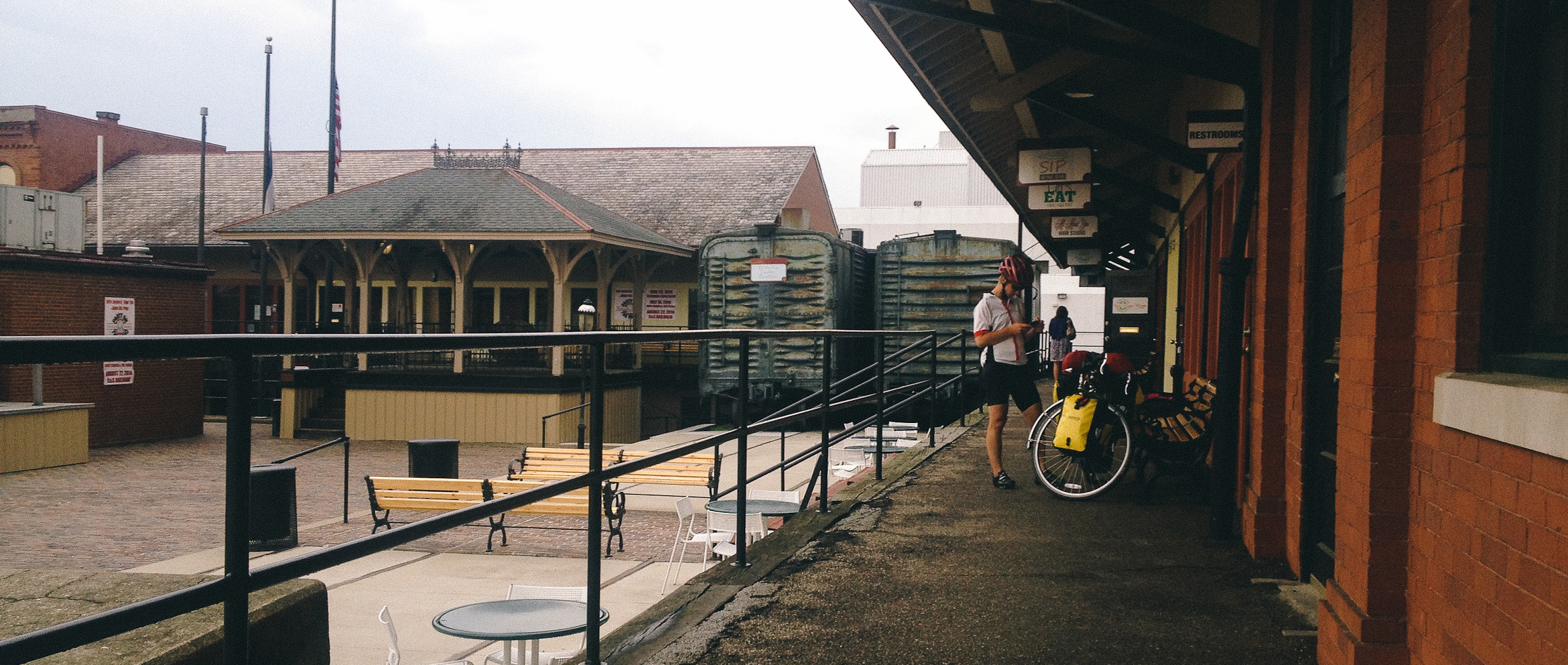 Finding the restaurants and shops kept odd business hours, we were left with only one option for food: a wine bar that had small plates. Likewise, the visitor's center had closed before we reached the city. We ate a quick meal of pita chips and hummus accompanied by fresh focaccia. While we were seated, a man approached us and asked:

"Are you Fritz and Genevieve?"
Surprised that a stranger would recognize us, we replied in the affirmative, and he introduced himself as Tom's son. We chatted briefly and thanked him for the use of his childhood bedroom.
17 miles posed no challenge at all, and, with quick biking, we reached the Kentucky state line.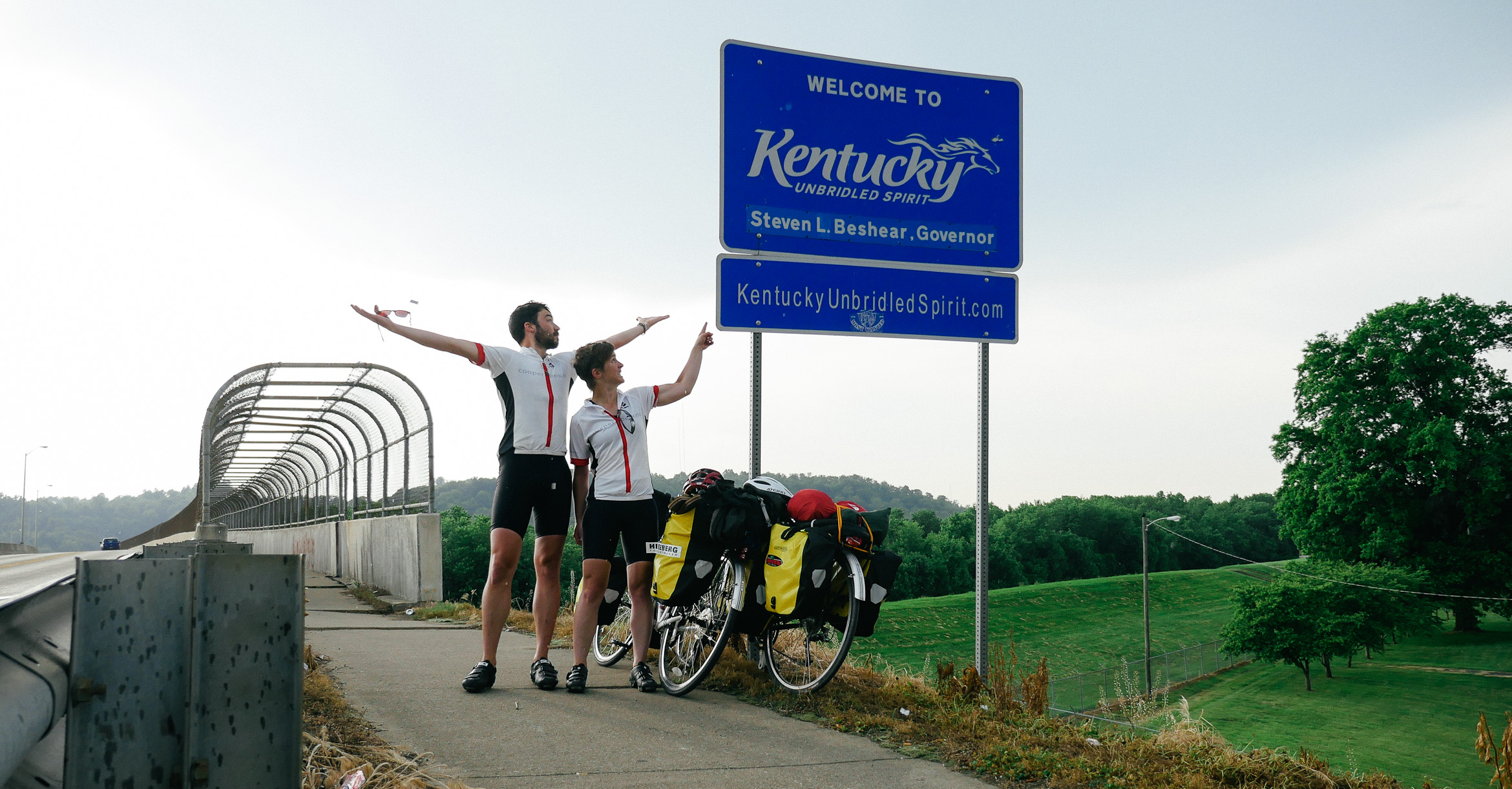 Gen said she actually didn't like this sign and preferred the Kentucky state sign she saw in West Virginia--with informative placards.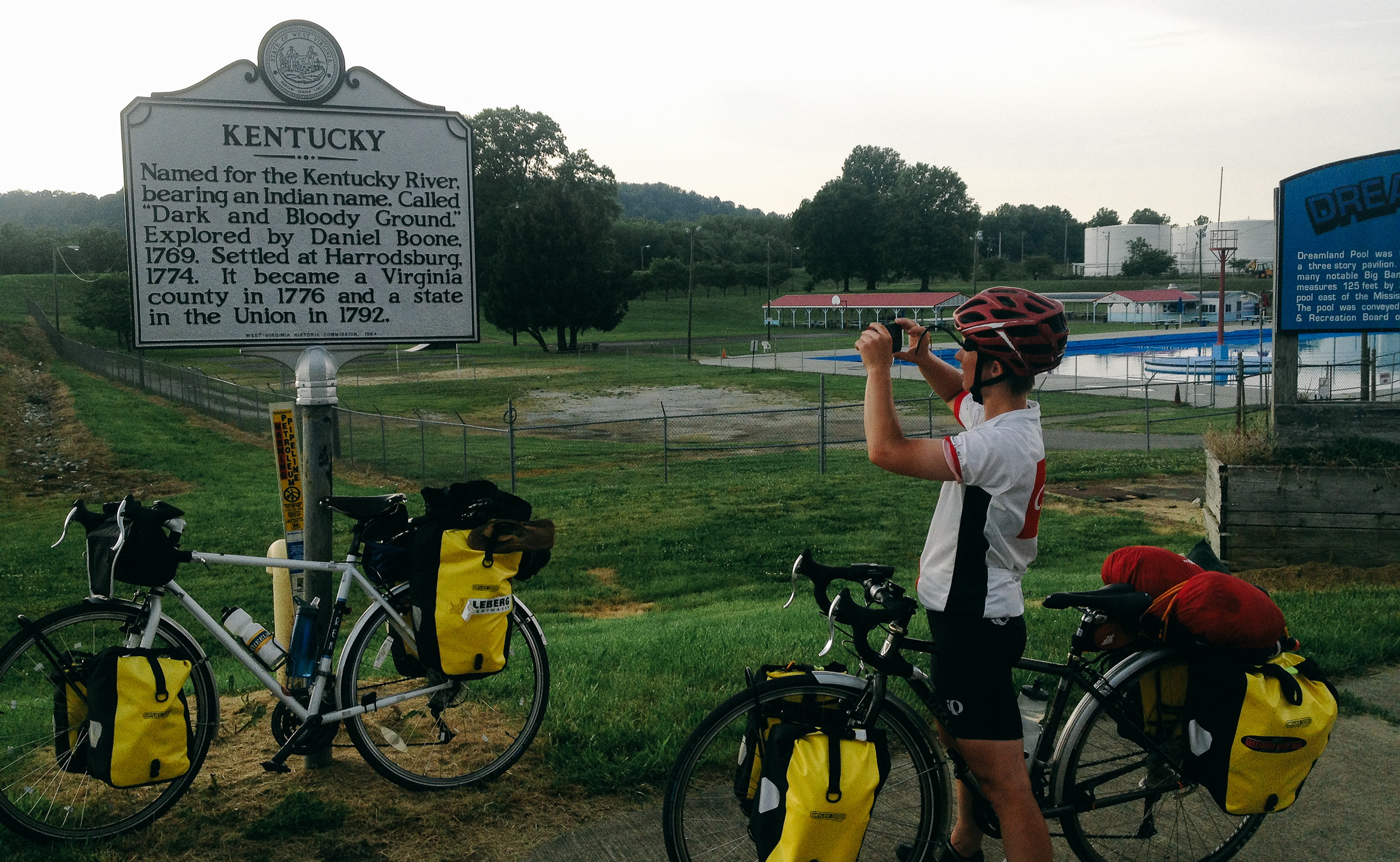 This area of the Midwest exemplifies the contrast of American industrial collapse and civic revitalization. In Ashland, the train tracks that run adjacent to the decomposing steel mills are abutted by the bustling reemergence of commerce and community beautification.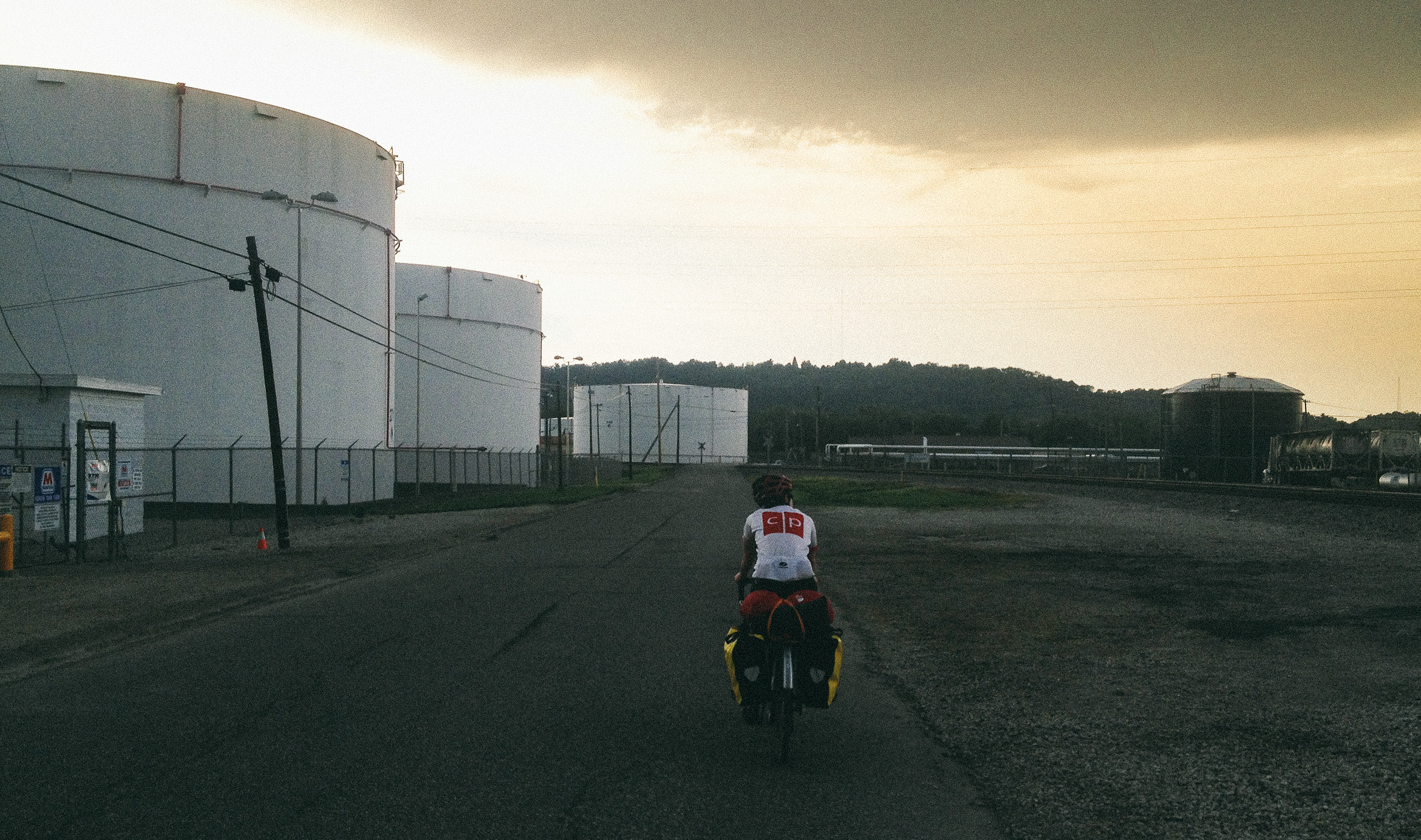 Tina had recommended we eat at a local Mexican restaurant called La Finca and that we could expect them home by 8PM. We agreed that Mexican sounded delightful and made our way into the downtown section of Ashland. The road ran adjacent to Ashland's Central Park--a picturesque green-space filled with paths, fountains and people. The long evening light only enhanced its quaint beauty. Reaching La Finca--only a mile away--we settled in to binge on Mexican.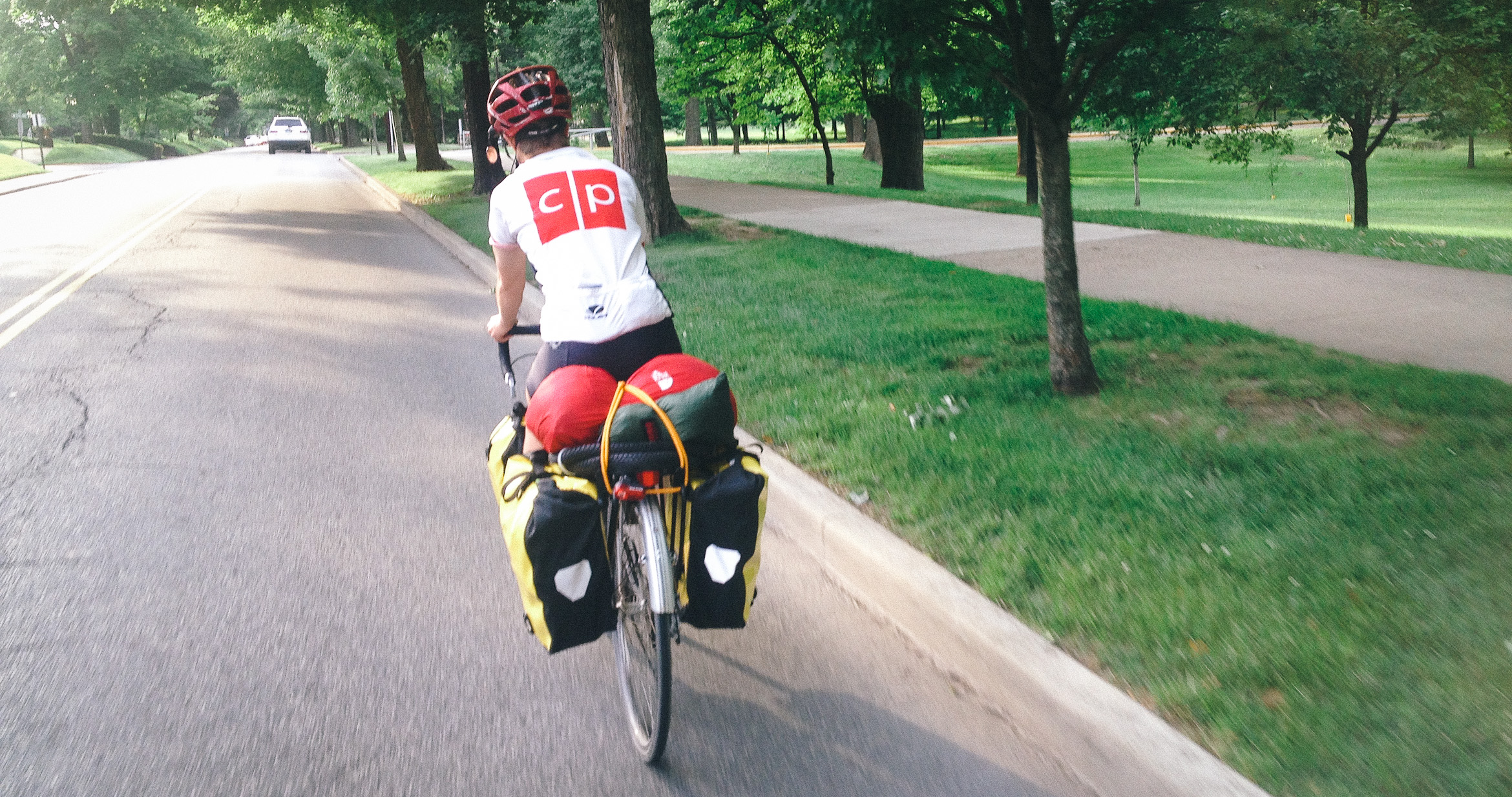 After a margarita – fajita dinner at La Finca, we rode back across Ashland taking in the pleasantry of suburban Midwest. We stayed the night with Tina and Liam.
Tina and Liam are a rarity in the Warm Showers community. Neither of the two spends much time cycling, and they got involved with the community serendipitously.
One night, while shopping for groceries, Tina spied a group of cyclists who were planning to spend the night camping in the park. Being the warm person she is, she insisted that she would not hear of such a plan and they would stay with her and see what hospitality she and Kentucky had to offer.
Her positive experience with the group kindled an interest in getting involved further, and soon she was a member of the Warm Showers website. Since then she and Liam have hosted a number of bicyclists and had nothing but good times thus far. They even wrote to the mayor of Ashland and the newspaper, petitioning for a cycling infrastructure initiative. They tried to argue that Ashland could become a hub of Ohio River cycling and invigorate the local economy through nothing more than the construction of a dedicated rail trail and a dozen families committed to hosting cyclists through Warm Showers.
Their enthusiasm for activism is widespread and steadfast; they frequently write their state senator Mitch McConnell with suggestions and complaints on problematic policy. These letters are returned by McConnell's office in form language expressing apologies that he cannot do any of the things asked of him. Yet they labor on determined that politicians should represent the people and the public interest and not just engage in partisan antics.
Tina and Liam are also large advocates of and participants in the artistic community within Ashland. This evening they went to a poetry reading downtown and regularly attend writing workshops. Tina is a hobbyist painter who works primarily in watercolors but has recently taken the plunge into oil.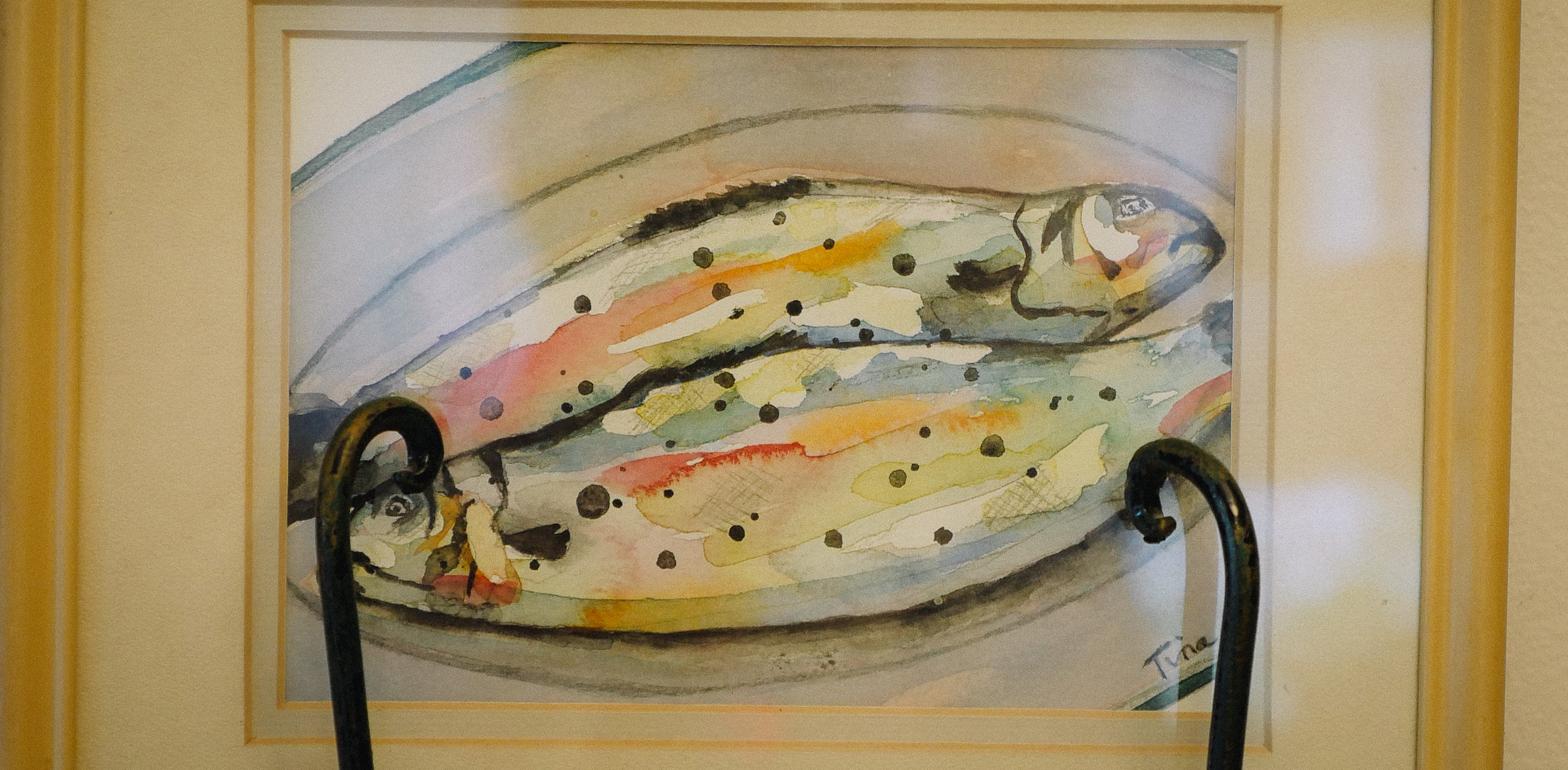 Our time with them has been intellectually stimulating and comfortable, and I am glad that we were fortunate enough to stay in their home. More so I am glad that once again we are finding ourselves in the company of individuals who are kind and trusting enough to invite in strangers and share their lives and homes.
Tomorrow we intend to knock out as many miles of biking as we can in order to reach Cincinnati quickly. With good luck we may be able to reach my childhood town of Glendale by Thursday night and stay with my family's friends the Vialls--among them John, who has biked across the country several times.
With several more blog posts completed and published, I am trying my best to catch up, but this one will probably be a week or more before it sees the light of day.