Written By Fritz Ifert-Miller
Day 18 - Strawberries, beer and the Cookie Lady
Distance: 32.91 mi

|

Ride Time: about 4 hours

|

Elevation Gain: 811.7 ft

|

Avg Heartrate: 130.6 bpm
The road to Afton-
Sometimes low mile days are as important as high mile days. They are used strategically to position for a day of high commitment that would require a full day's effort. Our ride from Charlottesville had originally been intended to take us all the way over the Blue Ridge, or at the very least, to the top where we would camp in the national forest for the night. We packed up our tent from Kyle and Hadley's house and sought out breakfast.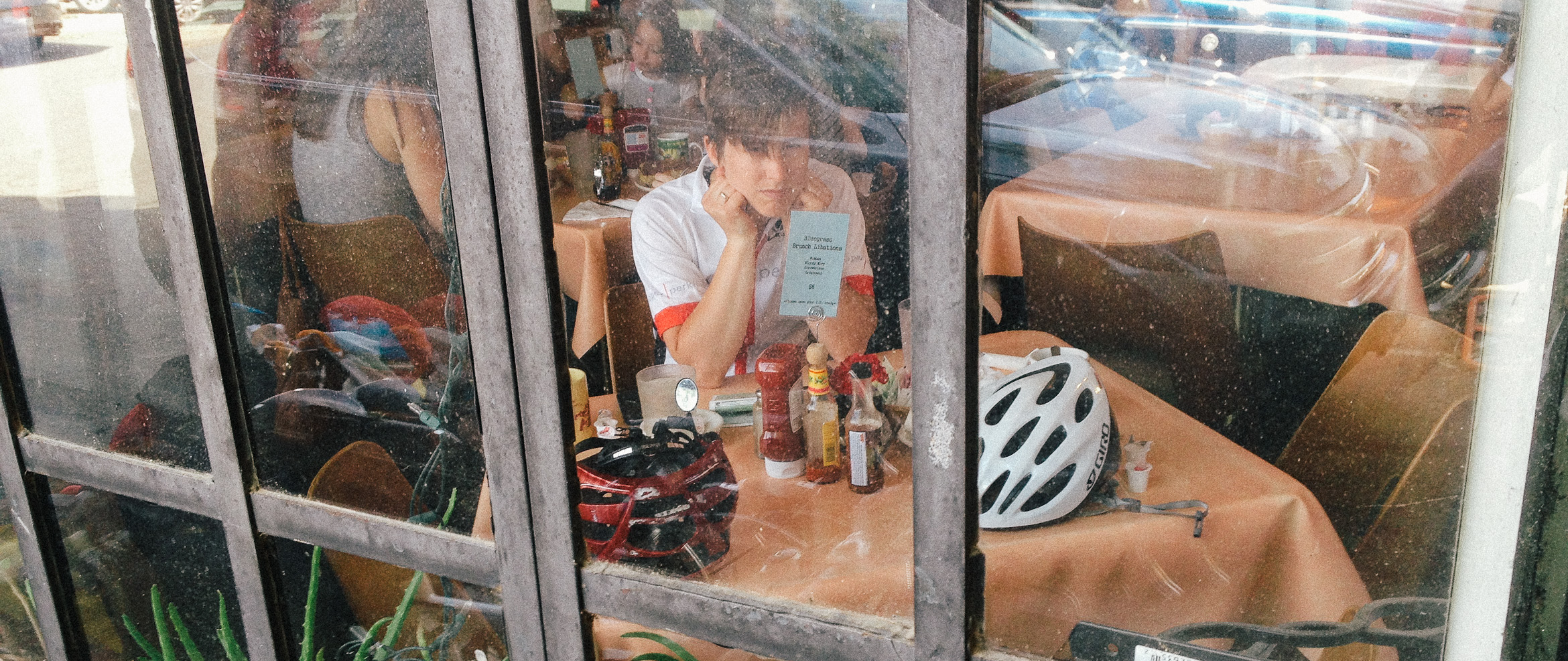 The previous evening a local had recommended we check out the Bluegrass Grill for a delicious greasy spoon meal. We caught a quick meal and looked for a grocer where we could stock up on Clif bars and Gatorade powder. The grocer proved fruit-full but fruitless in terms of our required goods. On the road towards the ridgeline we were getting a late start at nearly 11AM by the time we were finally underway. On the road out of Charlottesville, past UVA, we heard:
"Have a great day guys!"
and spied Hadley, our previous night's host. We waved and wished her well and continued onward.
The weather has been incredibly kind to us so far on this trip, rarely too hot and usually dry. Today was the first day we got a taste of what mugginess and humidity we have in store. With a thunderstorm threatening the ridgeline cold and warm air collided creating strong headwinds and sticky air that clung to our skin.
It became immediately evident our aspirations to summit the ridge and relax on the other side were a bit too ambitious. As we continued through the early day's rollers I spotted a cyclist approaching from behind in my mirror. I greeted him and he asked where were from.
"Boston!"
We enthusiastically replied.
Well this bike will mean something to you then!
He pulled alongside me and I looked down at the candy apple red frame to see the words Peter Mooney Cycles emblazoned along the cross tube.
Against my expectations it did mean something to me. Peter Mooney was the proprietor of Wheelworks in Belmont where Gen and I had both purchased our bikes and in fact he was the same Peter Mooney who spent the time fitting us.
I related this news to our new friend and we shared stories about our trip so far and the 130,000 miles that he had ridden on his '88 Peter Mooney Custom. He told us how he worked for the Brigham and Women's for 5 years and I told him that I was down the street at the Beth Israel for 5 as well. Providing a great draft line we kept pace up and over the rollers for several miles happy not to be breaking trail. Ahead the road split where he was headed right and us left. He pulled over and gave us some quick tips counseling us that it would be dangerous and ill-advised to attempt the ridge starting anytime after 3:30PM due to the heavy commuter traffic on the short section of Richmond 250 and that the climbing would likely take us well into the night. He also told us that thunderstorms on the ridge would be an unpleasant thing to contend with on bicycle and we would probably be happier to avoid the chance of bad weather which looked likely.
Slightly discouraged, we thanked Dick for his wisdom and parted ways. Reconsidering the trajectory of our day, Gen eyeballed the Adventure Cycling maps and spotted a lodging at the foot of the mountain. She called the number listed and left a message. Our new plan was to make it to Afton a town perched at the base of the Blue Ridge Parkway and have a long lunch at the Blue Mountain Brewery.
On our way to the brewery I saw a sign that said pick your own strawberries, and I was instantly distracted from any other task. For the last 3 weeks I have craved fresh fruit. So much of our day is spent wolfing down processed carbohydrate dense bars that the thought of a juicy strawberry bordered on the edge of delirium. A stand of peach trees passed with rows of strawberries before an apple orchard. The red glint of berries in the low-lying bushes was unmistakable and I instantly surrendered any residual desire to foolishly attempt the summit. I raced into the gravel lot and parked the bike against a picnic bench eager to stuff my face.
No matter how much we eat or drink on this trip hunger lies waiting in perpetuity. Any attempt to satiate is met with failure only 10 miles up the road when the meager calories we were able to intake have already evaporated.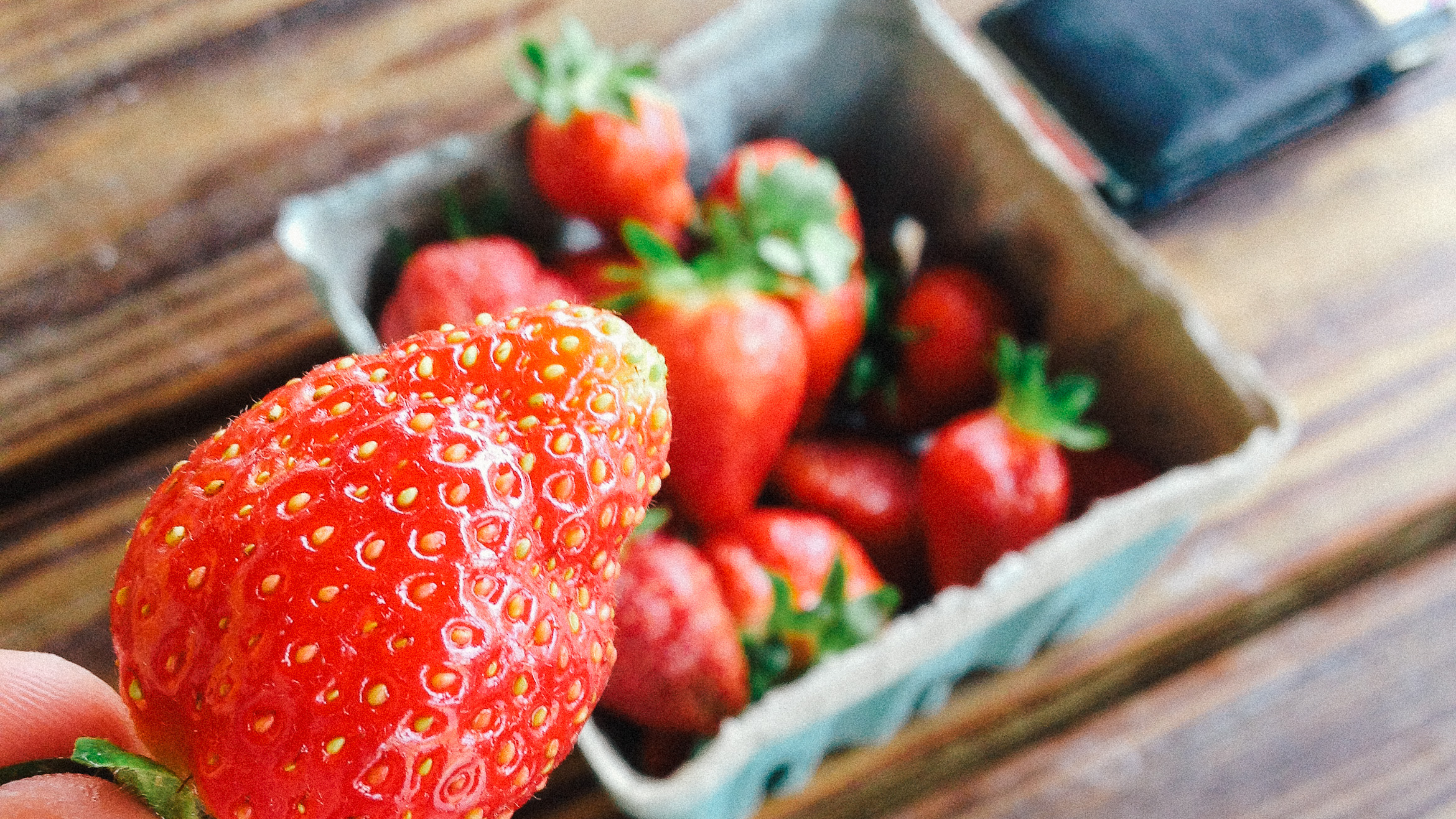 I combed through the aisles and displays and looked for fresh strawberries and was greeted to the sight of strawberry-apple cider donuts which I hastily grabbed 2 of before thinking better of it and trading up for a half-dozen; the even larger box left behind simply due to space constraints in our panniers. With donuts in hand I helped myself to some apples and chocolate chip cookies and inquired as to whether fresh strawberries were available. A gentleman in charge told me that they had no picked strawberries for sale but that we would be able to pick our own if we liked. I told him:
Yes! Absolutely!
I paid and ran back to Gen excited to tell her the good news. She was relieved to do something other than mashing pedals and bruising her butt and we ate two donuts a piece before stashing our bicycles and heading out to the strawberry patch. With a quart picked in short order we returned, paid, rinsed and then consumed with explosive satisfaction. Eating packaged processed bars for the last 2,000 calories had set the stage for avocado pits to taste tantalizing, the strawberries were in another realm of enjoyment. Perfectly tart and sweet and fresh we gobbled down the entire box under the pretense of "not carrying more weight".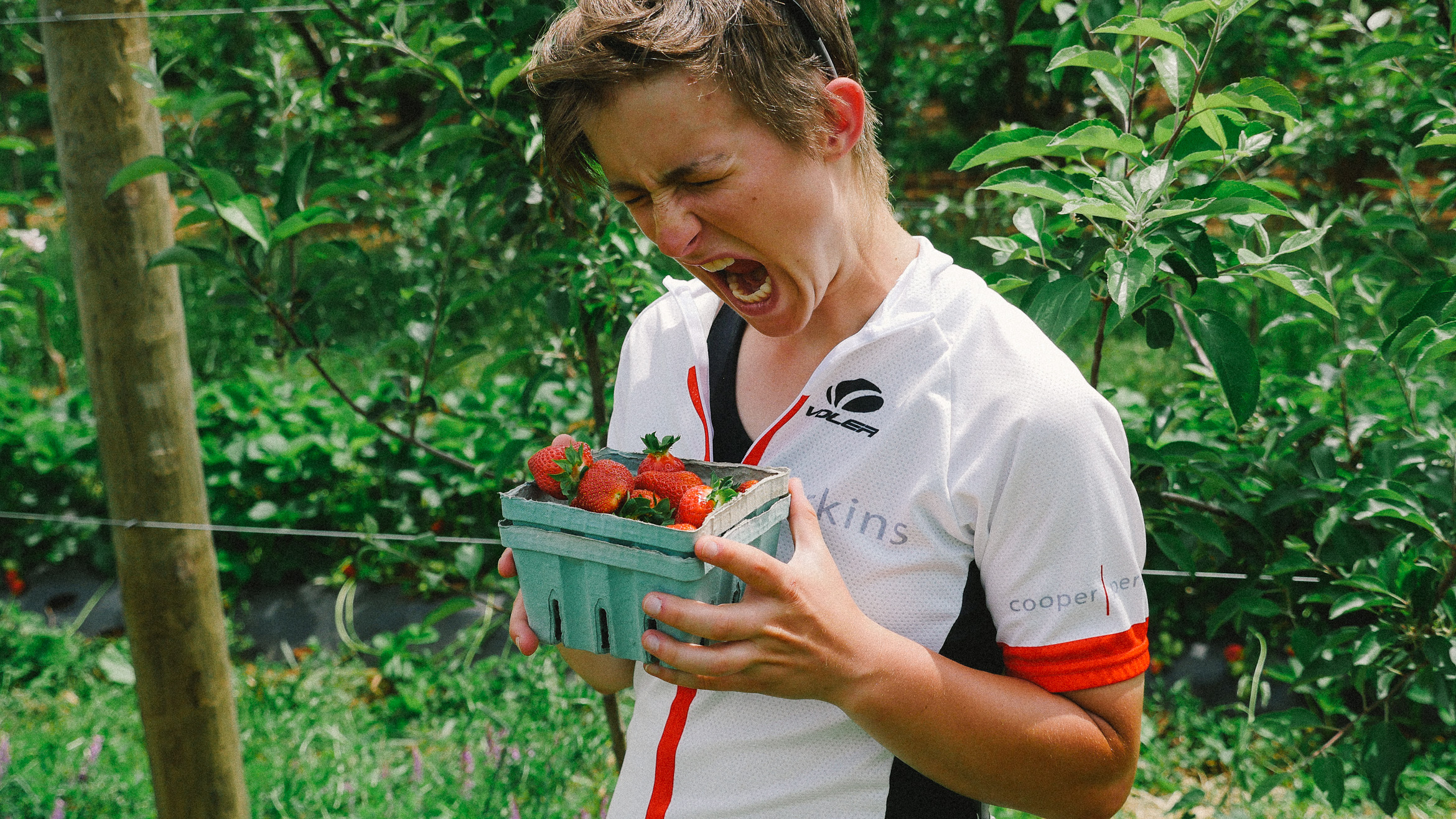 *I also ate a strawberry shortcake while Gen used the restroom. Why? Because no one told me I couldn't!*
Bellies full of berries and berry products we set out for the Brewery where we intended to eat even more food.
Up and down and over the rollers we went and in short order reached Richmond 250, with some hurried and slightly nervous pedaling (not nearly as bad as yesterday) we were off the interstate and back onto less traversed roads. The thunderclouds we had been so certain would crash over us dissipated and we were greeted by blue sunny skies.
The Blue Mountain Brewery was only a few miles up on the left and we were soon nearly done with our day before we had even started. A measly 28 miles and we were already practically finished with the day.
With food ordered and eaten and I two shandies and Gen two beers, I challenged Gen to a game of Cornhole. Still excited by the prospect of competition despite my earlier loss in ping pong. She beat me, 2 games in a row, best out of 3 and I humbly accepted my loss. We lounged about in the shade of our picnic table umbrella and stretched our toes which have been locked inside hot little torture boxes for past couple weeks.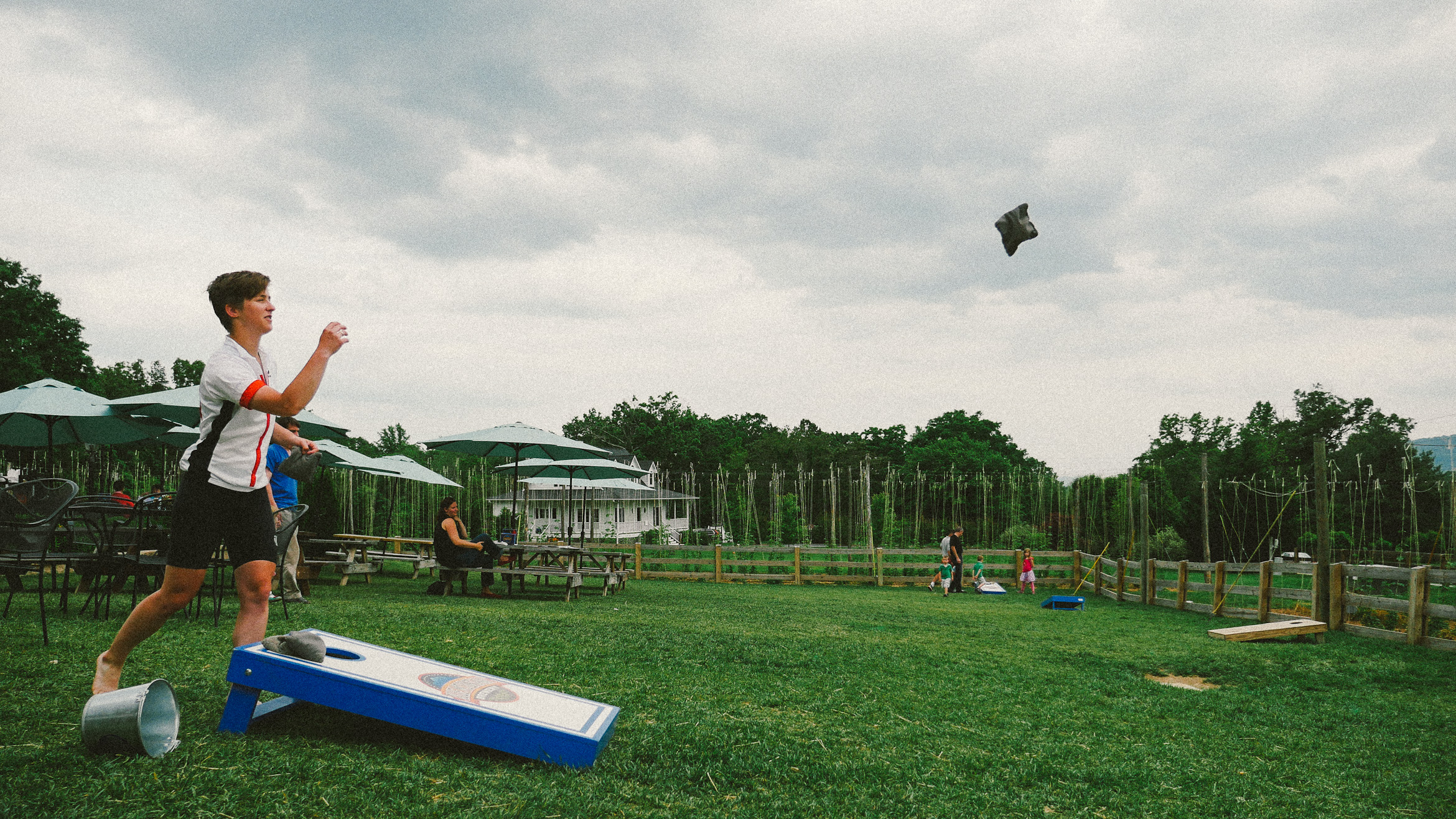 Our lazy Wednesday had been small in terms of biking but big in terms of fun. We set out to our lodging which Google registered as only 3 miles away. Tempted by the opportunity to inject a little misery I suggested we instead put our navigation in the hands of Garmin the Great and Powerful. Gen reluctantly agreed and we were pleased to see it promised a destination only 1.2 miles away. This disparity prompted more skepticism from Gen but before she could offer reason I was coasting down the long hill blindly following the computer's instruction.
I had routed to the address 3240 Afton Mountain Road and immediately upon making the turn onto Afton Mountain Road I realized the error of my ways. The garmin had successfully managed to find Afton Mountain Road.
But not 3240 Afton Mountain Road
No
1 Afton Mountain Road
The Garmin chirped gleefully, chiming that we had arrived at our destination (but clearly beeping in derision). I related the bad news to Gen, who audibly groaned from behind.
A brief (I promise) tangent on road naming:
Traveling by car you tend to ignore your surroundings. This is a good thing. If people spent all their time driving staring at trees and rocks they would slam head-on into other idiots doing likewise. One thing you also sometimes forget to notice is grade- the pitch of your car as it effortlessly rolls counter to gravity's wishes up steep hills and around switchbacks. Another thing you might neglect is consideration for road naming.
At the beginning of our trip Gen and I had little appreciation for the seemingly arbitrary names stamped on each passing sign. Unless they were the name of a street we had to turn onto we paid them no mind at all. Gradually though, we came to recognize a trend biking down these small local roads. Our suffering correlated heavily with roads that ended in words like: Hill or Ridge or worst Mountain. While things like Evergreen Terrace and Steven's Lane may have arbitrary origins we quickly discovered that no one put Mountain at the end of a road name unless it sucked to pedal a bike up.
Back to Afton Mountain Road.
So we see that we are on Afton Mountain Road, 1 Afton Mountain Road to be exact. Gen was less than pleased with the situation and I hid my own dismay.
"How far can it be? It can't be that bad"
I've learned that any amount of bad at the end of a day is too much bad, the end of the day is when you are mentally committed to resting and relaxing not beginning a sustained 8% grade hill that lasts 3 miles as you count mailbox numbers hoping by some unlikely chance that in Virginia numbers go: 1997, 1998, 1999, 3000, 3001…
We ground our way to the top of Afton Mountain Road going from feeling fresh and full of food to sweaty and disgusting. When we arrived at the house we realized it was not just any lodging, but a famous stop for trans-continental bikers that has existed and remained in usage for the last 4 decades.
Originally belonging to a woman colloquially referred to as the 'Cookie Lady', June Curry opened her door to a road-weary biker back in 1976 and treated him to fresh baked cookies and well the rest is history. June passed away in 2012 at the age of 91 and in her place the house has remained a refuge for those crossing the country by bike.
It was wonderful to add our names to the history of a USA long-distance cycling landmark. We spent the night on the floor sharing the building with Alex from the UK and Torey and his father.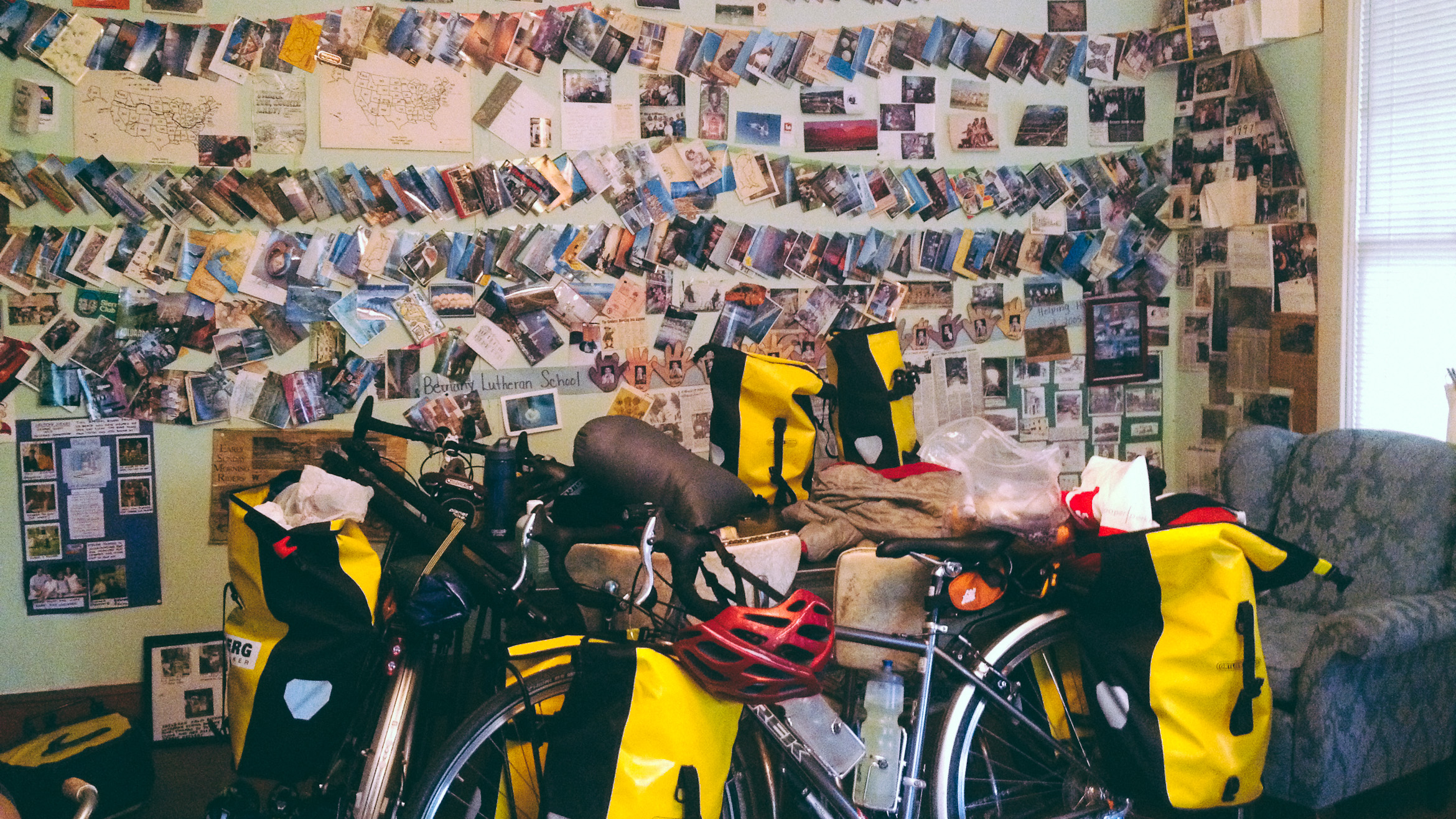 Gen was ready for shut-eye thanks to our end of the day fitness trial, and I was happy to turn in as well. It has been a short day but somehow it still turned into a long post. Tomorrow will mark the highest elevation we have reached so far and will also be the most intense day of climbing to date. The Blue Ridge is a formidable opponent but tonight we get to sleep under a roof and head out early. Let's hope weather holds and the wind is at our back.