Written By Fritz Ifert-Miller
Day 17 - Fredericksburg to Charlottesville
Distance: 73.56 mi

|

Ride Time: about 6 hours

|

Elevation Gain: 700.2 ft

|

Avg Heartrate: 129.8 bpm
This morning we started early and it was apparent from the outset that we were due for difficulty.
The day had begun with dour spirits, a long previous day had left us both sore and the real turn westward would seal our objective leaving a questionable schedule and completion ability for Genevieve.
We stopped at a Wawa, the first opportunity we had seen for coffee. An argument ensued during which we debated our future course and what that might mean. I knew that crossing the country was something that I wanted for myself but I knew that doing so would possibly come at the cost of not finishing with Gen. Her work schedule left little margin for error and an expected return date of July 7th meant that we would have to beat ourselves to the breaking point everyday or modify the trip plan greatly. The only real way to reach that deadline would have meant shedding our loads and riding supported, which was akin to not doing the trip at all in my mind. Taking a train west to skip some middle section of the country, or greatly adjusting the path we intended to bike (skipping the Rockies and instead heading through flatter country (even this left us with little to no buffer for inclement weather, injuries or other delays.
I knew that compromise on any of these details meant giving up something that I had truly been excited for and sacrificing the intent of the trip. What was the intent of the trip? I don't really know other than to do it and here I was saying it could only really be done one way. It was a generally selfish move on my part but at the same time I could feel my frustration mounting. I had left my job before the outset with the purpose of not being bound to a schedule or deadline and here I was adhering to someone else's. I really wanted to do the trip with Gen though. I mean we had planned the whole thing together, we had gotten excited together, we had bought our bikes together. It felt unfair to say that my stipulations and necessities trumped her own. Still going south to Florida felt like a cop-out and I knew it would get miserably buggy and hot along the way. Likewise, I also knew it would mean finishing a shorter ride only to plan another trip when I got back. Also, we had told everyone that we were riding across the country, not down it.
I hate telling people my plans. This is an inside joke with my family as well. My mother has raised 4 unplanners. We treat plans like slugs treat salt, with fearful contempt. A plan represents a verbalized intent which one is then ostensibly bound to. It's not that we hate planning, we just resent letting anyone know that we do it, or what those plans might be. So we leave our family our friends our coworkers and strangers in the dark as much as we can, lest we be fettered to some verbal commitment the feasibility of which is uncertain.
When do you plan to be home tonight after school?
What is your plan for getting a job this summer?
How do you plan to complete this homework assignment?

and more recently-
Where do you plan to finish your bike trip?
"San Francisco!" we all too eagerly replied in the beginning.
San Francisco, it has such a nice ring to it, that romantic western coast where the sun recedes into the ocean and men once paraded around in assless leather biking chaps. The Golden Gate Bridge, proudly spanning the bay, as two bicyclists finished the last miles of their massive journey, approaching the Pacific where they would ceremoniously dunk their tires after 4,200 miles of travel.
Or..... Key West....
Gen resigned herself with a sigh, realizing that she might be setting off on a journey she didn't have the time to complete but also not wanting to see me give up trying to make it the whole way.
"Start biking" she instructed and I hopped onto the bike without further question.
The road shortly dumped us out onto a rail trail which took us through densely forested woodlands and permitted us the treat of lackadaisical riding.
This eventually ended and dropped us out onto the Virginia country roads. These had little to no shoulder but were largely desolate. What cars we did encounter gave us a wide berth and were very polite when passing. Gen watched the side of the road and commented that the number of discarded beer cans were a troubling sight. I agreed and said that I was glad we weren't biking at night when I presumed the majority of that inebriated motor vehicle operation was occurring.
Why are there so many houses for sale and so many new buildings when there are all these abandoned houses no one lives in?
Another astute observation that I had little answer for.
We crossed Lake Anna, the only real scenery of note for the day and stopped for a picture. We had hoped to stop for food but came across none. As we left the lake, I hailed a construction crew working on a new house.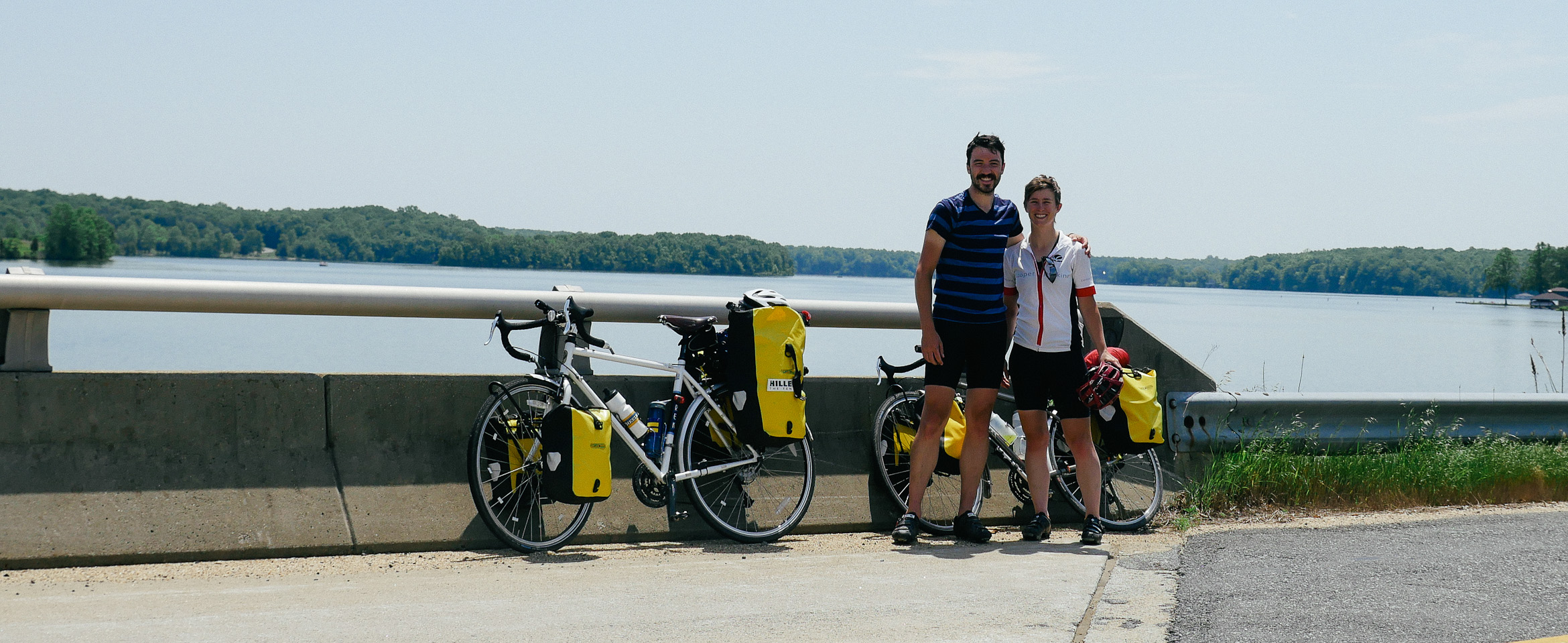 Where can we get a bite to eat around here?
"Nothin' for 20 miles." came the reply.
Dejected, we considered our uneaten bars and continued down the road.
We've seen so many churches in our riding through Virginia and hardly any places to stop and eat, there was almost nowhere between Fredericksburg and Charlottesville. This was odd because we passed at least 3 to 4 dozen churches. I remarked to Gen that the locals must subsist on prayer alone. At one point we became so hungry that when we spied a gas station convenience store we resolved to make our own sandwiches with the wares they sold. This turned into PB&J made with peanut butter and jelly which had both expired (we checked the date after opening) and bread that was about as easy to spread condiments on as Scott Single Ply Bath Tissue. Two very dry, very sad sandwiches later and we were back on the road.
The road into Charlottesville was predominately Route 22 which sucked. This was followed by King Richard Highway (Route 250) which was equally shit. The furious cars whizzed past into the college town as our approach coincided with evening rush-hour. Thirty harrowing minutes later, we pulled into Charlottesville where we had a WarmShowers host whom we had arranged to stay with. Before going to the house we stopped for dinner at the Beer Run, a local eatery where I got to enjoy one of my favorites, catfish; and Gen was able to get her customary burger.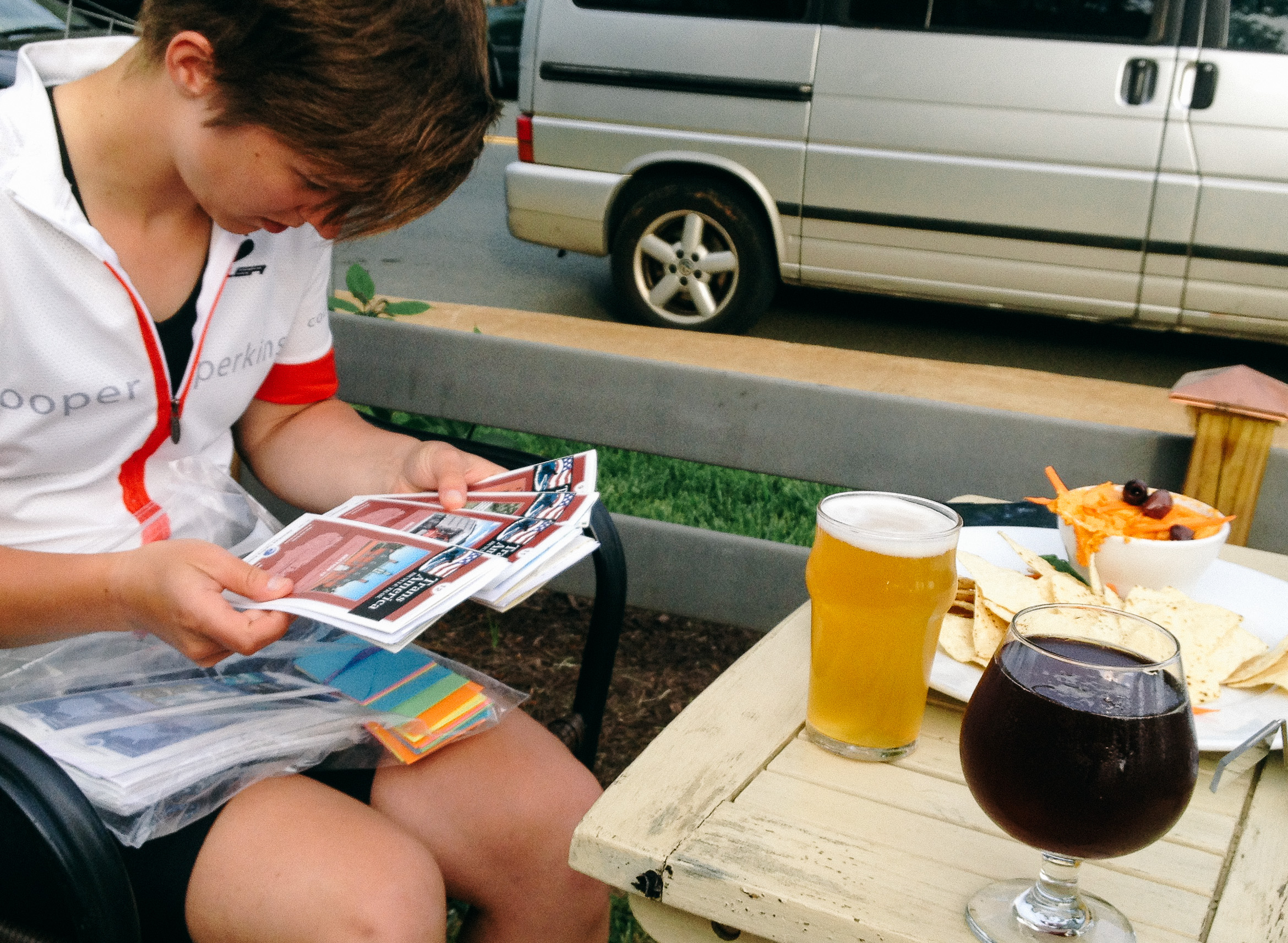 We got to the WarmShowers host hours before they were due home and set up the tent in the backyard. Throughout the trip, Gen has been the primary coordinator of our WarmShowers stays. She had reached out to several individuals in the Charlottesville area and gotten a response saying it was fine to set up before they got home. It was unlikely that they would be back before we fell asleep so I told Gen to give me a hobo shower in the backyard with the hose. After rinsing off we sat in the tent listening to the peaceful melody of Mary Had a Little Lamb (complete with a bleating lamb noise) played over and over and over again on an aged ice cream truck parked at the neighbors house. Gen got a text shortly afterwards from the WarmShowers host asking us where we were. Gen replied "in the backyard" his text shortly followed:
well, I don't see you, so you're not in my backyard...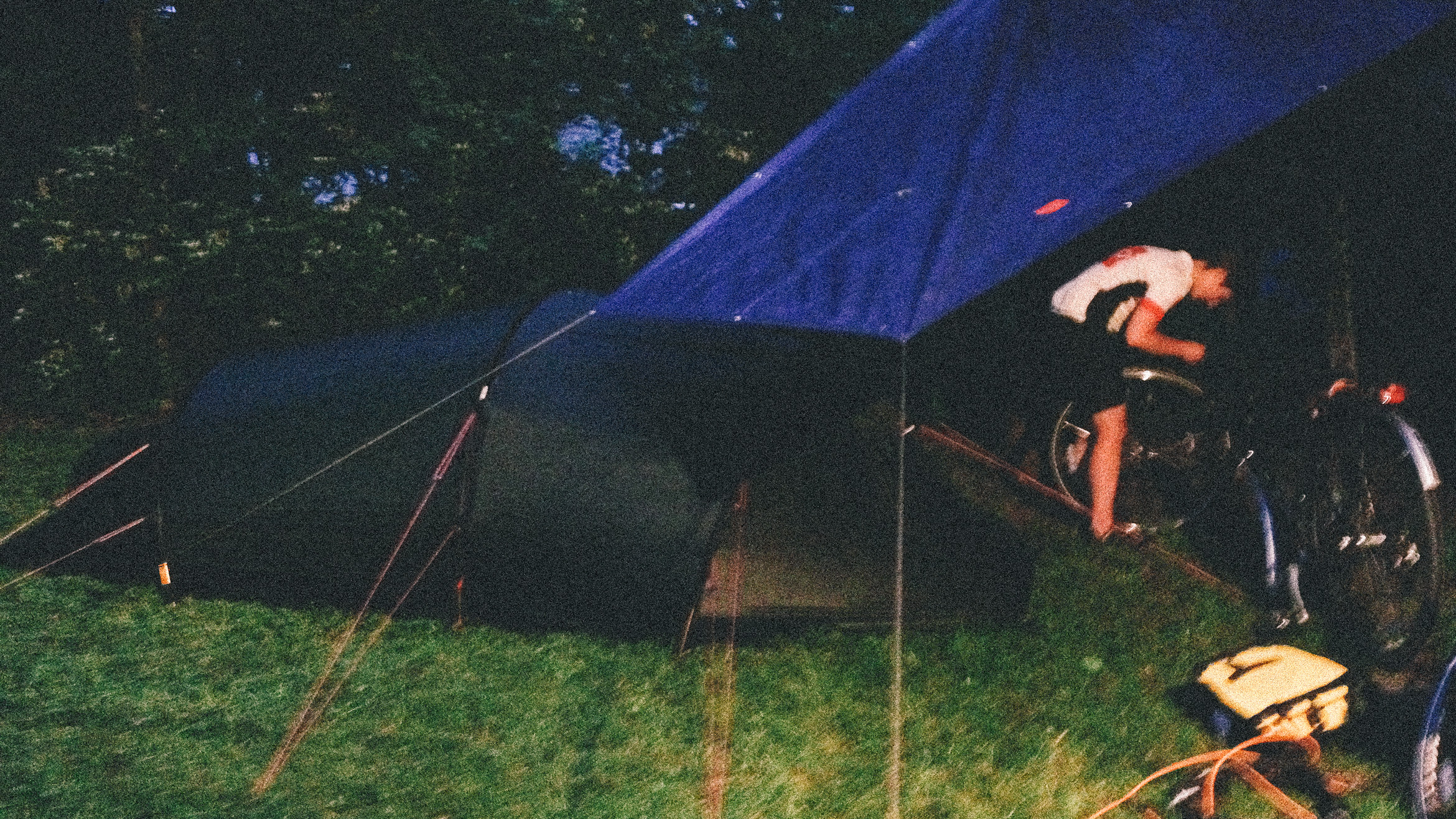 A few panic-stricken moments followed before Gen realized that she had crossed the communication lines of two different hosts and we were in the right place but had gotten our hosts mixed up in terms of correspondence. Realizing the error she quickly informed the other host that we were staying with another couple in Charlottesville and ironed out the confusion. Shortly afterwards, our actual hosts for the evening, Kyle and Hadley returned and we left the tent to make chit-chat.
Hadley is a designer and assistant to a blind architect ( I know right? ) and Kyle does a great deal of community outreach including rejuvenating the local bike-share program. After talking for some time and Gen taking a civilized indoor shower ( so much for solidarity ) it is bedtime.