Written By Fritz Ifert-Miller
Day 10 - No Electricity but Gas is okay!
Distance: 86.23 mi

|

Ride Time: about 7 hours

|

Elevation Gain: 1174.2 ft

|

Avg Heartrate: 127.2 bpm
This morning we got up early trying to catch my grandmother before she headed out the door to work. In years past she was a frontier nurse on foot and horseback, and these days she continues to provide care to individuals as a home health aide. Her early morning meant an early morning for us.
My grandfather had cooked us eggs and toast and scrapple. Gen had never had scrapple before. She characterized it in the following way:
For those of you not from Pennsylvania, scrapple is pork fat hash. Absolutely unhealthy, but surprisingly delicious. I would have been more concerned, but on this trip we are burning 3000-4000 calories a day.
With breakfast out of the way, we mounted bicycles and were wheeling out of the driveway. I was beginning to grow wise to the Garmin's tricks after the Newark day and knew better than to trust it and use my best judgment while also following the overview map of the route I had planned. The day was going to be big if we made it all the way to York. We had time on our side with the early morning and the climbing seemed reasonable being under 3,500 feet in 86 miles, but it stood to be seen whether the winds would be for or against our high mileage.
As we went down Quarry Road, I pointed out the landmarks of no significance to any other passerby that my mother has repeated to her herd of inattentive children for years.
At Quarry Road and Skippack Pike is the house where both my parents lived at different times. There, through the trees, is Old Goshenhoppen Church where my parents were married and my mother was baptized and confirmed, and here is the Salfordville Post Office. Gen was less impressed by these autobiographical details and more impressed by the sign showing 3 different modes of transport (walking, cycling and horseback riding).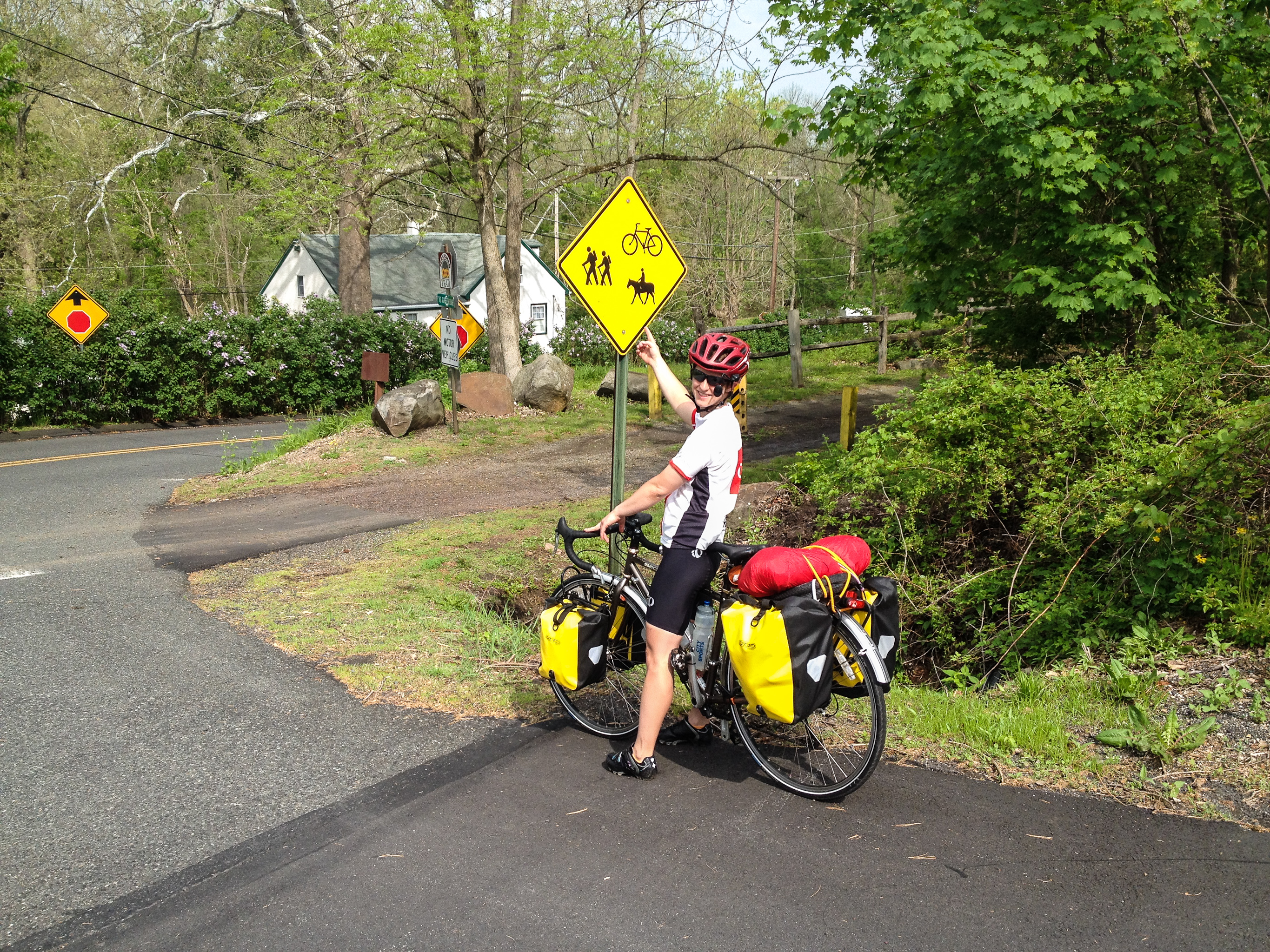 The sign signified the start of the Perkiomen Rail Trail, a trail that follows the Perkiomen Creek which we intended to take all the way down to Schwenksville. The beginning of the ride was nice and flat, but gravel .
Gen noted that her regular ride on the Minutemen Trail in Boston was sometimes gravel.
The loose dirt and poorly compacted stone dust made for sometimes slow riding, but thankfully it was through beautiful countryside, and we zipped along unabated by traffic and stop signs.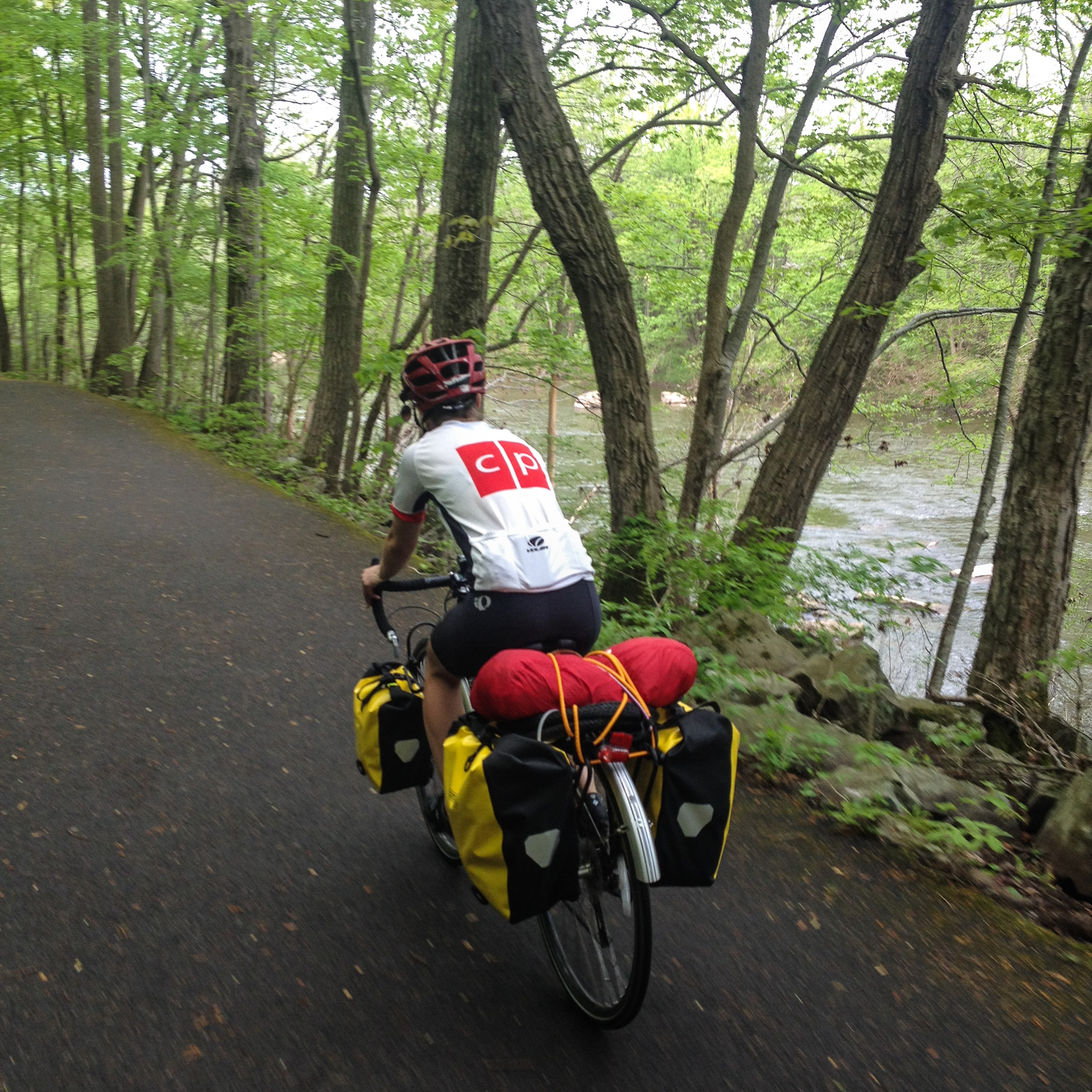 We then followed the Pennsylvania regional bicycle route S. This regional route is marked by clear signage and attempts to take bikers down less busy roadways while also offering scenic views. Along the way, we stopped at a deli which advertised hoagies.
Growing up going to the Jersey Shore every summer, it became tradition to purchase Italian Hoagies and they became a dietary staple that signified summer and happiness. Our regular deli was Donnelly's, a family owned and operated establishment that existed in Avalon, NJ for several decades before closing when real estate prices became excessive in the area. Nonetheless, delicious Italian-style delicatessens abound in the Tri-State area, and it is harder to find a bad sub sandwich in NJ, PA, NY, CT, than it is to find a good one anywhere within 50 miles of Boston.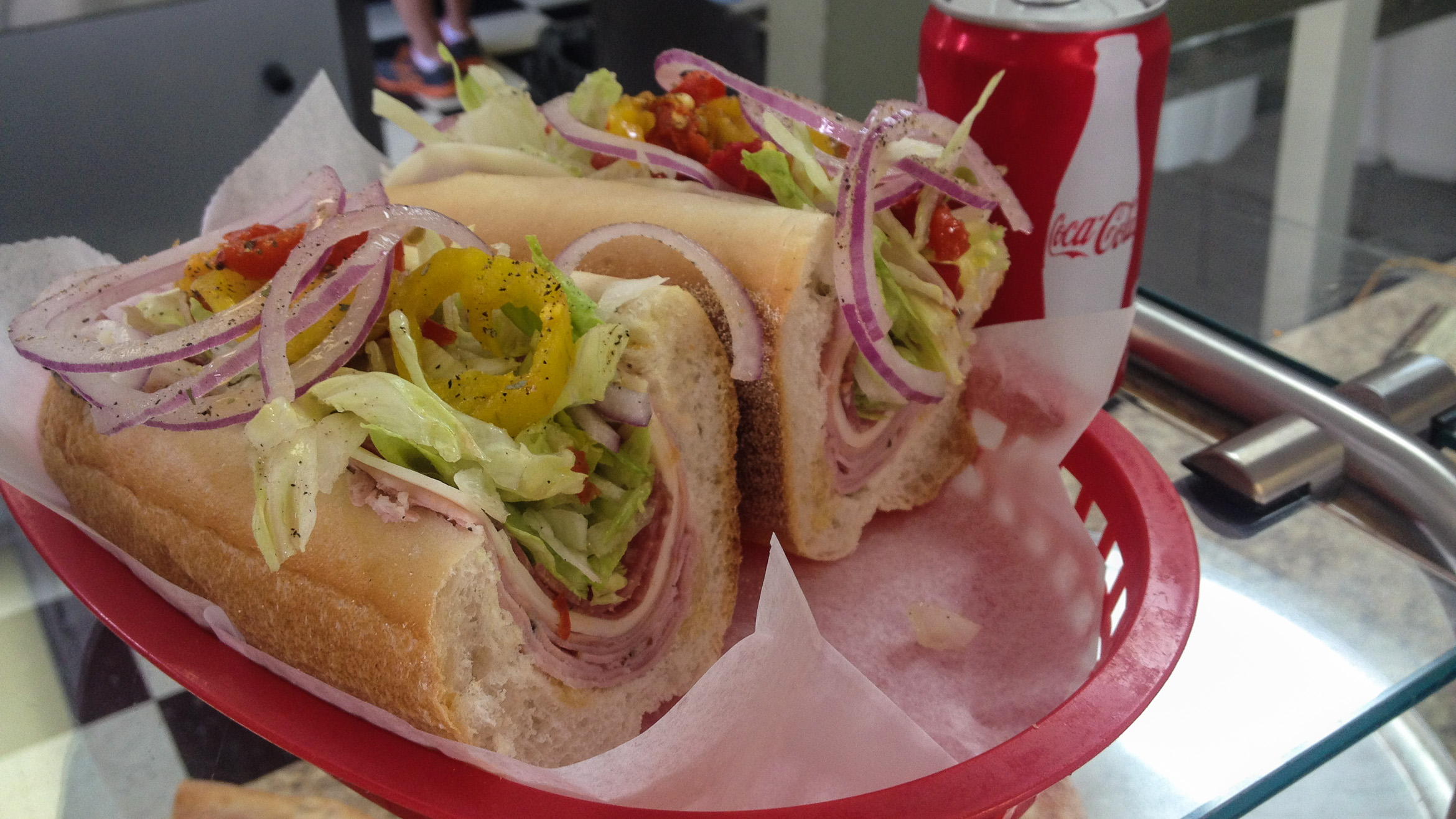 With childhood nostalgia consumed and Gen 3/4 the way through a meatball sub,we left our monstrous meal and continued onwards towards York.
Route S routed us directly through Lancaster County Pennsylvania. This area includes Intercourse, a region famous for its adherence to Amish lifestyle. The rolling hillsides and green pastures were accented by horse and buggies that shared the roadways. Abstention from electrical devices and the relatively infrequent car meant serene quiet and, the for the first time in the trip, I noticed the sound of my tires rolling along smooth pavement. There has been no prettier day so far in the trip than this one and it is hard to critique the local residents for their lifestyle given the tranquility that they have managed to preserve.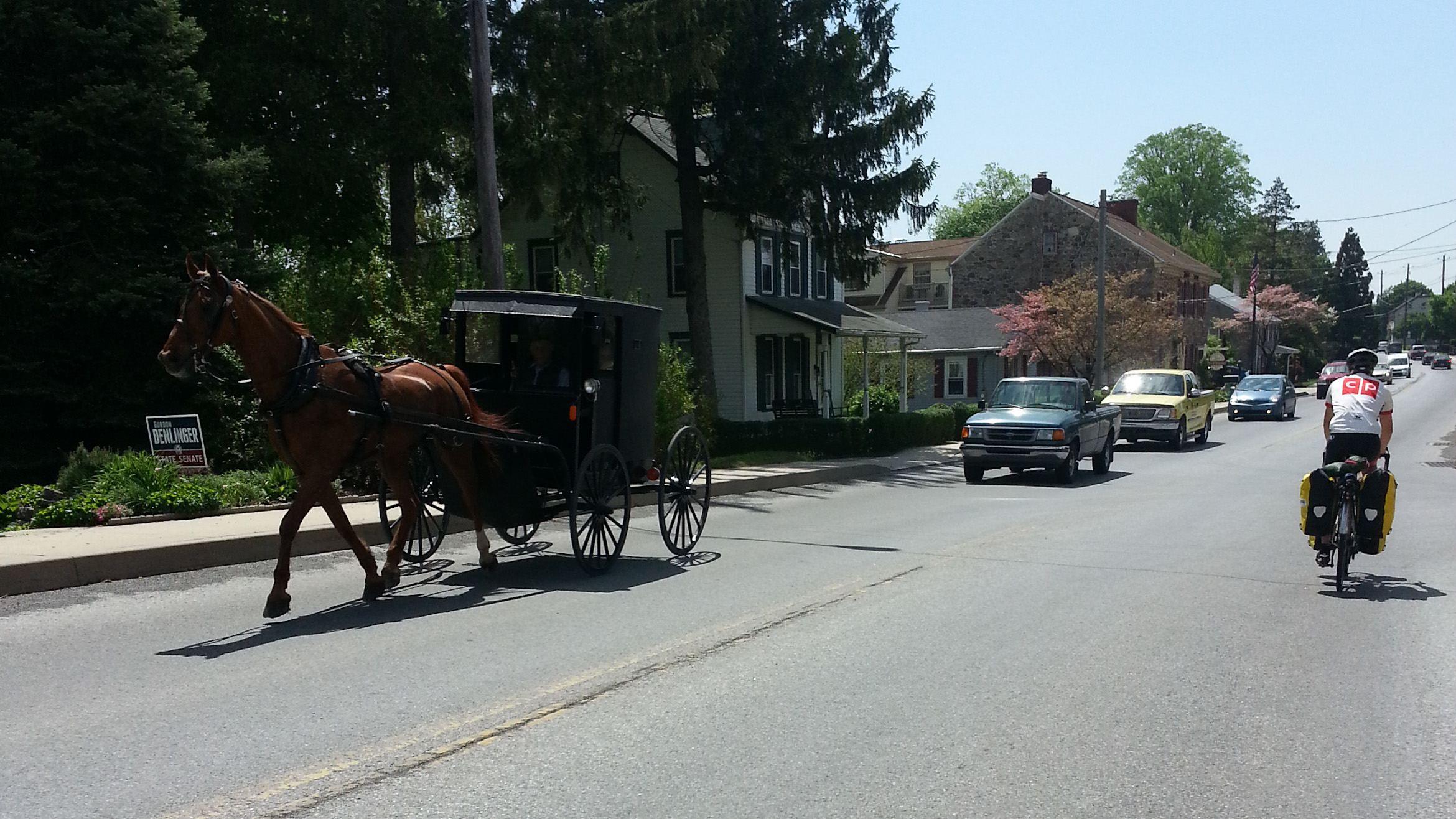 One note about the Amish tradition is that people erroneously believe they are afraid of electricity or that they eschew modern technology out of some superstitious belief. In reality, they produce electricity by means of combustion and gas; many of their appliances are propane powered. The avoidance of electricity is more a means of living 'off-the-grid' in a self reliant manner. A preservation of simple lifestyle is maintained by this independent pursuit. It also removes the potentially corrupting influence of television and radio. While it might not be what we are used to, you have to admire the stick-to-it-iveness that they exhibited for the last several decades as the world around them connected on a level impossible to imagine a century ago.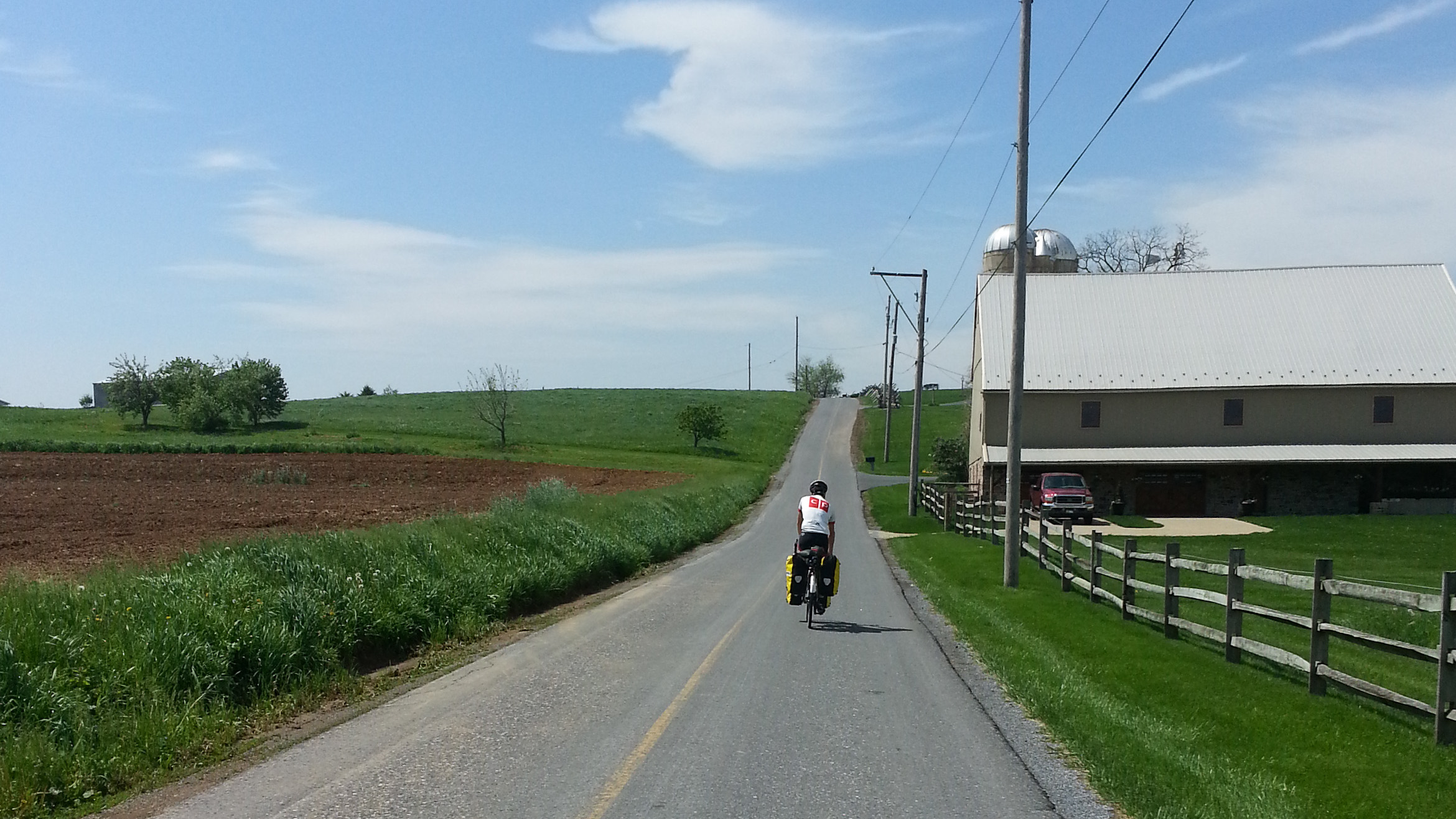 The day was made idyllic further by a gentle tailwind that removed the wind resistance we had combatted for the past week and a half. We rolled uninhibited and soaked in our surroundings, too blissful to remember to photograph any of it, save a few snaps with our cell phones. I promise it was pretty. If you've never been, you should make a stop through Intercourse.
With miles dropping like flies we were almost ahead of schedule. The tailwind showed no sign of stopping so, when a sign advertised homemade ice cream and pretzels, we couldn't resist a tiny detour.
The tourist trap was full of Amish kitsch. The walls were filled with handwoven baskets and paintings of buggies, shelves upon shelves of needlework and oven mitts. All proudly marked with tags that read things like:
Made by the Stoltzfus Family, October 2013
Overhead a mechanical fan turned. Powered by propane mechanized through large exposed gear work, it turned listlessly in endless circles. The skylights provided ambient light, and the lack of electricity was stark contrast to the cash register, conveniently equipped with a credit card swipe and other modern bells and whistles.
Outside, a tour bus full of Japanese vacationers stood in the parking lot, cameras in hand to capture the oddity of this foreign land. Gen and I sat on the picnic benches and enjoyed a glorious vanilla milkshake accompanied by the softest, most butter infused pretzel I've ever encountered. We agreed that both were top notch. Sad to be making our way out of Lancaster, we hopped back on our bikes and pointed them towards York. Several miles down Pennsylvania Bike Route S, and we were once again surrounded by power-lines and automobiles.
The final miles to York were uneventful and easy; the Garmin had cleverly plotted us cutting through side-streets and alley ways and in the last few miles we were taken through a parking lot that contained no less than 10 baseball diamonds, all in active states of play. It reminded me of my friend Kate's nephew Franky, who clobbered baseballs better than kids twice his age, even though he was barely tall enough to see over a countertop.
We called Sarah, Gen's aunt, to let her know that we would be arriving shortly. At the outset of the day we hadn't been sure that we would make it to York in a single push, but the goal was at hand. We had done 86 loaded miles in quick time aided by high spirits, low traffic, bountiful tailwinds and beautiful countryside. Sarah was thrilled that we were coming to visit and even more-so that we would have a whole rest day with her the following day while we waited for packages to arrive.
She asked if we had any preferences for dinner, and Gen said:
"No, we just want a lot of whatever you make."
We rolled in just as the sun was setting and we were welcomed by huge T-Bone steaks. Gen called it:
"maybe the biggest steak I've ever eaten."
We regaled Sarah and Scott and Ali and Maxwell with stories from our trip so far while stuffing our faces with food. With no bicycling ahead of us tomorrow we look forward to a day of relaxation and laziness.