Written By Fritz Ifert-Miller
Day 1 - It begins!
Distance: 53.16 mi

|

Ride Time: about 5 hours

|

Elevation Gain: 736.6 ft

|

Avg Heartrate: bpm
Today began our bike trip, but it was hardly the beginning of the weekend.
My sister (Katie), her boyfriend (Matt) and my brother (Krybaby James) drove down on Saturday to meet me and help me finish the last of my moving process. We loaded the van up with things that I could store at Antigoni's and then proceeded to Wheelworks in Belmont where I was to pick up my bike post tune-up. My siblings thought they had come to spend a fun weekend with me and I unfortunately co-opted that arrangement into a forced labor.
Matt was gracious enough to give us his 1hr basic bike mechanics class, and we listened intently as he spelled out all of the potential catastrophes that could befall us on our trip. We learned what lawyer tabs were (welded tabs of metal on the fork that prevent your front wheel from coming off easily) and a host of other things. At nearly 8pm, we departed Gen's house and returned to my apartment to pack another van load of belongings. This was at the point where everyone else had wanted to fall asleep and our jettison from Boston was less than 12 hours away. We bagged things up for the better part of an hour and a half and slowly but surely got everything in the car. I ran up and down my back staircase at least a dozen times.
Items left in the street:
One box-spring

One folding mattress

One storable cot frame
We left the siblings and Matt with the instruction to come meet us in the morning for our send-off, and I left to pack the bike which included Antigoni affixing a plethora of reflective stickers onto every surface of the bike for maximum visibility.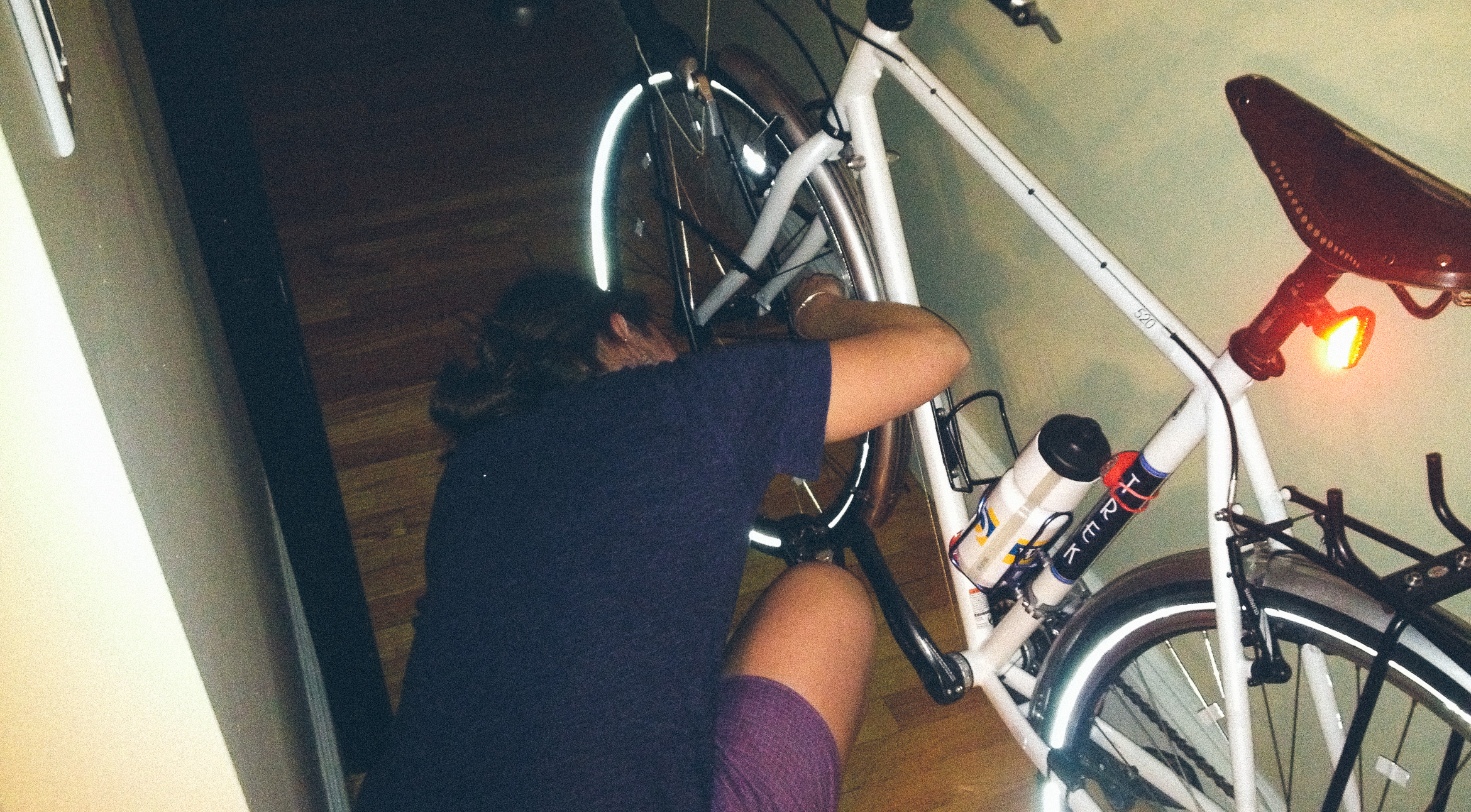 Lessons learned so far:
Bikes should be packed and panniers mounted more than 12 hours in advance.

I don't know where anything i own is located- ever.

Pounds add up
At 9AM the next morning I feverishly continued to pack last minute items and get myself situated for the first day of riding. This meant spreading goopy Chamois Butt-R (complements of my good friend Julia Gulia) all over the inside of my shorts to lube up my nether regions for the impending friction-fest that was due to hit my most sensitive areas. Katie walked over to meet me and pick up my commuter bike so that she could join me for some of the ride out of the harbor. +
Next I geared up, donning my very fashionable bike jersey and bike shorts, and we set off to have a morning coffee at Ula and meet Karl James and Matt for our ceremonial sendoff. Upon their arrival it was decided that they would rent Hubway bikes so that they could likewise pedal out of the city proper with us.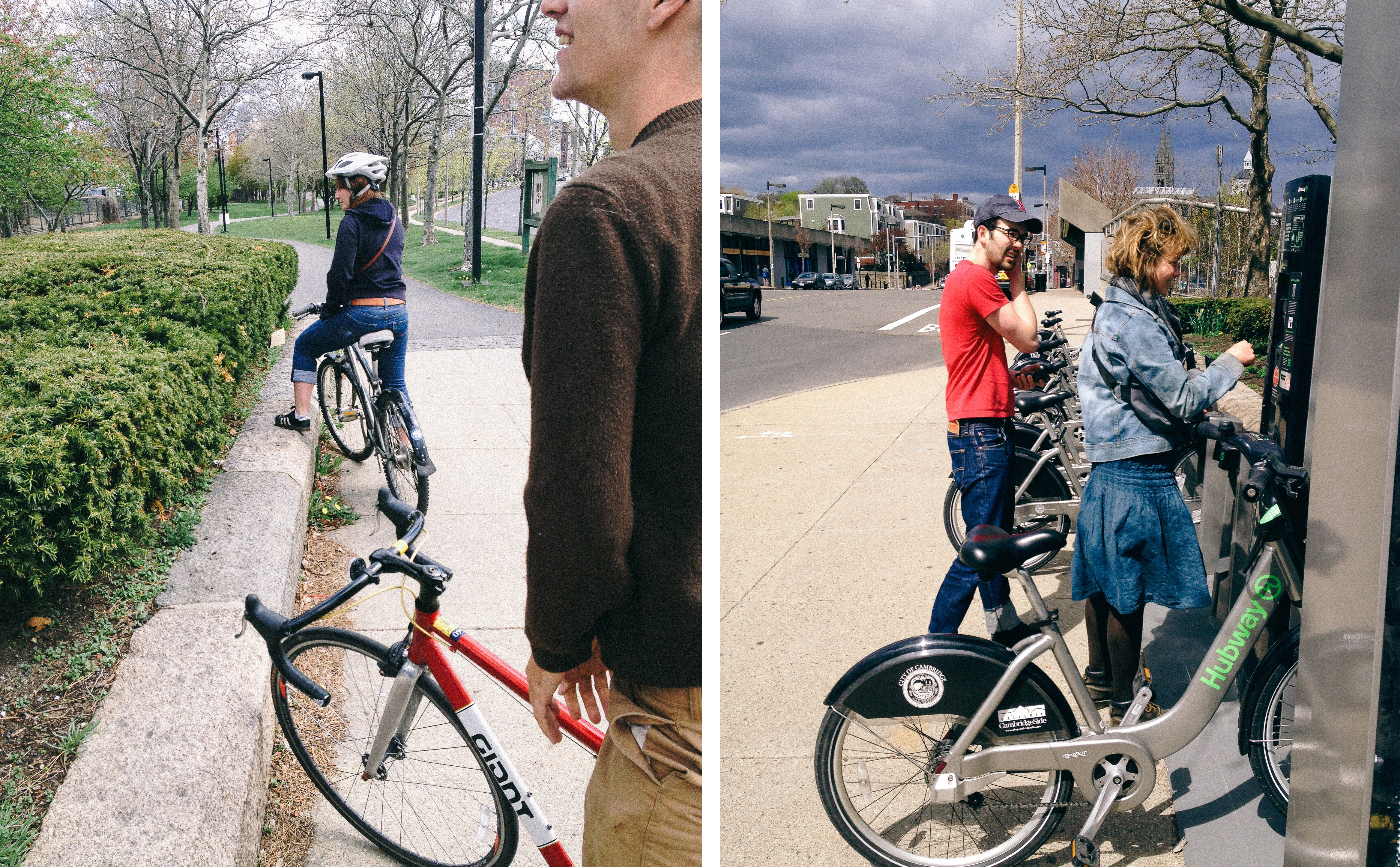 With 5 bikers and 2 helmets, we pedaled from Jamaica Plain to Long Wharf in Downtown Boston. Antigoni led the pack directing us to the Aquarium, and we rode in tow, trying our best to avoid the city traffic with so many unhelmeted riders. Karl and Katie planned to use the Hubways so that they could rent bikes "for free" swapping at each Hubway location we passed. This meant a charade of watching them fumble with the automatic locks and minimum time requirements but in the end mostly succeeding in a low alternative to bike rentals. +
We arrived as everyone in my family seems to arrive, 15 minutes late, for my own send-off. We had a great group of people help send us off. With coworkers, roommates, family and friends there was no shortage of enthusiasm for our departure.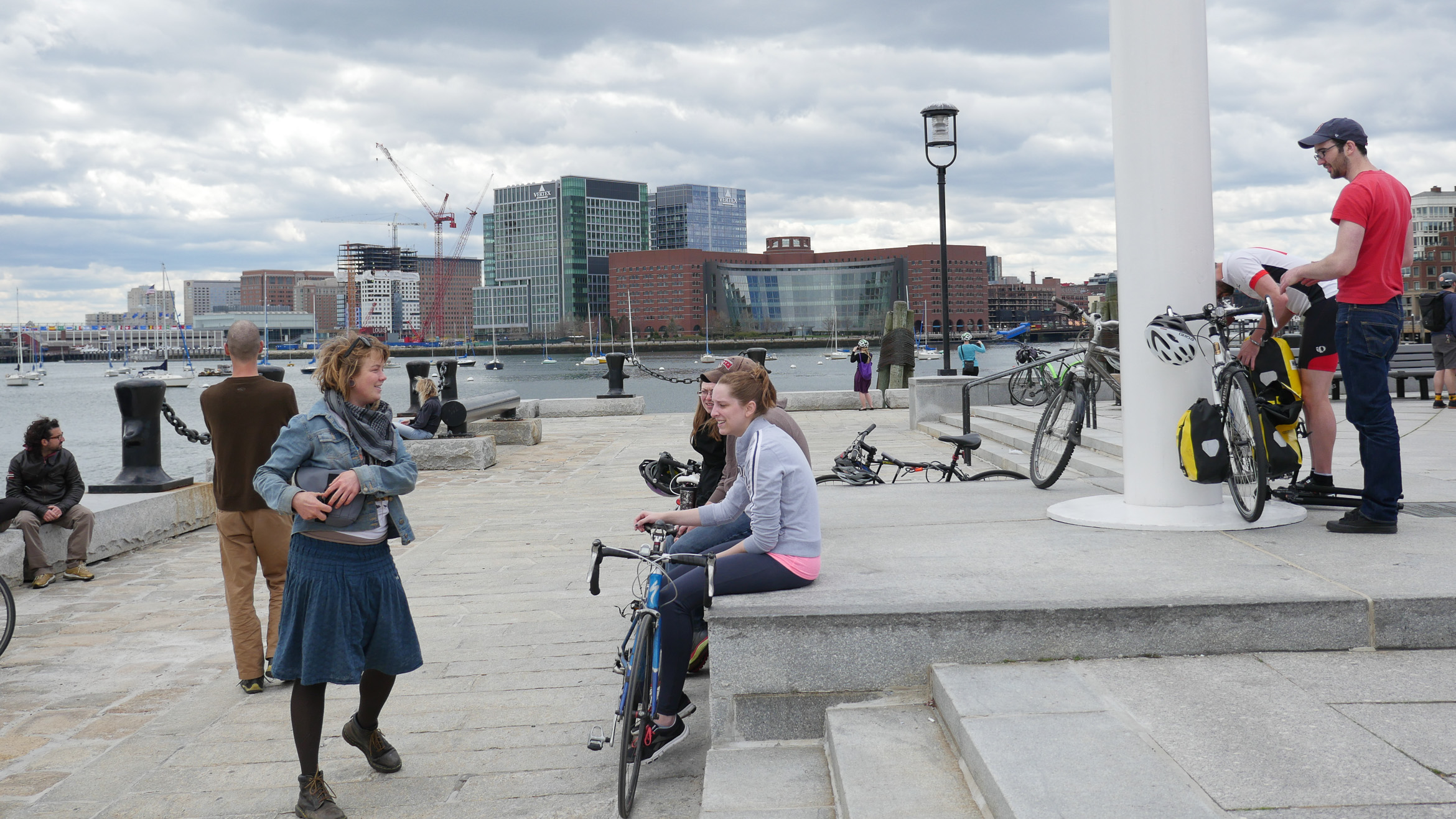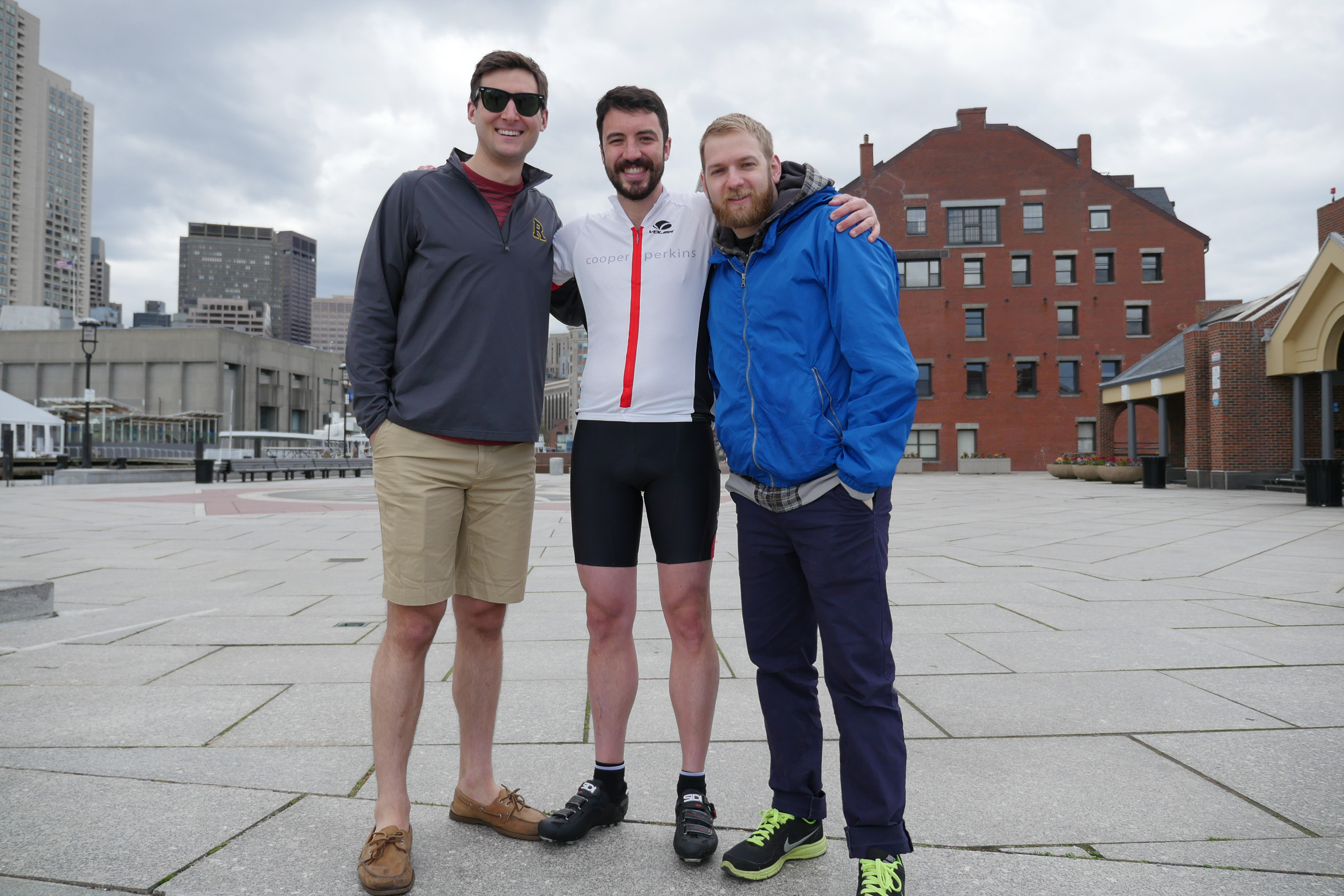 The early afternoon proved chillier than expected and the thin bike jerseys did little to conceal the more sensitive tissues underneath.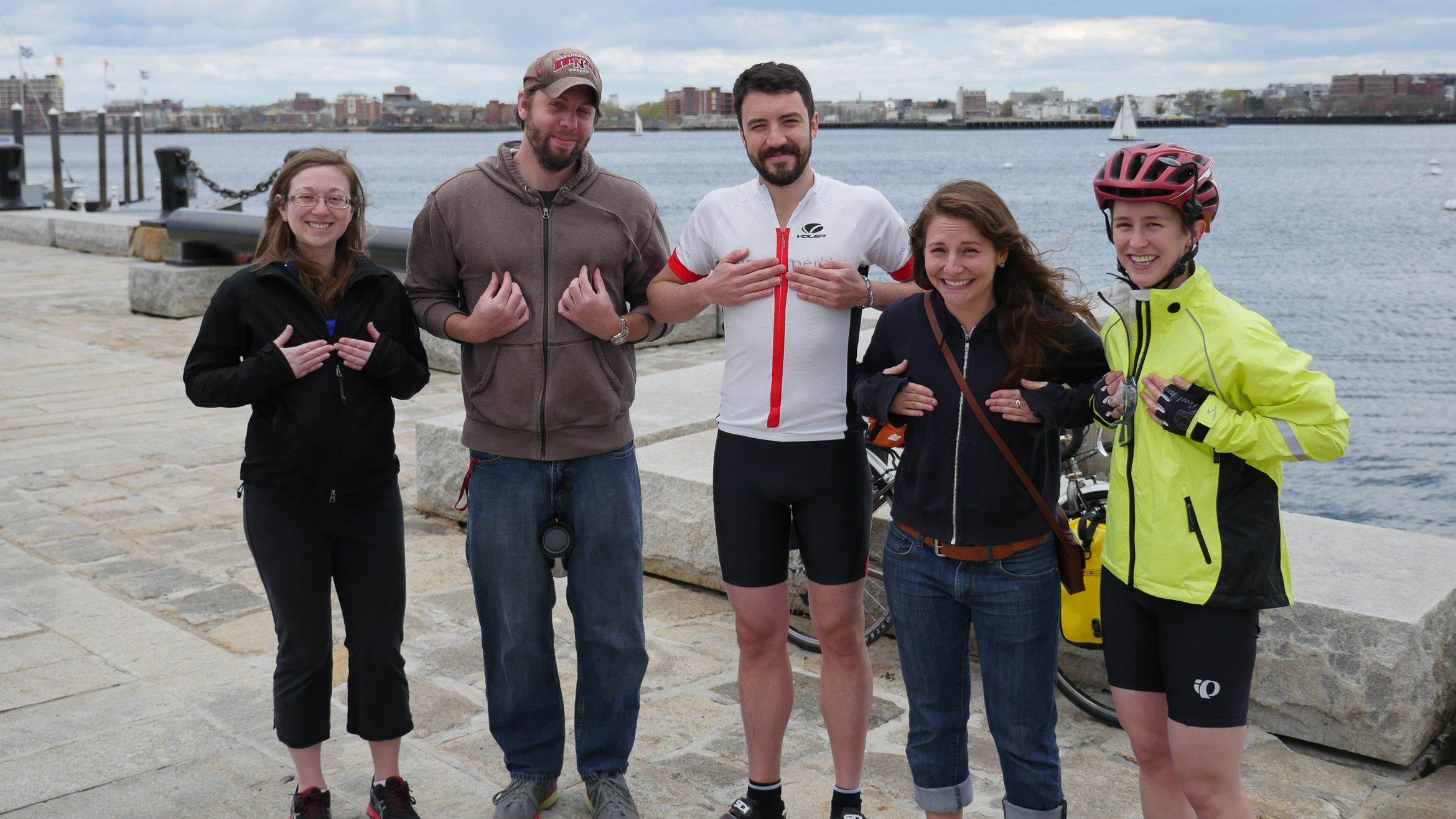 With tomfoolery out of the way, it was time to dip our bikes in the water. +
Next lesson learned: +
If you intend to dunk your back tire in the ocean, check the tides first. +
Low tide- we managed to pick a time at low tide. After some dilly dallying and reconnoitering we managed to secure a spot where we could clamber down some large steps on seaweed and barnacle slicked stone and dip the bikes. First blood was shed as I rubbed my leg on their razor sharp carapaces, but the bikes were christened and we were ready to begin. +
Caravanning out we managed to stay mostly together, stopping occasionally to field the inevitable party-splitting stop-lights. In time though we managed to navigate our way to the esplanade. 20 mile per hour headwinds aside, it was a beautiful ride accompanied by a jazz music concert being played at the Hatch Shell. +
We continued our ride and gradually allowed people to split off at their discretion. I dropped my sunglasses off my bike as an excuse to get an additional hug from my brother and sister and Matt and said my goodbyes one more time before heading off to catch up with the group. +
We pedaled out of the city reducing our number to 6 (Ethan, Eulalia, Kara, Antigoni, Gen and myself) saying our goodbyes to Kara and Antigoni at the BU bridge and continuing on with Eulalia and Ethan). We rode along the walk for life relay course and were uninterrupted by cars; however, a homicidal trash bag did try to put an early end to our trip as it snarled Ethan and Gen causing our first minor fall/mishap. Bones were cleared for breaks, skin was checked for abrasions, dirt was dusted off, and the ride continued. We split off from Ethan and Eulalia in Newton center and continued on. +
After a brunch buffet with Kara and Antigoni who met us by car up the road, we continued along. The next stop came when I realized that I had no batterie for my headlight or taillight and we stopped at a CVS so that I could pick up a stack of AAA batteries which would no doubt be consumed in short order. Not long after that we started to get hungry again.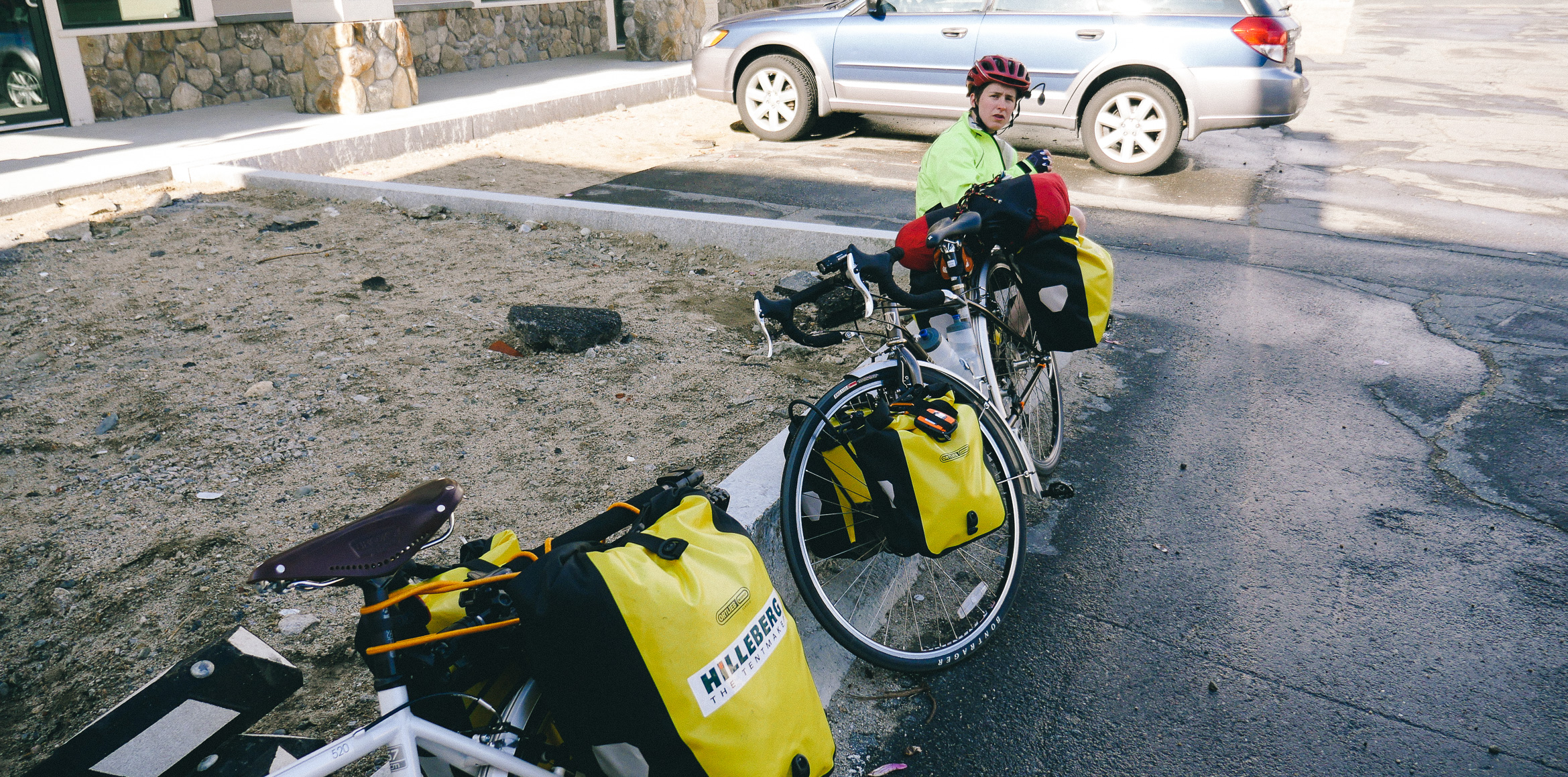 Our dinner consisted of pizza and Nesquik which gave me an immediate stomach-ache that I proceeded to groan audibly in response to. Just in time for abdominal distress the winds decided to intensify and the hills became more common and steeper. Twice the hills were so steep, the winds so fierce and my poor body so ill-prepared for mashing pedals on a loaded bike, that we dismounted and walked up the hills.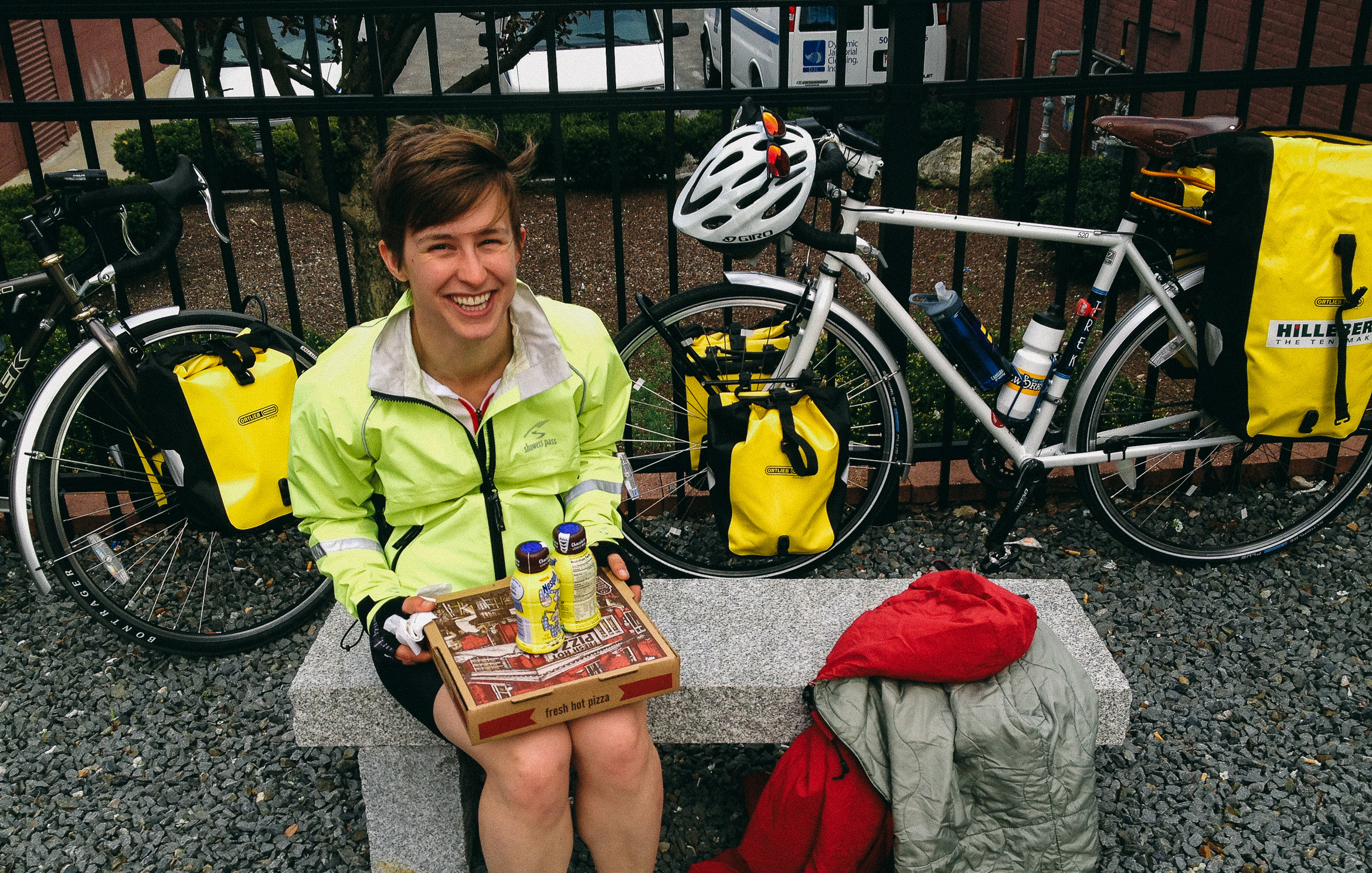 The short of it:
Hills are hard in the beginning

Headwinds are nasty

Put them together and it makes for a killer of a first day
Our total mileage was somewhere around 55 miles but Dennis (our warmshowers.com host) remarked, when seeing us pull in, that we must have had quite the day pedaling in those gusts. It was a relief to hear I wasn't the world's biggest wimp because I certainly felt like it after pushing my bike up two or three particularly treacherous hills late in the day and not getting camp until just after sundown (a Chris Wood specialty). +
We stayed the night with Dennis and Jane who have a small farm in the Massachusetts town of Sutton. They keep goats and chickens and produce their own milk and eggs for a couple of neighboring families. Dennis is an extensively practiced cycling tourer having done many long unsupported trips while Jane said she prefers the 7-10 mile days over the 70-100. Each shared their stories of the guests they'd had and the experience of being a warm showers host. +
Matthew, another biker, was also staying at the same house having biked nearly 12,000 miles since April 2013. He characterized the terrain as some of the hardest he had encountered because of the rolling nature of the landscape precluding his ability to establish a good rhythm. He said that he did twice as much elevation getting through New England as he did crossing the Rockies. There was some additional satisfaction to be gained from knowing I wasn't a total pushover for thinking the first day had been a challenge compared to this formidable cycling beast who had nearly toured the perimeter of the country. We spent the night with Jane and Dennis who have been fantastic hosts, we got a shower and some shepherd's pie and hit the proverbial sheets (in our case a tent pitched next to a chicken coop).